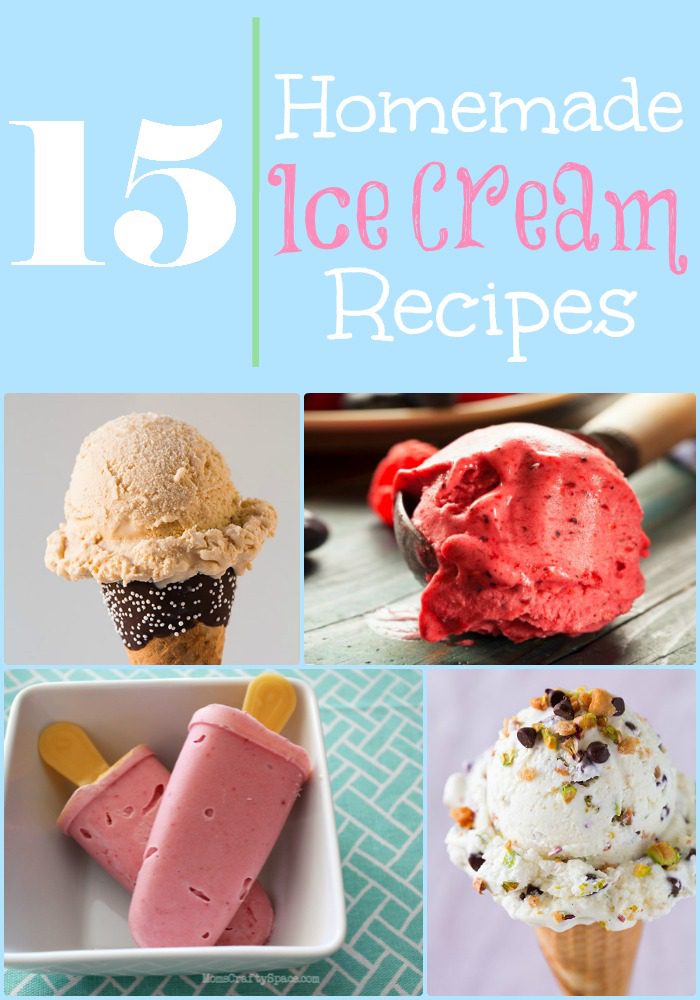 My girls LOVE ice cream.  Not sure I know a kid who doesn't.  We definitely consume a lot of ice cream in the summertime and we love trying new flavors and combinations.  This past Christmas, I received an ice cream maker and we've had SO MUCH fun trying different recipes.  As I searched online for the recipes, I found a lot of ice cream can be made without an Ice Cream maker.  So now I make it either with it or without it!  Here are some of my favorite recipes I've found.  Some we've tried, some are on our list to try.  I hope you like them!
Homemade Ice Cream Recipes
Strawberry Banana Ice Cream (Skinny Mom) –  Two of my favorite flavors together!
Cannoli (Cooking Classy) – Yes like the cookie!

Salted Caramel (Cooking Classy) – I like anything salted caramel and this is delicious!!

Lemon Ice Cream (Your Home Based Mom) – My husband is a huge fan of lemon ice cream and he loves this one!!

Cookie Monster (Kristen Duke Photography) – This is perfect for a kids birthday party and fun for them to help make!

Toasted Coconut (Flour On My Face) –  This would be good on top of chocolate birthday cake!

Birthday Cake Oreo (Domestic Fashionista) – I'm not a big fan of the birthday cake Oreo but I think this is a great way to use them.

Mango (Nisa Homey) – I love anything mango flavored and can't wait to try this one!

Espresso Chocolate Chip (Table For Two Blog) – Perfect for a weekend with my bff!

Key Lime Pie (Good Life Eats) – This is another favorite flavor of my husbands and I can't wait to make it for him.

Peanut Butter Cup (Recipe Girl) – You had me at Peanut Butter!!  I love any and all things peanut butter!

Vanilla Mint (Nourished Kitchen) – Now this is a combo I would have never thought of and I can't wait to make it!

Chocolate Orange (Bare Feet In The Kitchen) – I remember back when I first heard of chocolate and orange together and thought it was gross.  Then I tried it and OMG it's amazing!!!

Berry Sorbet (Kids Activities Blog) – My oldest daughter loves sorbet so we are making this soon!

Strawberry Bars (Happiness is Homemade) – Healthy and yummy and the kids will love it!
Which one of these Homemade Ice Cream Recipes will you try first?