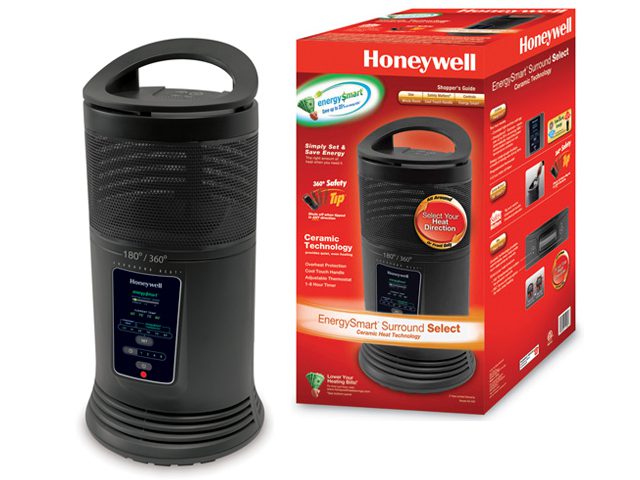 It's been VERY cold this winter in Rhode Island and we've had a lot of snow.  Yes I know we live in New England and it's supposed to snow, but we have winters with very little and then some with a lot and this is one with a lot!  While we've been enjoying how pretty and fun the snow can be, I'm very tired of the cold.
We moved into a new home last summer that is a bit bigger than our old home and we are still trying to adjust the temperature to heat the house.  Because we have a few different heating zones in the house, we can heat only rooms we use all the time.  This helps with the cost of heating BUT it doesn't help when it's cold and we want to be in one of those rooms.  So we were excited to receive the Honeywell 360 Surround Heater.  Now we can heat areas, rather than rooms and save money.  Always on the top of my list!
About the Honeywell 360 Surround Heater
The new 360 Surround Heater is a versatile, energy-efficient ceramic heater. Equipped with an energy savings thermostat that gives you just the right amount of heat by regulating the wattage consumption based on your desired temperature, the EnergySmart® 360 Surround can save consumers money without sacrificing comfort.
Designed with both 360° surround heat and 180° directional technology so consumers can "get heated" no matter where they sit in the room; a terrific choice for those looking to stay warm and cozy during the year's coldest months.
Key Features
Controls
EnergySmart® Technology regulates power consumption to help save up to 35% on energy bills vs. conventional heaters*
Digital LEDs accurately indicate room temperature and desired temperature
Energy Usage Indicator displays how much energy is being used during operation
Programmable thermostat
Safety Features
New SafetyTip™ – 360° tip over protection
Overheat Protection Device
Cool Touch Carrying Handle
Additional Features
Ceramic Technology for quiet, even heating
New 180° feature for directional heating
1-8 hour timer
3 year warranty
A national survey of women conducted by the makers of Honeywell Heaters found that the top books women are cozying up with this winter include…<drum roll>…Fifty Shades of Grey and The Bible!
To see the Top 10 list of books women are cozying up with this winter, visit the Honeywell website.
You can purchase it for $59.99 on Amazon and other online retailers.
We haven't used the heater long enough to know if it really is energy-efficient but I"m sure it is.  It works really well in warming the area that we are in and while we don't leave it on for very long, I like the idea that it has a timer in case we wanted to use it for a longer period of time, this way we can have it shut off when needed.  It is very quiet and slim so it fits nicely anywhere!
My husband was very hesitant at first to use it, he's big into safety.  But he read all the instructions and found that with all the safe guards in place, it would be fine.  He was pretty impressed at how well it warmed the area and not just in one direct path, but the entire room!  He also loved seeing how much energy was being used, he's a nerd so he likes that sort of stuff!


(1) Koupon Karen reader will win Honeywell 360 Surround Heater.

To enter the giveaway, use the Giveaway Tools widget below. This is a new widget I'm trying and I hope you like it. Please let me know if you have any questions about it or problems with it! Of course Facebook is in no way associated with this giveaway!
As a reminder, comments left on Facebook or Twitter will not be included. You must follow the instructions on the widget about the proper way to enter.
Disclosure: I received a Free product for review. My opinions are 100% mine.