This post brought to you by Hostess Cakes. All opinions are 100% mine.
I'm so excited my family had the oppertunity to review the Hostess Apple Cinnomon Donettes. We love donuts and we love Hostess. I wasn't sure I was going to like these but then I thought about how I've had apple donuts before and cinnamon so putting them together would probably be a really good treat!
Fall is my favorite time of year and when the leaves begin to fall off the trees all I want to do is curl up on the couch with a warm cup of coffee and cuddle with the kids. It's like summer has ended and all the business of summer is done and now it's time to relax, put on a sweatshirt and socks and just sit tight until the holidays begin.
And go apple picking! Of course! Which brings me back to the Hostess Apple Cinnamon Donettes. I grabbed a couple of bags for my family to try out and the girls were very excited when they saw them. They love cinnamon donuts so they were interested in how they tasted with a hint of apple. I told them they could have some for breakfast the next morning.
The next morning came and they were eager for breakfast. I used this as a bargaining tool to get them to move through there routine a bit quicker, it was nice! Then it was finally time to try the new little donuts. The results — they LOVED them.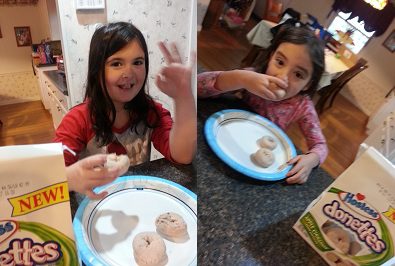 The thing with all Hostess Donet is they are always fresh and cooked perfectly. But the combination of the cinnamon and apple was a huge hit in my house and the girls agreed, it was one of their favorites.
Sadly we heard the news the next day that Hostess was closing and we weren't going to be able to buy another bag. But I am hopfully that someone picks up the brand and brings them back to us.
Did you get a chance to try these Apple Cinnamon donettes before the shelves were cleared??