Daily Checkout has one deal every day and sometimes even FREE.  It's always at the best price you'll find anywhere.  Here is the deal for Thursday, June 10, 2010.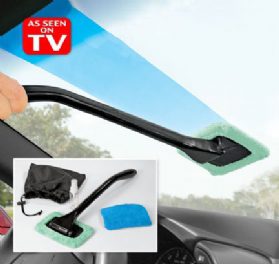 FREE- As Seen on TV Windshield Car Glass Cleaner, On Sale FREE (retail price $19.99) + $5.99 Shipping
I have this.  I bought it at Walgreen's for at least $9.99. I can't remember it was  a while ago.  I love it, it works really well.  Not a bad deal for only $5.99 shipping.
This sale will end at midnight tonight OR when they are all gone so if you want one, grab it now!
I know there is a lot of negative feedback out there about Daily Survey, but there is also some positive feedback.    I've had readers that have had no problems and received their items.  Of course this concerns me because I want to bring you these good deals (especially the FREE ones) but I also don't want you to lose any money.  So I emailed my contact Charlie and told him of my concerns.  He said they are a new company, about 1 year old but like any other retailer they do get complaints.  If anyone has any problems you can contact him.  Let me know and I'll give you his contact information.