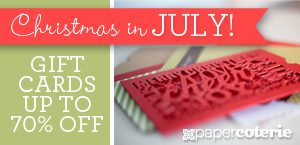 It's Christmas in July at Paper Coterie because they are having a sale on their gift cards!  You'll save up to 70% gift cards.  The idea is to buy it now and then use it at Christmas to purchase all your personalized items.   Of course you can use them whenever you'd like but it'll be very helpful at Christmas.
Holiday 2012 at Paper Coterie is going to be amazing. To prepare, we're busily adding over 100 new exclusive holiday card styles you won't be able to find anywhere else this holiday season. We're pulling out all the stops to add the best whistles and bells to ensure your holiday cards and gifts stand out in a crowd.
Here is what you can get…
$25 Gift Card for $12.50
$50 Gift Card for $20
$75 Gift Card for $27
$100 Gift Card for $30!!!!  <— The BEST Deal!
Hurry this sale is only from July 27th through July 31st.