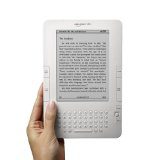 This is such an awesome deal! You can get the Kindle
for only $189 at Amazon. It's been this price for at least a week now and I'm just getting around to sharing it with those that are interested. I know it's quite a pricey purchase BUT in the long run you will save so much money on books, if you like to read.
My husband loves to read but he likes to have the books. However we are running out of space. I wish I could convince him to use the Kindle and I would even pay full price for it!  That's how much money he spends on books!  I'm still working on it.