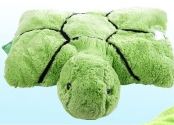 OrangeOnions.com has a great deal on Pillow Pets
today. You can score them for only $8.49 but this price will end at midnight tonight so grab one (or two) before then. The regular price is $15.99.
Head on over to Orange Onions.com
and search for Pillow Pets and you'll find a cute selection.
My daughters have been asking me for these for a while. I'm going to grab them today at this great price and hold onto them for Christmas!  This is an awesome price, you must know someone who would love one!!
I bought 2 and priority shipping was only $6.00!
thanks My Dallas Mommy!