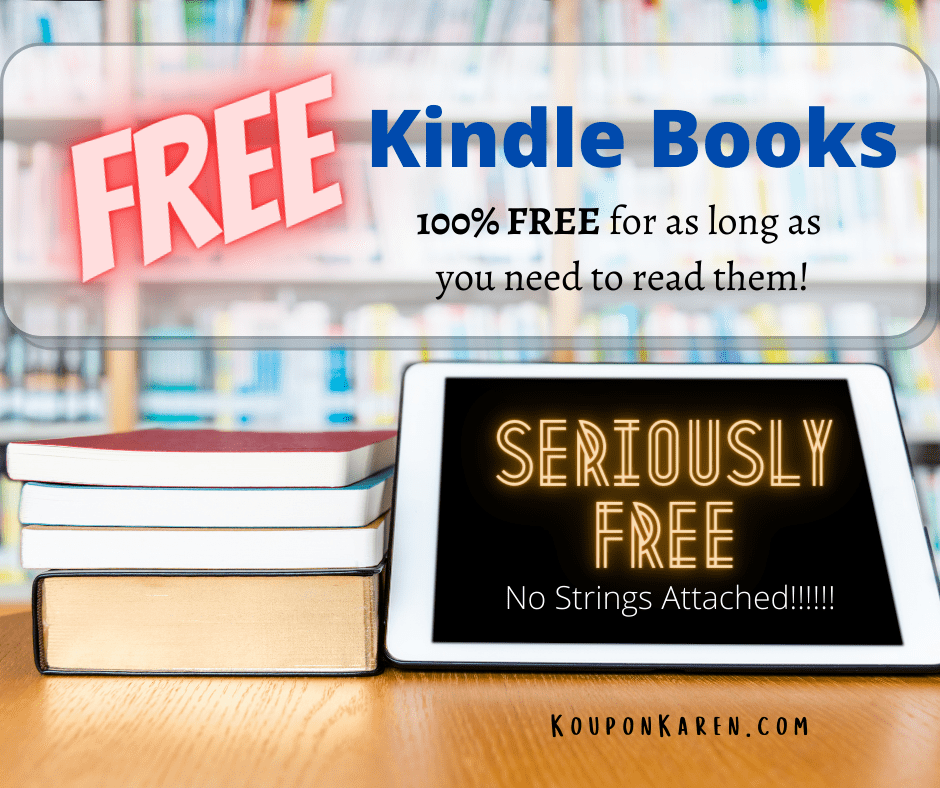 Would you like to know how to get FREE kindle books?  I'm going to show you!
I love reading and while I love having a physical book in my hand, I also like to read on my phone or tablet at night in bed or when I'm away from the house.  But I don't want to pay for every book I read. I would normally borrow a paperback book from the library so if I'm reading a book on my smartphone or tablet, I'd prefer to not pay for it.
I've found a few ways on how to get free Kindle books.
Amazon PRIME Free Kindle Books
Amazon has a lot of free Kindle books, especially for Prime Members.  There are a few ways you can get them.
Every month Prime members get access to early releases of next month's Kindle books for free with Amazon First Reads.  They have about 10 to choose from that are all different genres.  You have all month to decide which one to 'purchase'.  The price for the first one is FREE and if you want another one after that, it's a discounted price of as low as $4.99.  You don't have to be a member of Kindle Unlimted to get this free book.  It's available to anyone who is a Prime Member.  On every 1st of the month, you can choose a new book.  You 'buy' it and you can read it whenever you want.  I make sure I download one every month and read it whenever I want.  They have a children's book option as well.  If you purchased these Kindle books without Prime they would cost about $15 each.  If you get a free one each month with Prime that's about a $180 yearly value!  It pretty much pays for your prime membership!
Search for FREE Kindle Books on Amazon.  They add new ones all the time. Some of them are FREE only with Kindle Unlimited, but some are Free even without that.  Make sure it says $0.00 for the price.   I will be sharing books as I find them each week. You can find the ones I've shared HERE.  There are hundreds of Free Kindle Books on Amazon so there is most likely something that you like.
Purchase a Kindle Unlimited Membership.  While this isn't "FREE" if you read a lot then essentially it's a HUGE money saver.  You're able to borrow as many books as you like each month and pay just one low price.  You can try it out for FREE for 30 days then it's $9.99 a month after that.  You'll have unlimited access to over 2 million digital titles, including audiobooks!  You can borrow as many as you'd like each month and keep them as long as you like.  It's a great deal for an avid reader.
Free Kindle Books from your local Library
Check your local library website to see how you can borrow FREE ebooks and audiobooks from there.  My library uses two apps –  Libby and Overdrive.  You connect your library card through the apps and then you have access to thousands of ebooks and audiobooks.  You can only borrow a certain amount each week and you can place holds on books that aren't currently available.  You'll have about 2 weeks to read each book.  I borrow audiobooks from my library all the time and listen to them in the car, while I'm doing housework, and when I'm crafting!  I've "read" so many books this way.
Loan a Book from a Friend
Did you know that you can loan a Kindle Book from a friend and you can loan one to them?  Yup, you can and it's completely FREE.  Just go to your list of books in your Amazon account and select the book you want to Loan.  Then click the MORE ACTIONS arrows and if that book is loanable, it will say "Loan This Title".  You will need the email address of the person you are loaning the book to.
A few things to know before you loan any books.
Not all books can be loaned.  This is the decision of the publisher.  If you don't see a "Loan this Title" option, that means it can not be loaned out.
The publisher sets the rules for loaning that book.  You may only be able to loan it for a certain amount of days.  So make sure you or your friend are ready to read it because you may only have a certain time to read it.
You may only be able to loan the book out once.  If so, make sure that's the friend you want to loan it to!  LOL
Get FREE Classic eBooks from Project Gutenberg
Project Gutenberg has public domain books that are free to download.  They have thousands and thousands of books.  As a matter of fact, their website says they currently have 60,000 ebooks to download!  If you like the classics, this is a great place to get some ebooks.