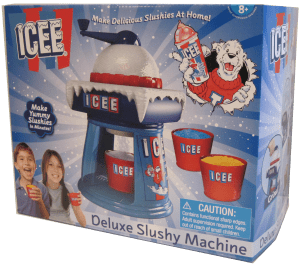 Product Name: ICEE Deluxe Slushy Machine and Refills
Product Information: Did you know that there are more than 50,000 ICEE machines across the United States, that serve more than 300 million ICEE's per year in local movie theaters to convenience stores! Now that's a lot of Slushies!
With the hot Summer-like weather already upon Phoenix, now is the time to pick up the perfect at home treat to help cool down on those hot Summer days and nights. The Wish Factory is proud to re-launch the original ICEE Slushy Machine.
Now, ICEE fans of all ages can enjoy personal favorites or even create their own flavor concoctions, all without even leaving the house. The ICEE Slushy machines are perfect for those hot summer days in the sun and make the perfect after school or after camp snack. It's the fun kids are looking for and the nostalgia parents love!
ICEE Deluxe Slushy Machine: The ICEE Deluxe Slushy Machine makes delicious slushies in just minutes! The new and improved design makes creating slushies, as easy as 1-2-3. Simply fill with ice, turn the handle to shave the ice into the cup below and add your favorite ICEE flavor for a delicious ICEE treat. The ICEE Deluxe Slushy Machine includes 1 ice shaving machine, 3 cups, 2 mixing/serving spoons and 1 measuring spoon.
ICEE Slushy Refills: The ICEE Slushy Refills are the essential ingredient in creating delicious, mouth-watering slushies. Each refill box comes with one pack of orange, cherry and blue-raspberry flavors so you can make up to three slushies or combine the flavors to create your very own flavor!
Purchase Price: ICEE Deluxe Slushy Machine $19.99, ICEE Slushy Refills $6.99
Purchase Information: Retailers Nationwide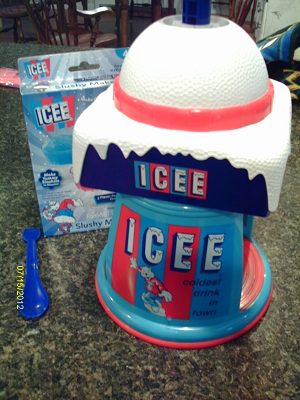 My Thoughts:   We were in Target one morning recently and my daughters spotted the ICEE Machine and immediately starting asking for one.  I told them if they were good while we shopped, I'd get them one.  It was early in the morning and I figured they weren't going to make it through the shopping trip without a problem since I had a long list of things I needed BUT to my surprise they were great – go figure!
So we got an ICEE after we were done, well they did.  They were happy and thanked me all the way home.
This weekend I pulled out the ICEE Machine that I recently received for review and you wouldn't believe how excited they were!  Immediately they started asking for an ICEE and inquiring about where I got it and what flavors did I get!  I told them we received it for review and they had to review it for me – well that wasn't a problem at all.
I took all the pieces out and washed them first with soapy water then proceeded to read the instructions (they were short and right to the point!).    It was easy but I made a few adjustments after a few tries.
How does it work?
You fill one of the cups (included with the package) with ice then dump that into the barrel.  I did that at first and it was like 3 ice cubes.  I couldn't really get much shaved ice out so really you need a bit more ice than that to make it shave properly – otherwise there wasn't enough pressure when I pushed down.  The more ice I put in there the easier it was to shave.  You have to turn the wheel on top and the ice then slides against a blade (which is VERY SHARP) which in turn shaves the ice.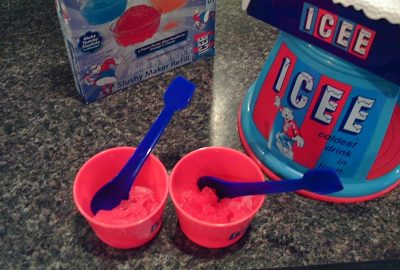 The ice then falls into the cup below and looks like snow.  It's pretty cool but at first it was taking forever to shave the ice – not much was coming out.  Then all of a sudden there was a lot of shaved ice and I realized as the ice cubes melted, it was easier to shave so that was the key – let the ice cubes melt a little before you start. Then it was much easier to fill the cups.
Once the cup was full of shaved ice you can add the flavoring.  You'll first have to mix the powder with some water, but they give you measuring spoons to use so it's pretty easy.  Once the powder is mixed you add it to the shaved ice and mix it around to make it slushy.  That's it!
The deluxe set doesn't come with any mix which I found odd – but they do sell the refill packs.  You could really use any kind of juice/punch you have on hand to mix with the ice.  Once the mix is gone we will probably experiment with different flavorings.
It's cute but I wouldn't pull it out during a party or I'd be making ICEE's the entire day, but nice for when the girls want something cold and yummy to drink during the summer.
Disclosure: I received the a FREE product for review. My opinions are 100% mine.