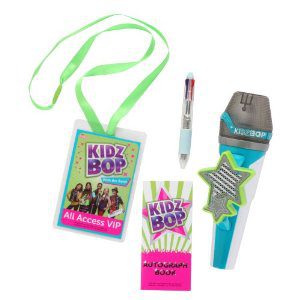 Product Name:  Imperial Toy Kidz Bop Mega Star Microphone
Product Information: Little pop stars will have hours of rocking fun as they bling while they sing with the Glammerati LumeFX Megastar Microphone. The Glammerati LumeFX Megastar Microphone includes an amplifier and features 3 Kidz Bop hit songs. Every pop star will surely shine as the light up handle sparkles for every magical performance, whether it's with friends, mom and dad or just practicing alone in front of the bedroom mirror. The built in crowd cheers will boost confidence and the record and play back feature sets the tone for the making of a superstar.
Product Price: $24.99
For ages 5 years and above.
My Thoughts:   My girls are HUGE fans of Kidz Bop.  We have their CD's in the car and listen to them all the time.  Seriously it's the only way I know today's 'hit' music, is in the voices of Kidz Bop.  And the know all the words to all the songs, even better than me.  They also love to sing and dance so this microphone was perfect for them.
We've had other microphones in the past but this one works the best out of all we've tried.  They can sign along to a few songs it came with, they can hook up an MP3 player to with with other songs, or they can simply play their music on the iPod and sing with the microphone -which is how they prefer to do it most.  But they can also have 'concerts' and introduce people with the mic as well because it amplifies anything they say (OK this is a bad thing too when they do it early in the morning!).  It's absolutely perfect for them and in the time we've been using it, we haven't had to replace the battery yet so I'd say it' has a pretty long battery life as well.
Another cool feature they like is you can push a button and the audience will applaud you.  My 5 year old LOVES that feature and after she 'sings' she always pushes that button.  It's cute.
The backstage pass that come with it makes her feel like she's a real superstar too, after I explained to her what it was for.  It also includes a super cool pen and autograph book and the pen is like one I had when I was a kid with all different colors – you push the button for the color ink you want.  They hadn't seen one like that before and loved it.
This defiantly is one of our favorite toys right now and I'd recommend it to any kid that likes to sing and dance like a rock star.  So much fun!
Disclosure: I received a FREE product for my review. My opinions are 100% mine.