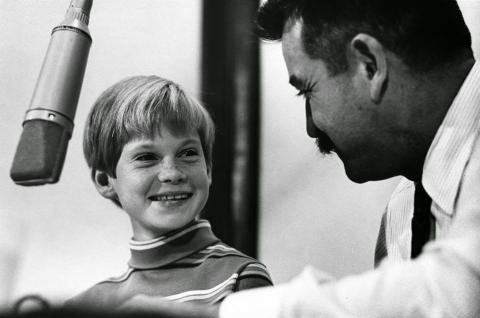 Disclosure: I am Peanuts Ambassador.  I received products to facilitate my review but my opinions are 100% my own!
As I mentioned last month, I'm a Peanuts Ambassador and as part of this program, we get to interview people involved with the Peanuts series.  Last month we interviewed Jill Schultz and this month was Sally Dryer the voice of Violet in A Charlie Brown Christmas..
What was it like for you to to do this as your first job?
Yes, my first job at age 8! It was unknown at that point, an experiment. Lee Mendelson had approached Charles Schulz for years to do an animated special, and Schulz always said no. Finally, he said, "I'll do it, but it has to be real kids' voices." For me, it was a fun way to get out of school. We didn't know what it become, for sure!
Can you describe the process of how they recorded your voices?
There were a group of kids in Southern California: the boy who played Linus, Peter Robbins [Charlie Brown], and the original Lucy were in Los Angeles, where they recorded with Bill Melendez. Lee Mendelson recorded with us in San Francisco at a studio on Van Ness Ave.
They'd record us one at a time: Lee Mendelson would say a line to us, and we'd repeat it. We'd try to repeat with inflections he gave us. Sometimes we'd hit it on the first try, and other times we'd have to go over and over and over again.
I remember when we were recording the Great Pumpkin, the girl who played Sally spent hours trying to say "You owe me restitution!"
The miracle was done with editing. They'd use the lines they wanted and assemble it all.
I think we went to studio 3 or 4 times. There were some group lines, like "You blockhead, Charlie Brown," that we did as a group. We'd have to make 3 or 4 attempts.
Were you excited to be cast as Lucy?
It was a good thing. I had no idea how bratty my voice was, but all my neighbors were like, "Oh yeah, she's Lucy all right!"  The neighborhood knew before I did!
Lucy was more fun to play. You get to say what you think!  She's such a smart aleck. You get to really embrace that crabby person within you and it's okay.
Do you have any favorite anecdotes from the recording sessions?
I suppose one of my favorites was when we were all sitting as a group, having lunch at The Hippo, which was a hamburger joint. They were trying to figure out who to cast as Peppermint Patty. One of the daughters of a producer spoke up and said, "Please pass the salt." Lee Mendelson said, "That's it!" She had a wonderfully raspy voice. That's about how free-form it was.
My sister worked for Lee Mendelson, and one Christmas he called the house and said, "I'm here with Lee Guaraldi and we're trying to write the lyrics for 'Christmastime Is Here.' What represents Christmas to you?" We were all sitting around the table offering ideas: happiness, cheer, fun for all. So I feel that in some ways my family contributed to the creation of that song.
Jefferson Airplane was recording in the studio when we were, and they were more excited to meet us than we were to meet them! But I think we were pretty tickled.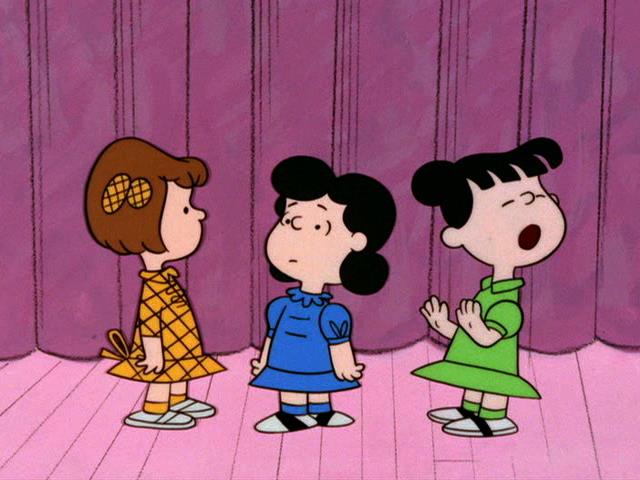 What did you think of finished shows?
It was pretty abstract. I remember my sister worked so hard in helping to produce them, I think we critiqued them more based on that.  Hearing your voice, you think, "I don't sound like that." I was disconnected to it, really.
What did you get paid?
I got paid a whopping $100 per show!  It was the 60s and an unknown thing. My mother's philosophy was, "Whatever—just have fun." That's what it was about. I occasionally get residuals, sometimes 9 dollars and 33 cents, sometimes a couple hundred dollars.  I had to put it in a college fund. Fortunately, I went to a state school in California!
Were you a celebrity among your friends?
I think so, but it was so short-lived. As teens, we didn't watch it at all. I was kind of mortified to be that cranky girl. But I don't have that problem anymore.  Now I love it.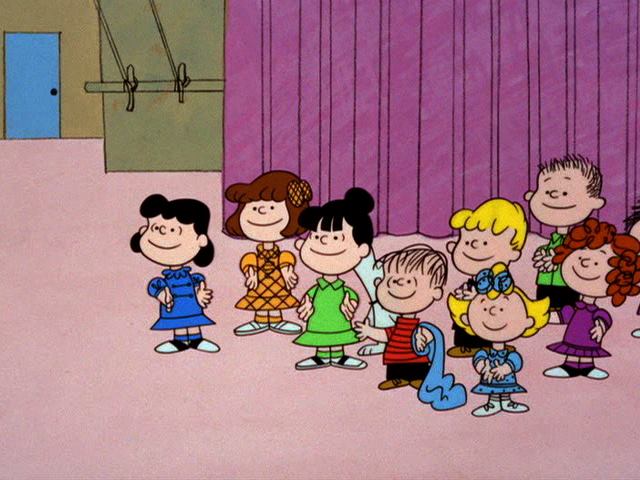 Did you ever meet Sparky?
Yes, I met him at least 4 times. We went up to Santa Rosa to do a photo shoot for a book called Charlie Brown and Charles Schulz. He was working on a strip at his drafting table, and he explained to me that he felt he had to do a term paper every day. He was a kind and gentle and soft-spoken, very impressive guy.
Do you watch the specials?
I watch occasionally if I happen to be home when they air.  It is funny – several years ago there were "Get Met" commercials, and I heard Lucy's voice and thought, "That sounds a lot like me." There was a period after our voices changed that the cast didn't sound like the originals, and they had to get new actors to correct that.
Were you a fan of Peanuts before doing the series?
No, I didn't know very much about it at all.  My mother read the comic strip in the San Francisco Chronicle, but I wasn't familiar with it at all.
Do you have any insider info on the new movie?
No, I don't know anything about it!  I guess I need to fish around a little bit.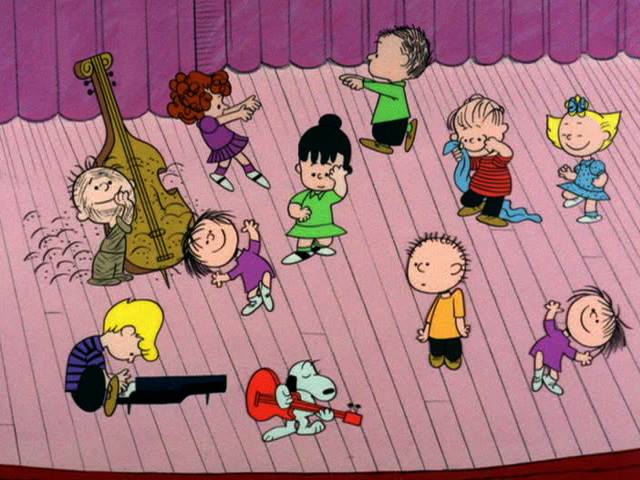 Is Lucy your favorite character?
Snoopy's got to be my favorite character, really. I love Lucy's frankness and willingness to say anything, but Snoopy's the most entertaining thing ever.
Do you have any Peanuts memorabilia that's special to you?
I have a whole display case of things that people have given me over the years and some cels that Charles Schulz signed to me.
Tell us about your store.
My partner and I live in Jerome, AZ, and run a store called Nellie Bly, selling art kaleidoscopes and art glass. We also sell the making-of A Charlie Brown Christmas and Great Pumpkin books in the store. The lady who runs the Christmas store down the street also sells the book, and she will say, "Hey, we've got Lucy right down the street!"  I'll be in the middle of something completely normal, and then get a call that someone wants my autograph!
Do you ever find yourself using the dialogue in your real life?
Oh, absolutely—all the time! I work as a volunteer dog technician in an animal clinic, and I always say "Dog lips are not poison! No iodine! No 'blecch'!"  I'll find myself saying, "I got a rock!"  It's always right there.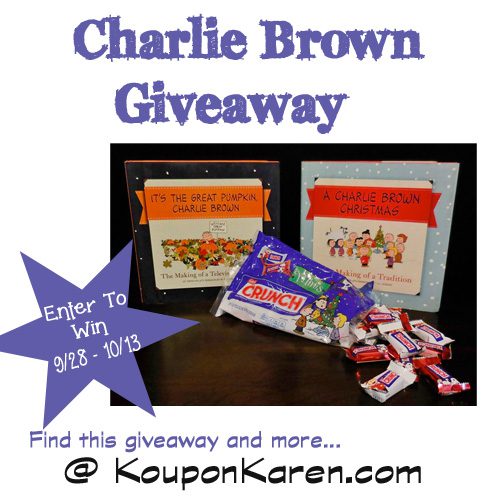 (1) Koupon Karen reader will win a Peanuts Prize Pack.

To enter the giveaway, use the Giveaway Tools widget below. Email and feed subscribers will need to click-through to the site to enter the giveaway.
As a reminder, comments left on Facebook or Twitter will not be included. You must follow the instructions on the widget about the proper way to enter. Of course Facebook is in no way associated with this giveaway!
If you are looking for more giveaways, be sure to follow my Fun Giveaways Pinterest board!
Disclosure: I received a Free product for review. My opinions are 100% mine.