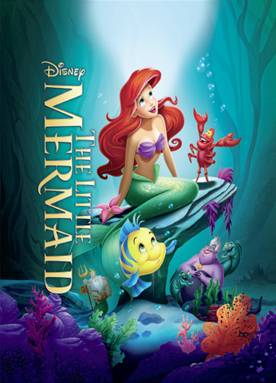 Disclosure: This event and trip to LA was an all expense paid journey sponsored by Disney.  All thoughts, experiences are 100% my own!
Interview with John Muskar and Ron Clements, Writers and Directors of The Little Mermaid

While in Los Angles this summer to attend the Planes Premiere, I also had a chance to meet with the writers and directors of The Little Mermaid – John Muskar and Ron Clements.   They are both really great, down to earth guys and you'd think they'd be otherwise because of the success of The Little Mermaid.  But I think they might still be a little bit in awe of how well it's done and that it's still so popular 20 years later!
As I've mentioned before The Little Mermaid is being re-released on DVD October 1, 2013.   So you'll be hearing a lot more about it very soon.  John Muskar and Ron Clements were more than happy to spend some time with us and answer all of our questions.  They are funny guys and you can tell they have a great friendship and bond because of this movie.
Here is a snippet of the interview that I would like to share with you the most.
When you guys started the movie, did you really think it was gonna be as big of a hit as it is now?
"No, we, we didn't. I mean we, we felt it had potential to be a really good film, I think, from, from fairly early on and we were intimidated because it was the first fairy tale. … We both saw SLEEPING BEAUTY in the theater in '59 … and that was the last princess.
We both aspired to work at Disney and, and, um, and had been there , but MERMAID felt like it was kind of special 'cause it was the first film that was a fairy tale and it, and so it harkened back to the, like, SNOW WHITE and CINDERELLA.  So we felt a certain amount of pressure with that.
When we're working on it, the public doesn't see it very much.  Not even our own families for the most part.  So it wasn't until we started to have public previews and we saw the reaction we got some sense of that, in fact.  And just as this movie was about to be released I think somehow Spielberg, I don't know if he had even seen it, but Peter Schneider, who was an executive at the time, we were in this room for something else, he said, "Steven Spielberg says its gonna make a hundred million dollars."  And so we were like, "Really?  Spielberg thinks it's gonna make a hundred million dollars?"  And so we were getting, there was excitement building.  But as you're doing it, you're, we were the audience for the movie, really.  You're just trying to make a movie that you think — that we would like to see and, uh, and you hope somebody else will like to see it to.  So we didn't really anticipate it's…
The other, the other thing when I really felt like I realized that we had made an impact that might last, the following October, after the movie had come out [KNOCKING] knock on the door, you open it, you know, "Trick or Treat!" and there's a little girl dressed as Ariel.  I thought, "We made it into the popular culture!  We crossed over!  This is not even one of my own children!  This is a stranger!"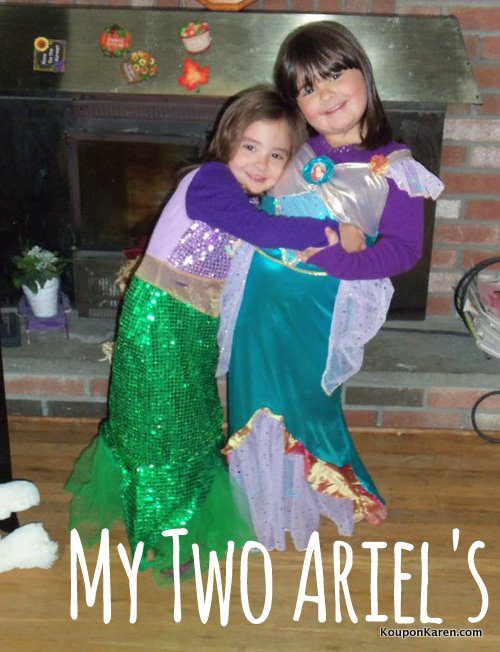 I loved that!  My girls were both Ariel a few Halloween's ago.  We happen to have two different Ariel costumes in our dress up bin and they both wanted to wear them so I wasn't going to stop them.   They looked so cute and loved that they were dressed alike!
Did you say you grew up wanting to work on Disney films?  …how did you do that?
(Ron) "yeah, and I think John is similar.   I drew a lot as a kid.  I was a big animation fan.  I was a big Disney fan.  And when I was nine years old I, I saw PINOCCHIO.  And something about — I don't know if I was just the right age, whatever it was, but I just came out of the theater thinking, "That's what I wanna do.  That's what — I wanna, I wanna be involved in animation in some way."  Didn't really know that much about it, so I, I went to the library to try to find out everything I could about how animated films were made and how it was done.  There wasn't a lot at that time.
Now there are a number of books but at the time there was one book, The Art of Animation by Bob Thomas who, it was written almost — they took a book that was, had been worked on for years and adapted it partly as a promotional vehicle for SLEEPING BEAUTY when it came out.  So the book came out like in 1960 or something.  We both found it in the library in our respective libraries —  And checked it out over and over and over again —
Yeah.  It explained how animation was done a little bit.  And so I grew up with that same deal, thinking I might want to be an animator.  Then I kind of lost interest as I got older, a little bit, and I segued more into comic books.  I wanted to work for, like, Marvel Comics or be an editorial cartoonist on a newspaper.  I did editorial cartoons.  And then I came back around to animation in college.
Made little Super-8 films, little animated films with a Super-8 camera and just…
(John) I went to CalArts.  I had gone to Northwestern….  I had an English degree and then, um, I was an editorial cartoonist.  But then I got more interested… Chuck Jones, the famous, uh, Warner Bros. cartoon– who did the Road Runner movies and that, came to Northwestern and talked about animation.  That rekindled my interest in animation.  And then I heard about this, uh, I sent Disney a portfolio actually.  "Here," uh, 'cause they were looking for young artists.  I got rejected by them.  That was a killer because I had, uh, they asked for animal drawings and I had no animals that were within sight because I come from a very, uh, allergenic family that no animals were ever near us.  
So, uh, I went to the zoo in Chicago.  It was winter time.  It was freezing.  I was freezing drawing animals, so I wound up going to the Natural History Museum in Chicago and I drew from the dioramas there.  And when I sent Disney my portfolio drawings and they rejected my portfolio and they said my drawings of animals were too stiff.  I was like, "They're stuffed!  I drew them exactly like they were!"  But anyway, they said, "Maybe you want to send your same portfolio to CalArts," which was just California Institute of the Arts.  It's up in Valencia, about 40 minutes north of here.  
And they were just starting a character animation program with Disney veterans teaching it.  So I, I sent my same portfolio to them, I got accepted there and I studied for two years.  I was in the same class there as John Lassetter.  John Lassetter and I and Brad Bird were all in the same class.  And so I learned a lot about animation in the two years I was there.  And then I've been here, uh, since then.  I started the week that STAR WARS came out.
(Ron)  I actually started a couple of years before John, but, um, the truth is that, that um, um, for years and years they,  Disney films were done by a lot of the same people.  Um, a lot of the same artists who had worked on SNOW WHITE AND THE SEVEN DWARFS, um, worked on films like THE ARISTOCATS  that came out in the '70s.  But it was actually before that that actually the last film that Walt was involved with was THE JUNGLE BOOK and he died, um, during the making of THE JUNGLE BOOK.
And the studio actually, at that time, wasn't sure if they were gonna keep animation going or not after Walt died 'cause a lot of the artists were in their 60s, like we are.  They were approaching retirement and, and there was a question of whether they might just kind of let animation kind of go away.  But JUNGLE BOOK turned out to be a huge hit.  It was like one of the biggest Disney movies in, in years.  So because of the success of THE JUNGLE BOOK they decided, "Well, maybe we should keep animation going."
And then they started actually recruiting and looking and trying to bring young people in to, uh, to kind of learn, um, 'cause if, if they didn't it would, there really wouldn't be a way of doing that kind of animation.  So when I came in it was when, um, after they had started this talent development program at the studio and, and, um, and you, you know, applied and I, I got into their talent film program and you got to work with the veteran animators and they kind of mentored you and —
(John) The guys who worked on SNOW WHITE and PINOCCHIO were our teachers.  They called them the nine old men.  But they were a group of veteran animators and we learned right from them where literally you do animation, they put it on their drawing board, and put a sheet of paper over it and draw over it and show you how it could be better.  
(Ron)  And I, I worked with, I worked with Frank Thomas who, uh, is, a legendary animator who did, uh, Captain Hook and Pinocchio and, and, uh, a lot of the Dwarfs in SNOW WHITE and did the spaghetti sequence in LADY AND THE TRAMP which is ….
When I started work with Frank, I was 20 years old and he was 62. Um, and, which seemed really, really old to me..  Although it was a great, great opportunity.  I loved working with Frank but it, it's weird now because 62 doesn't seem nearly as old to me anymore.  He was a kid.  What, what was I thinking?"
Can you tell how down to earth they really are?  Such nice guys and they were so great at answering our questions.  I loved listening to their story of how they got started because like he said back then they might of just stopped all of animation but with the right guys, they knew they could go forward.  And with the release of The Little Mermaid they surly showed them how indeed animation should, and will continue.
I'm still so happy and I feel blessed to have been able to be a part of this trip and meet those that were involved in the making of The Little Mermaid and I can't wait to get the Diamond Edition in just a few short weeks and watch it with the girls.  They are looking forward to it as well since I've been talking about it so much since my trip!   You can pre-order The Little Mermaid 2-Disc Combo Pack with FREE Lithograph Set right now at the DisneyStore.com.
Next week I'll share the interview we had with Jodi Benson who voiced Ariel in The Little Mermaid.  She even sang for us!!!
Disclosure: I received a FREE Trip to Los Angeles to attend the #DisneyPlanesPremiere and #LittleMermaidEvent.   And even though there was a lot of Disney Magic happening, My opinions are still 100% mine.