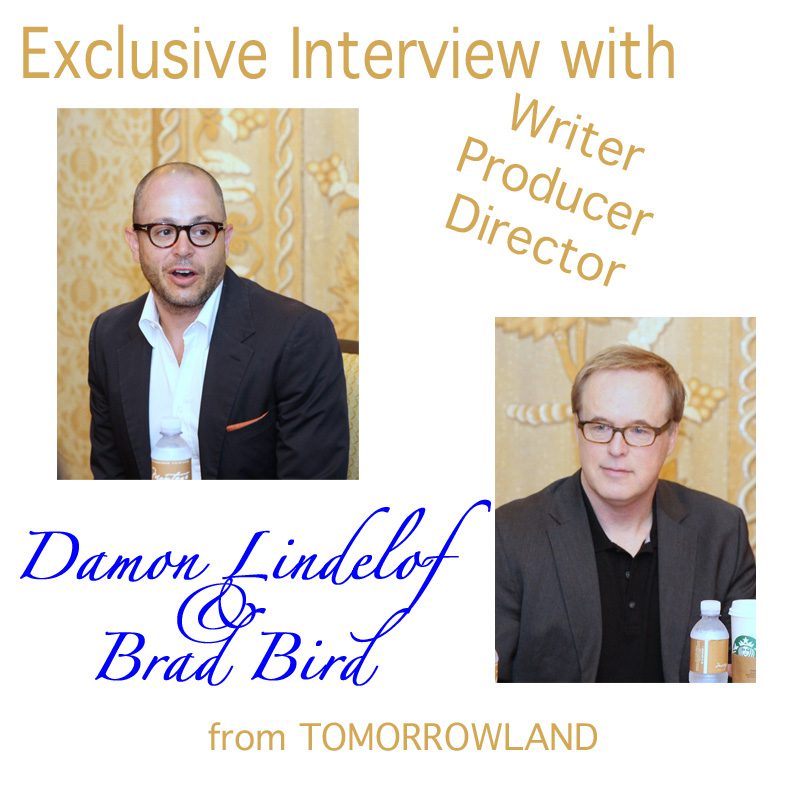 Disclosure: I received an all expense paid trip to Los Angeles California for the #TomorrowlandEvent. All opinions are my own and were not swayed by any outside sources!

Just a few more days until TOMORROWLAND opens in theaters on May 22, 2015.  While in LA for the TOMORROWLAND press junket a couple of weeks ago, we sat down with Director, Producer and Writer Brad Bird & Producer and Writer Damon Lindelof.
Interview with TOMORROWLAND Directors & Producers Brad Bird and Damon Lindelof
As I shared with you yesterday, the Disney Archives played a big roll in helping to bring TOMORROWLAND to life.  We asked Damon and Brad if they could tell us just how the information helped to bring it to the big screen.
Damon began by telling us that they were "both fascinated with Imagineering and particularly Walt's futurism.  A lot of that stuff was rampant in the early days of designing the Parks itself. And in Tomorrowland he came up with the concept in the 50s and 60s but I think that this sort of  treasure trove of roads not taken, the part that Brad and I particularly zeroed in on was the 1964 world's fair where there  were a number of attractions like Mr. Lincoln, carousel of progress, Magic skyway and It's A Small world.   [I thought] It would be really great to see those on the big screen kind of re-create that feeling. Our initial ambition was a lot higher but again the world's fair as what they represented at the time, particularly in the 60s – the connection to Disneyland, was the stuff that we kind of locked in on."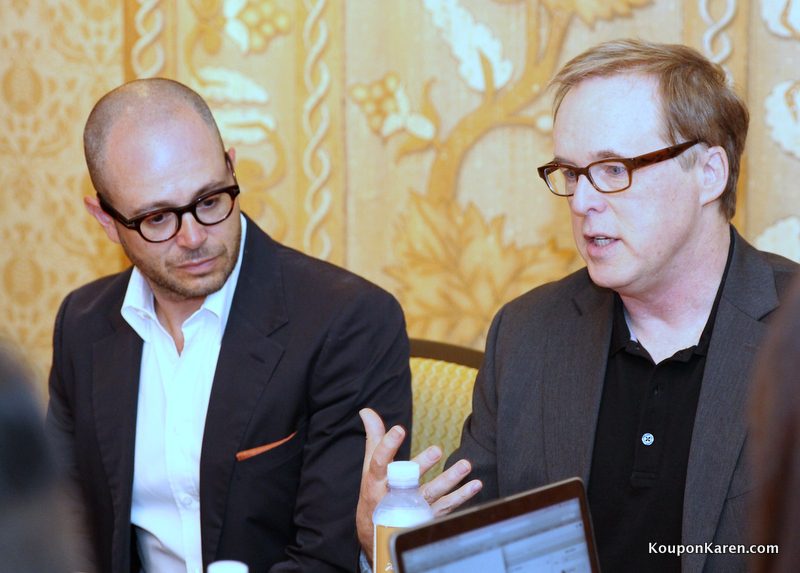 Brad went on to say " it's also that world's fairs were a thing where people would bring together their brightest minds and talk about the future. And they were a semi regular event where people came together from all over the world and kind of traded ideas. And they had a utopian aspect. When we were talking about what happened to the idea of a positive future we kind of started to notice that great future sort of disappeared around the time the world's fairs disappeared."
"The world went through world wars and had plenty of strife but people clung to the idea of things in the future will be better. That idea seems to have been retired.  Now everybody seems to be going, "yeah it's going to  suck.  You know?" And is there anything we can do about it?  No.  So we're all just kind of on this bus that we have no control over the destination. " Brad added.
That got Damon and Brad thinking – why and when did that change and how can we get back to it?  That's what was on their minds as they wrote the movie.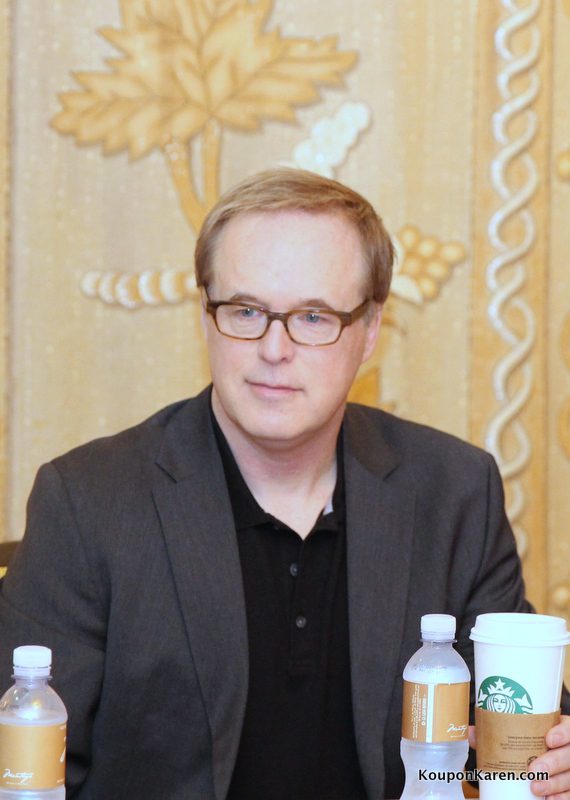 Where does their inspiration come from?  They drink a lot of coffee, watch TV and go to a lot of movies to get creative ideas telling their family that they are working!   "But it is the idea of constantly sort of surrounding yourself [with creativity] . I do feel for me in particular and I think that Brad shares this – we sort of grew up in that culture and the idea of saying " I want to do this one day." But where we start almost every time that we get together is "oh, did you see this?, Did you read this? What do you think about that?" said Damon.

"I think there's got to be a future that isn't people trying to kill each other in the desert or teenagers killing each other" – Damon Lindelof

There's a lot of technology in the movie. We asked them what part of technology would they like to have today from the ones that we see in the movie?
Damon said he'd love to travel somewhere without having to get on a plane.  "I love the idea of walking through a doorway and being somewhere else. I think that would probably change the planet in wonderful and nightmarish ways. But I think that there are a lot of dream concepts in this movie. That was one of the things that attracted me – getting a chance to glimpse those things."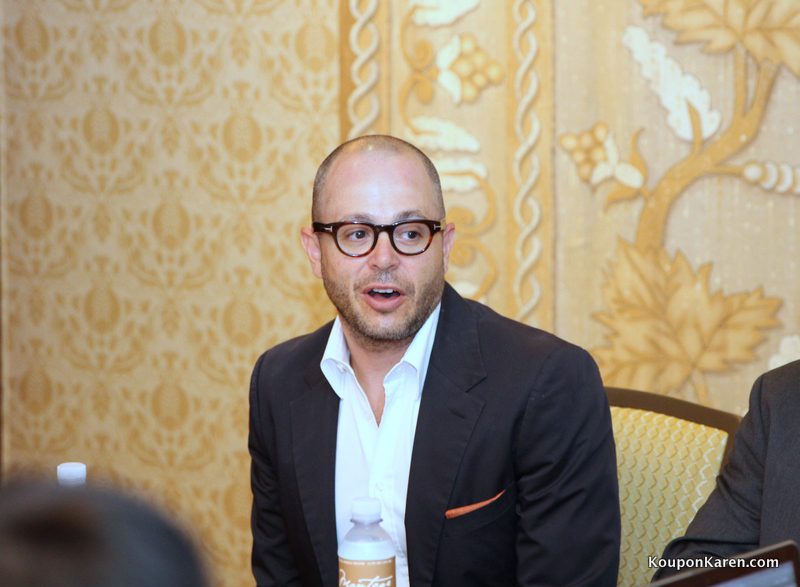 They seemed to work very well together from the way they got along during the interview.  We asked if they bounce ideas off each other and write in collaboration or separately?
Brad explained to us that Damon had been developing this idea with Jeff Jensen for about six months.  "I was an admirer of Damon's work on Lost. And anytime we watched together, my family and I were totally into Lost.  Anytime the episode credited Damon on that script I would say to my wife, this is going to be good."
It was clear to us that Brad was a fan of Damon's work.  When Brad was towards the end of shooting Mission Impossible  there was a part that needed fixing.  Brad told us that "Damon came on for about a month and help us fix something really very specific.  It was like brain surgery kind of writing where it had to fit into here and he did a wonderful job."
Sometime after that, Brad and Damon were hanging out and Damon mentioned the idea he'd been developing with Jeff.  Brad loved it.  At that point he just jumped on board and began working with them.
Damon told us that he prefers not to write alone and that Brad makes the best English Muffins so it was a match made in heaven!   Damon even admitted to writing slow at times so he could get more English Muffins!  LOL
Next we asked them if they could tell us more about the discovery of the 1952 box and how that inspired them in the movie?
Damon said "The more we look into what the origins of the box are and where it came from and who found it, the less defined answers that we get. Suffice to say we became fairly convinced looking through it that we didn't know exactly what it was."  Surprisingly, they said about 80% of the items were uninteresting.   But what did interest them they were very excited about.   They pictured themselves as children that were given a box of things and asked to tell a story about what was inside. "We took some things like the design for it's a small world ride and Flushing Meadows and this weird kind of disk that might have been an animation that Orson Welles might have had some interest in. And we sort of said, what if Walt Disney was a member of this secret group of geniuses and Tomorrowland itself was actually a cover for a real place that they built-in an alternate dimension? And then we were kind of off to the races. " Damon said.
What do you think people will learn or take away from watching this film?
Brad said their first and foremost goal was for everyone to enjoy themselves at the movie theater watching TOMORROWLAND and walking away still thinking about it.   I personally love when a movie makes me think after I leave the theater.  Then I get talking about it and it's like I'm still there watching it.   Damon says "We have a young woman in the movie that is being barraged with the polar ice caps are melting, things are going to be much worse in the future. And she asks the only relevant question which is CAN WE FIX IT? And we hope that you walk out of the movie at the end saying, you can but you have to do something. You can't just sort of sit around and the future isn't something that happens to us it's something that we make happen. And I think that she certainly comes out of the movie feeling that."
Before we knew it the interview was over.  But before they left, we got a group picture with them.
TOMORROWLAND opens this Friday everywhere!  It's rated PG so plan on taking the entire family to see it!