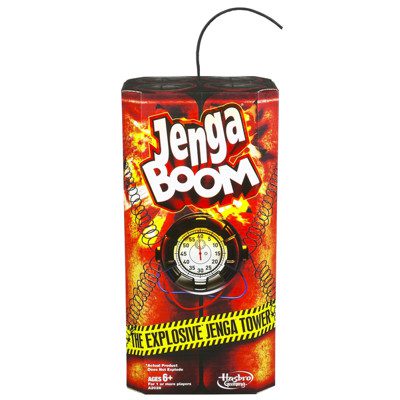 Are you ready for an explosion of fun? JENGA Boom, the all-new twist on the classic stacking game, takes the edge-of-your-seat action to a new level with a ticking-time-bomb-exploding platform underneath the tower of blocks. Players now have to rush to push, pull and stack the blocks without knocking over the tower. Just be sure you make your move before the platform blows!
Stack it and "explode" it with this awesome Jenga Boom Game. Just like in the classic Jenga game, you'll need a delicate touch to pull blocks out of the stack without knocking it down. But in Jenga Boom, you have to move fast, because you start the detonator before each turn – and you have to get your block out before your time runs out and the stack "explodes.
The Jenga Boom Game includes:
JENGA Boom game is "explosive" fun!
Pull blocks out of the stack without tipping it over!
Can you pull your block out before the detonator goes off?
36 JENGA hardwood blocks, toy detonator, stacking sleeve and instructions.
I already loved JENGA but now I love it even more!  This makes it so much more intense and hard!  My girls love playing this and so do my husband and I.
I love that Hasbro is re-working some older games and making them more fun and challenging with each change.  I hope they continue to do this.
Disclosure: I received a Free product for review. My opinions are 100% mine.