While at BlogHer in NYC earlier this month, I was interviewed by the Jimmy Dean Sun!  Yes the one from the commercial.. you know those really cute commercials where the weather is so much better once they eat a Jimmy Dean breakfast?  I love them.. even before I met the sun himself.  I always found them entertaining!
Here is my interview with the Jimmy Dean Sun…
They were at BlogHer to introduce a new line of breakfast products called Jimmy D's.  They are convenient solutions for busy moms to help them get their kids days off to a good start.  Very helpful right now with getting back into the school morning routines.  Not to mention they are hearty, satisfying and they only have 210 calories or less and 7 or more grams of protein.
Jimmy D's can be found in the frozen breakfast section at your grocery store and are available in three delicious varieties: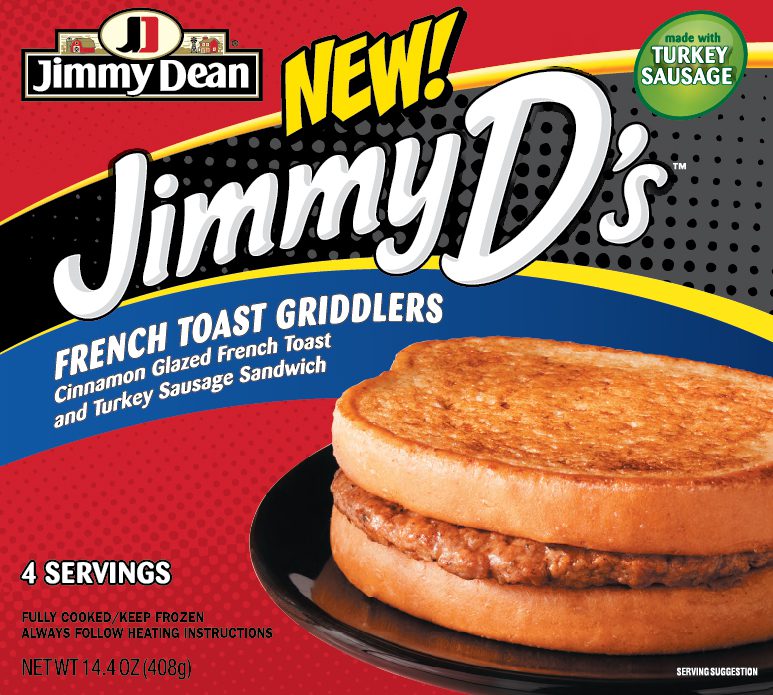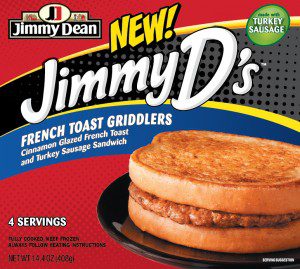 French Toast Griddlers — a cinnamon glazed French toast breakfast sandwich with Jimmy Dean turkey sausage. With 210 calories and 8 grams of protein, the Jimmy D's Griddler Sandwich is a good source of protein and contains vitamins and minerals such as iron(5), niacin(4) and folate(4). The sandwich contains 8 grams of fat, 2 grams of saturated fat and 390 mg of sodium.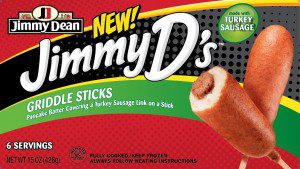 Griddle Sticks — a Jimmy Dean turkey sausage link wrapped in maple pancake batter on a stick. At 160 calories and 7 grams of protein, Jimmy D's Griddle Sticks are a good source of protein, phosphorus(3)and niacin(4). In addition, they provide 6 grams of fat, 1.5 grams of saturated fat and 410 mg of sodium.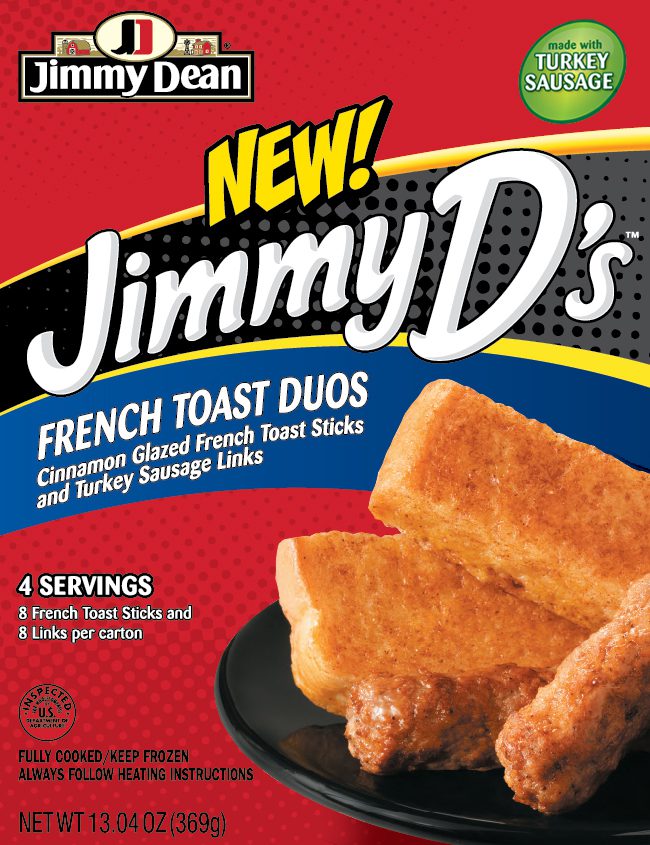 French Toast Duos — two cinnamon glazed French toast sticks served with two Jimmy Dean turkey sausage links. At 210 calories and 12 grams of protein, Jimmy D's Duos provide an excellent source of protein and are a good source of iron(5), B vitamins(4) (including riboflavin, thiamin and vitamin B12), folate(4) and zinc(5). They have 10 grams of fat, 2.5 grams of saturated fat and 440 mg of sodium.
You can also read on the Jimmy Dean website about the importance of protein and the benefits of a balanced breakfast with protein.
My thoughts: I tried the Griddle Sticks while at BlogHer and I thought they were pretty good.  Great for a breakfast on the go.  I like that they are made with turkey sausage so I know they are better for me than regular sausage and the combination was really good.  I picked up the French Toast Griddlers and French Toast Duos to try next.  I'm thinking the French Toast Griddlers will be very yummy with the cinnamon glazed French Toast.  Looking forward to trying that and the French Toast Duos I know my kids will enjoy and they will be perfect for the day we are trying desperately to get out the door.
I love that they are microwaveable and ready in minutes.  I can't tell you how much I don't like the mornings, especially when we have to be somewhere.
To make this breakfast even better for my family and because I'm constantly trying to get more fruits and veggies into my kids, I would probably serve any of these with a banana or slices of apples.  Two things my girls love to eat in the morning.
Get a Coupon: You can print a coupon for $1.00/1 Jimmy D's breakfast product and give them a try.  Let me know what you think!
Would you like to try the New Jimmy D's for FREE??
Giveaway: (3) Koupon Karen reader's will win a coupon for a FREE Jimmy D's breakfast product!
How to Enter: Tell me what your morning routine is… are you sunny in the morning? Or do you need your coffee like I do!
Extra Entries: Once you do the above mandatory entry you can do any of the following an earn up to 6 more entries:
Follow @KouponKaren on twitter
"Friend" Koupon Karen on Facebook
"Like" Jimmy Dean on Facebook
Tweet about this giveaway "I entered to win a FREE Jimmy D's Breakfast @KouponKaren & you can enter too https://wp.me/pMKCI-3Jt" (you can tweet this once a day!)
Blog about this giveaway
Sign up to receive Koupon Karen daily emails or add me to your favorite reader
Details: This giveaway is open to US residents and will end September 8th at 11:59pm. The winner's will be randomly picked and announced shortly after and will have 48 hours to claim their prize or I will randomly pick another winner.
Disclosure: The wonderful people of  Jimmy Dean provided me with FREE product coupons and they provided me with FREE product coupons to share with my readers.  This did not influence my post and as always, my words are my own.