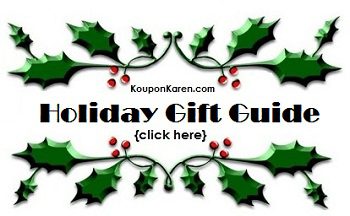 This years Holiday Gift Guide will begin November 1, 2013.    My gift guide will be full of great ideas to help you pick the best gifts for your friends and family.  All the products in my Gift Guide are products that I would personally give as gifts and some of them I am giving as gifts (shhh don't tell anyone!).
Check back each day in November at 9 am EST to see what item's I'm featuring in my Gift Guide.   You will even have a chance to win some of the gift guide!  I will share with you ideas of who this gift would be great for, where you can buy it and any discounts that may be available to help you save a little money.  But they will all come highly recommended by me and my family.
Check back to this post each day to see the new items included in the holiday gift guide and also follow the Karen's 2013 Holiday Gift Guide Pinterest board HERE.