This post is Sponsored by Shark but my opinions are 100% my own!
Today is the 14th Day of Karen's 2013 Holiday Gift Guide and today's pick is the Shark Rocket Ultra-Light Upright!   I don't enjoy vacuuming but if I have a vacuum that makes it easy for me, then I won't mind as much.  A heavy vacuum isn't going to make me happy because I have 2 sets of stairs in my house that need to be vacuumed and I can't carry it up and down the stairs and effectively clean them.
Holiday Gift Idea – Woman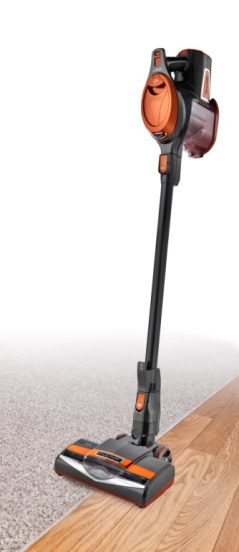 The Shark Rocket Ultra-Light Upright is perfect for the stairs and I don't mind doing them as much anymore!  It is super light and it only weighs about 8 pounds so I can easily carry it up and down the stairs.   However, I can also detach the handheld vacuum and use that on the stairs!  I can also take it out to my car which needs to be vacuumed quite often with two kids.  So it's like having two in one!
And it is also easy to push since it's so light and has a power head to help it move along.  How does it work?  It works great of course!  They say it works as well as a Dyson and while I've never used a Dyson it worked really well so I'm assuming they are correct.
About the The Shark Rocket Ultra-Light Upright
Never before has an ultra-light vac been able to outperform a full-size upright. Weighing just 8 pounds, the Shark Rocket™ is designed to equip users with the ability to swiftly transform between an upright and handheld vacuum. The slim, easy-to-use vac delivers Never Loses Suction power and a motorized power head to deep clean carpets better than a full size Dyson vacuum.
The handheld vacuum is ideal for cleaning stairs, cars or other small messes, and hard to reach above floor projects or under furniture spills are no longer a challenge to clean with the Rocket vacuum.
Additional Shark Rocket features include:
Enhanced Swivel Steering and a low profile nozzle delivers "go anywhere" versatility.
Dual Power Settings makes it easy to go from bare floors to carpets and rugs.
Additional features include:

Dust-Away™ Attachment with Microfiber Pad: Completely capture dust particles from all bare floor surfaces by vacuuming large debris and picking up fine dust.
Crevice Tool: 12 inches of extended reach for hard to reach spaces.
Dusting Brush and Pet/Upholstery Tool and wall mount for convenient storage.
You can pick this up for about $179.99 and you may even be able to find it on sale between now and the holidays!
Looking for more gift ideas? Be sure to follow the Karen's 2013 Holiday Gift Guide Pinterest board for more great gift giving ideas!

Disclosure: I received a Free product for review. My opinions are 100% mine.