This post is Sponsored by K'Nex but my opinions are 100% my own!
Today is the 23rd Day of Karen's 2013 Holiday Gift Guide and today's pick is the Super Mario Bros.™ 2 Thwomps™ Building Set!  I was a HUGE Super Mario Bros fan when I was in high school.  I played it all the time.  I even got my mother addicted to it.  And now we have it for the Wii and the girls love watching me play.  (and yes my mom is still addicted to it and plays all the time when she's over!)
Holiday Gift Idea – Boy or Girl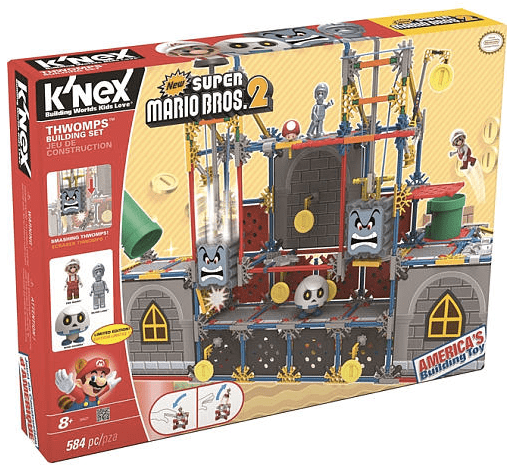 This is totally like trying to get through the castle portion of the video game, and may be even more difficult!  This is at the top of my friend's son's holiday wish list and she said he hasn't stopped talking about it.  He said it's a fairly simple set to put together but I bet it's loads of fun.   I love that you even get a power up mushroom and how you collect coins!  Those were always my favorite parts of Super Mario Bros.
About Super Mario Bros.™ 2 Thwomps™ Building Set
Go on a brand new adventure with Fire Mario™ & Silver Luigi™ as they journey through a castle course!  Featuring K'NEX's all new jump disk and launcher that allow Mario to run and jump, like he does in the game.  Build Fire Mario & Silver Luigi and drop them through the warp pipe to enter the course. Look out for the Thwomps – slam them down to open your path.  Make your way past the Thwomps, collecting coins as you go – don't forget to grab the Power Up mushroom at the top!  Drop through another warp pipe and guess what – there's another side to play on!  Use the sliding platform to cross the lava.  Who will you find behind the door?  It's a Bone Goomba™!  Hit the target to defeat him, pop-up the flag and you've cleared the course!  Combine your Thwomps building set with the rest of the K'NEX Super Mario™ building set line to take Mario on an even BIGGER adventure! 
This is for ages 8 and older and can be found exclusively at Toys "R" Us for about $59.99.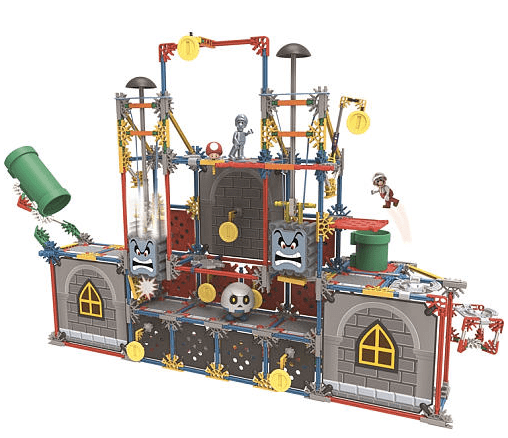 It reminds me of mousetrap (yes I'm a girl, what do you expect) with the traps and bombs and all!  And I love the little Mario and Luigi figures!  I bet if the kids were creative enough they could come up with some other ways of playing with this and perhaps redesign it for an entirely new playset.  That's the thing about K'nex, you can totally change things around!
I absolutely love how interactive these playsets are and the kids can really use their imaginations but yet it brings to life a game they love and play all the time.  And since it's not a video game then there is no screen time required, just fun time.  I bet if you put together a few of these playsets one afternoon the kids would be occupied for hours and won't even ask for their video games.
Looking for more gift ideas? Be sure to follow the Karen's 2013 Holiday Gift Guide Pinterest board for more great gift giving ideas!

Disclosure: I received a Free product for review. My opinions are 100% mine.