This post is Sponsored by K'nex but my opinions are 100% my own!
Today is the 28th Day of Karen's 2013 Holiday Gift Guide and today's pick is the Super Mario 3D Land Bowser Castle Building Set!  This is the last of the K'nex items featured in this year's holiday gift guide and I kept it for last because I think it's going to be the hottest pick of all.  This castle is super cool and it's where Mario saves the princess in the final castle!  So those kids that have reached this point in the video game, are going to love this set.
Holiday Gift Idea – Boy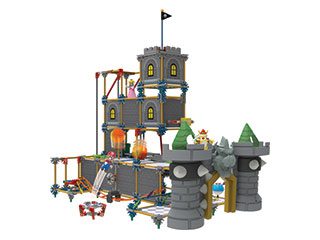 Go on a brand new adventure with Mario™ – battle Bowser™, and save the princess in the FINAL course! Featuring K'NEX's all new jump disk and launcher that allow Mario to run and jump, like he does in the game. Build Mario and make your way through the entrance gate to Bowser's Castle!  Look out for Draglet™ – a battery-powered motor makes him a spinning danger at the entrance.  Use the track slider to cross the pit, and jump up to collect the coins!  Watch out for the Fireballs – you make them move by turning the white connector.  Hurry past the spinning Fire Bars, and hit the mystery box – what did you get?  Jump across the moving platforms, through the warp pipe and up the elevator platform to Bowser's final hiding place!  Use the jump launcher to knock him down!  Save Princess Peach™, pop-up the goal flag and you've WON THE GAME!  Combine your Bowser's Castle building set with the rest of the K'NEX Super Mario™ building set line to take Mario on an even BIGGER adventure!
This set is for ages 8+ and is sold for about $99.99 exclusively at Toys "R" Us.
Looking for more gift ideas? Be sure to follow the Karen's 2013 Holiday Gift Guide Pinterest board for more great gift giving ideas!

Disclosure: I received a Free product for review. My opinions are 100% mine.