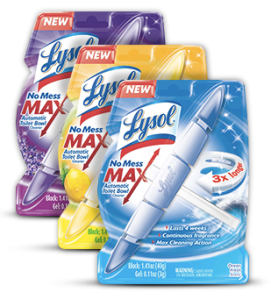 This post is Sponsored by Lysol but my opinions are 100% my own!
If you are a mom then you know that Bathroom time can be an escape for you.   Chances are you use your cell phone or tablet while sitting on the porcelain throne, right?  -If so you are not alone. A new survey [1] found that more than one-third of Americans admit to regularly using a digital device while in the loo.  This number grows significantly when you're a mom, with nearly 60 percent parents opting to reading on their digital devices while in the bathroom (only about 25 percent of people without kids do).
So then you probably want to keep your toilet as clean as you can. The Lysol No Mess Max Automatic Toilet Bowl Cleaner is designed to clean the toilet with every flush, while the patented fragrance gel emits a fresh scent between flushes, delivering a continuous clean for up to four weeks.  And it's available in Ocean Fresh, Lavender, and Citrus scents.
This exclusive toilet bowl cleaner is a revolutionary new product designed to help you keep a healthy toilet for your family. Simply hang it on the toilet bowl rim and let Lysol do the work for you. With 3X longer* design to clean more of your toilet with every flush, patented fragrance gels emit the freshest scent even in between flushes.
[1] The Lysol No Mess Max survey was conducted by Wakefield Research with 1,000 nationally representative U.S. adults, ages 18+. *vs. base Lysol® No Mess toilet bowl cleaner
I'm all for getting help keeping the bathroom clean.  Especially in the summertime because we have people over all the time.   And I'll admit I take my phone in there with me too.  I just don't have enough time in the day so I have to multitask.   Whatever we have to do to get things done as moms, we do!

(1) Koupon Karen reader will win a Lysol No Mess Max Automatic Toilet Bowl Cleaner.
To enter the giveaway, use the Giveaway Tools widget below. Email and feed subscribers will need to click-through to the site to enter the giveaway.
As a reminder, comments left on Facebook or Twitter will not be included. You must follow the instructions on the widget about the proper way to enter. Of course Facebook is in no way associated with this giveaway!
Disclosure: I received a Free product for review. My opinions are 100% mine.