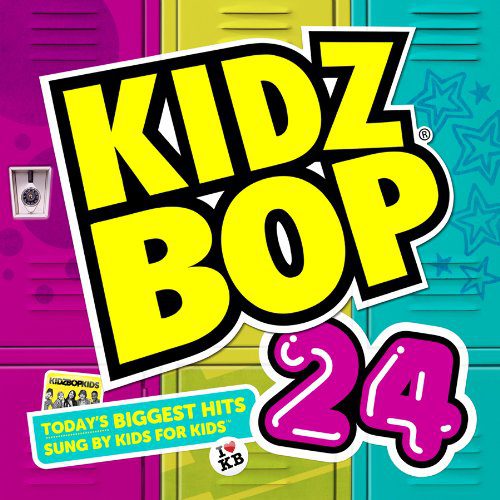 This post is Sponsored by Kidz Bop but my opinions are 100% my own!
My girls love Kidz Bop.  I mean they really LOVE Kidz Bop!!!!  Whenever there is a new CD they bug me for days and save up all their pennies to buy the it.   They love to sing and dance and we play these cd's over, and over and OVER again!   And I will admit, I like Kidz Bop too.   Each CD is always a collection of some of the new and Hottest music but it's cleaned up for my kids to listen to.  And frankly, I'd rather listen to the cleaned up versions to.
Earlier this summer the newest CD was released – Kidz Bop 24 and if you are a fan and you still don't have this one, you'll want to pick it up for sure because it's just as good as the previous 23 + CD's!  They don't just have 1-24 but they also have special CD collections as well.
Kidz Bop 24 includes the following songs:
1. Thrift Shop
2. I Knew You Were Trouble
3. Suit & Tie
4. Beauty And A Beat
5. Ho Hey
6. Come & Get It
7. Feel This Moment
8. Scream & Shout
9. Girl On Fire
10. I Love It
11. Can't Hold Us
12. Heart Attack
13. Mirrors
14. 22
15. Just Give Me A Reason
16. Don't Stop The Party
It's high energy music to get your kids up and moving around.  And it's good for mom's that like to move too.  My kids love blasting this after school and jumping all around.  I like it too because they get all their energy out while having a good time.
I guarantee you if you saw me driving around with my kids, we have Kidz Bop playing in the background.  About 5 out of 6 times!
Right now you can grab it on Amazon or under $12 and it ships free with Amazon Prime.  But these prices change often so make sure you check the price before adding it to your shopping cart!

(1) Koupon Karen reader will win a copy of Kidz Bop 24 CD!

To enter the giveaway, use the Giveaway Tools widget below. Email and feed subscribers will need to click through to the site to enter the giveaway.
As a reminder, comments left on Facebook or Twitter will not be included. You must follow the instructions on the widget about the proper way to enter.   Of course Facebook is in no way associated with this giveaway!
Disclosure: I received a Free product for review. My opinions are 100% mine.