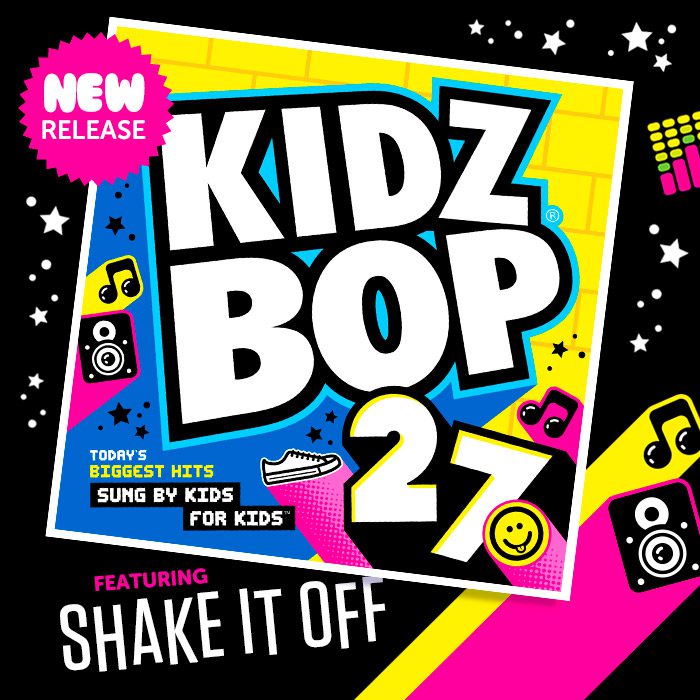 This post is Sponsored by Kidz Bop but my opinions are 100% my own!
The Kidz Bop kids are at it again with (as far as I'm concerned) another hit out of the park with Kidz Bop 27 which was released last month.  My girls are HUGE Kidz Bop fans and if you've been reading my blog for a while, you already know this.  Whenever a new CD is released, we get it and we also give one away.  They seriously count down the days till it's released begging me to download it.
This time was no exception.  The song they were the most excited about was Shake It Off!   It's one of their favorite songs.   And you know, I'm a fan too.  The Kidz Bop CD's are always the top songs playing on the radio at the time of its release.  Therefore they are songs I know too.  But what I love about these songs is that they 'clean up ' the words so my kids can actually sing them, and I don't have to worry about what they may be saying.  Half the time the songs on the radio have words in them that I really don't want my girls to repeat, but they don't know that because they don't know what the words are.  But with Kidz Bop, I don't have to worry about that.
So what else is on the Kidz Bop 27 CD
Shake It Off
All About That Bass
Fancy
Boom Clap
Rude
Problem
Am I Wrong?
Maps
Really Don't Care
Latch
Break Free
Cool Kids
Shower
Rather Be
Say Something (Live)
Another favorite of theirs (and mine, I'll admit) is All About the Bass.  I especially love the kids version of this.  No questions asked about holding onto booties at night here!  😉
We have been dancing around all week to this CD.  And it's been helpful to keep us moving since we've been a little more housebound with all the snow and cold this past week in New England, and it's back today!
You can find Kidz Bop 27 in stores now and you can also download it from Amazon and iTunes!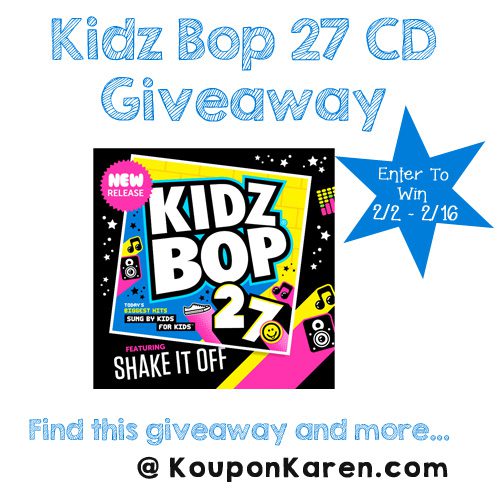 (1) Koupon Karen reader will win a copy of Kidz Bop 27 CD.

To enter the giveaway, use the Giveaway Tools widget below. Email and feed subscribers will need to click-through to the site to enter the giveaway.
As a reminder, comments left on Facebook or Twitter will not be included. You must follow the instructions on the widget about the proper way to enter. Of course Facebook is in no way associated with this giveaway!
If you are looking for more giveaways, be sure to follow my Fun Giveaways Pinterest board!
Disclosure: I received a Free product for review. My opinions are 100% mine.