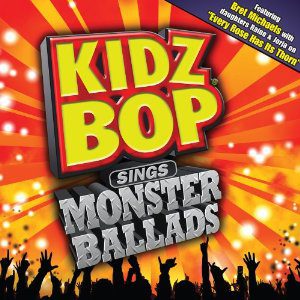 Product Name: Kidz Bop Monster Ballards
Product Information: KIDZ BOP Sings Monster Ballads includes 16 hair band classics from the 80s and the 90s – featuring Legendary Rocker Bret Michaels and his daughters Raine & Jorja on the track Every Rose Has Its Thorn!
Song List:
Every Rose Has Its Thorn
Heaven
Home Sweet Home
I Remember You
Forever
High Enough
Don't Know What You Got (Till Its Gone)
Wait
Love Song
The Flame
Is This Love
Patience
When I See You Smile
Wind Of Change
Love Of A Lifetime
If you aren't familiar with these songs you can head on over to the Kidz Bop website and hear song clips.
Product Price: $14.97
Purchase Information: You can purchase at Amazon
or where other music is sold.
As you probably already know, we are big fans of Kids Bop CD's.  We've been enjoying them for the past 4 years and each time a new one comes out, my daughters ask me if we will get it for review.  They are learning!  This time I was the one who noticed their newest one because it's music from my youth! (Boy I feel so old saying that, but it's true!).   I was super excited to receive Kidz Bop Monster Ballads because I knew this was one CD that even my husband wouldn't mind listening too, when the kids are in the car of course!
Not only did I enjoy it but the girls did too. They recognized a few of the songs from when we've played our music in the car and they think it's pretty cool that now it's on the Kidz Bop CD!  We really enjoyed the variety this CD has and Bret Michaels and his daughters did a GREAT job on Every Rose Has Its Thorn.  It's a great CD for the entire family!  Never thought I'd say that about a Kidz Bop CD. 😉
Disclosure: I received the review product free of cost. My opinions are 100% mine.