This post is Sponsored by King Richard's Faire but my opinions are 100% my own!
I'm so excited to bring to you a King Richard's Faire (Carver Massachusetts) Family 4 Pack Giveaway!! We are heading there next weekend and can't wait to go. Even though I've lived here pretty much all my life, I've never been to King Richard's Faire so I'm very excited to bring the girls. My husband started talking about it a few weeks ago and we told the girls last night that we'd be going and they are very excited, even though they don't really fully understand what it is, but we know they'll love it.
If you aren't familiar with King Richard's Faire, it's New England's largest and longest-running Renaissance Festival. It opened its 2013 season on August 31st and runs weekends and Monday holidays through October 20, 2013. It's tucked away on 80 acres of enchanted forest in Carver, MA and King Richard's Faire is a full day of live, interactive entertainment for all ages and is open from 10:30 a.m. to 6:00 p.m. on weekends and Monday holidays (Labor Day, Columbus Day).
What can you do there?
Guests are invited to watch the King's daring knights joust on horseback, hear live musical acts, watch theatrical performances and mingle with mischievous and talented strolling performers all day long. For the adventurous young and old, guests can try their hand at a bow and arrow, axes or other games of skill in the Faire's Gaming Glen, get their tarot cards or palms read, get chosen to participate in a stage performance, or simply pick up a great new accent to impress friends.
Is there Food?
Faire cooks will tantalize taste buds with scrumptious treats, including spit-roasted giant turkey legs, boules of chowder and stew, ringlets of fryes, sandwiches, soups and salads, champagne, wine, cider and brew.
Are there Crafts?
Discover over 100 talented artisans who journey from all over the country to display and hawk their magnificent wares. You will be delighted and intrigued by the fantastic glass blowing, portrait painting, hand-spun pottery, sword making, fabulous jewelry, leather and armor, period clothing, moccasins, perfumes and scented oils, face painting, and psychic readings.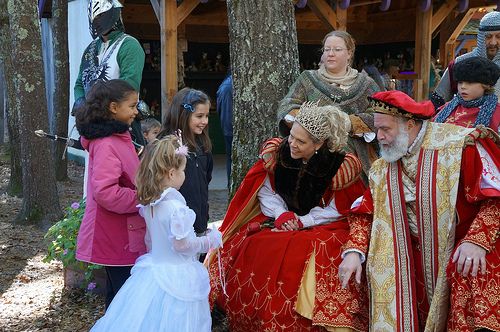 Special Events
Every Saturday at 4 p.m. on the King's Stage, guests enjoy an extra special event with a different theme each weekend, from romantic vow renewal ceremonies an adorable prince and princess showcases to the crowd-pleasing cleavage contest and "royal ink" tattoo competition, all contests are open to public participation with great prizes offered for each event.
See website for special event schedule and details:
Saturday Sept. 7th: Cleavage Contest
Saturday Sept. 14th: Vow Renewal Ceremony
Saturday Sept. 21st: Royal Ink Tattoo Contest
Saturday, Sept. 28th: Prince & Princess Contest
Sunday, Sept. 29th: Game of Thrones Ascent Fanfest (trivia and costume contest)
Saturday, October 5th: Beard & Moustache Contest
Saturday, October 12th: Childrens' Fairies and Pirates Costume Contest
Saturday, October 19th: Adult Costume Contest
How much does it cost?
Tickets are $28 adults and $16 children ages 4-11. Children under three are free. Tickets may be purchased at the gate (cash only) or online in advance on the Faire's website (www.kingrichardsfaire.net; $2 fee per ticket for online ticket sales via credit card). Unfortunately, Pets and outside food and drink are not permitted.
Of course they love to have Groups and special celebrations! You can email info@kingrichardsfaire.net or call for pricing and reservations.
If you live in the Carver, Ma area and you'd like to go enter the giveaway below. You will have to find your own transportation, this giveaway is only for tickets so you must be able to get there yourself.

(1) Koupon Karen reader will win a family 4 pack to King Richard's Faire in Carver, MA that can be used any weekend now through October 20, 2013.

To enter the giveaway, use the Giveaway Tools widget below. Email and feed subscribers will need to click-through to the site to enter the giveaway.
As a reminder, comments left on Facebook or Twitter will not be included. You must follow the instructions on the widget about the proper way to enter. Of course Facebook is in no way associated with this giveaway!
Disclosure: I received a Free product for review. My opinions are 100% mine.