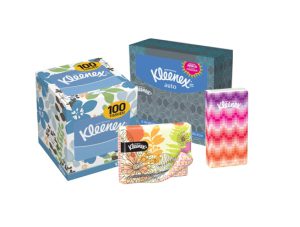 Product Name:   Kleenex brand on-the-go formats:
Product Information: The Kleenex brand is adding a new line of on-the-go packs with Sneeze Shield this back to school season to make it easy to help keep stuff off kids' hands in the classroom, on field trips, at home or wherever kids go.
The on-the-go packages include:
The wallet pack. It is thin and sleek, so you can always keep a tissue on hand. Their trendy design and convenient size make it the perfect accessory for hip tweens and teens.
The auto pack. It fits perfectly in the car door or glove compartment – no need to lug around a box of tissue or fumble in a purse for a tissue while driving.
The new and improved pocket pack. A long-time favorite has been improved to feature three-ply tissue.
Purchase Information:  You can purchase Kleenex products in the Facial tissue aisle in major retailers nationwide.
_________________________________________
Product Name: Kleenex Cool Touch tissue

Product Information: Kleenex brand – the brand that invented the facial tissue category – continues its tradition of leadership, innovation and softness with its 2011 launch of Kleenex Cool Touch™ Facial Tissues.  The New Kleenex Cool Touch tissues are the only tissues that release a cool sensation to soothe a sore nose on contact while providing all the softness you expect from Kleenex brand.
The unscented tissues are enriched with cooling moisturizers and aloe and release a cool sensation on contact to provide soothing comfort. Body heat activates the special ingredient in the tissue which creates the cooling sensation.
Every year, the U.S. alone reports more than 62 million cases of the common cold  and 24 million sore noses. When people are sick the combination of nasal excretions and extensive wiping create a sore red nose that feels hot and uncomfortable. Kleenex Cool Touch Facial Tissue was designed to soothe this discomfort by reducing the temperature of the skin on the nose and providing much needed relief.
Purchase Information:  You can purchase Kleenex products in the Facial tissue aisle in major retailers nationwide.
My Thoughts: I currently have a head cold so these samples arrived at the perfect time.  Before I was contacted about doing this review, I hadn't even heard of the new Kleenex Cool Touch Tissues so I was very interested in trying them out.  I immediately thought there were like the other tissues that have  Vicks in them, which I do like to use but only when I'm sick, otherwise they drive me crazy.  But I was wrong in assuming that because they aren't like those at all.
I opened the box, pulled out a tissue and immediately felt the 'coolness'.  The tissues are actually cold!  It's weird, odd and comforting all at the same time.  They almost seem like they are wet, but they aren't.   There is also no scent, which I really like so that I can use them all the time, not just when I'm sick.   I pulled one out and used it and it was so cool – I  mean cool as in neat but also cool as in cool on my nose.  Boy this sounds very confusing. LOL
The Cool Touch tissues are scent free, felt cool on my irritated nose, were soft and thick to handle, in my opinion, anything.  I love them!!!
I also received some samples of the on the go Kleenex products – more new items I hadn't heard of.  I began to wonder if I had been living under a rock!   The wallet packs are nice and I love the size of them.  They are thinner than the traditional pocket pack and fit nicely inside the zipper compartment in my purse.  They aren't too bulky that I can even put them in my back pocket when I need to keep them on me.  I love the idea of this size and they come in hip designs that are perfect for teens as well.
Did you know that Kleenex made an auto tissue box?  I had no idea, so you're not alone.   I usually toss a full size box of Kleenex in my car, on the floor between the two front seats.  We have a caravan so everything from the middle front floor slides into the back seat – all the time.  This auto box is the perfect shape to fit inside my glove compartment and even in the pocket on the door.  And they also come in a nice decorative box, which I think is a nice touch.
I've always been a fan of Kleenex products and I love how they are contently trying to find what works right for us, and these products totally work for me!

 Kleenex Soft Touch Free Sample
Want to try a free sample of Kleenex Soft Touch tissues?  You can when you share a pack with a friend.  Just head on over to the Kleenex website and read about Softness Worth Sharing!
Disclosure: I received the above Free Product for review. My opinions are 100% mine.