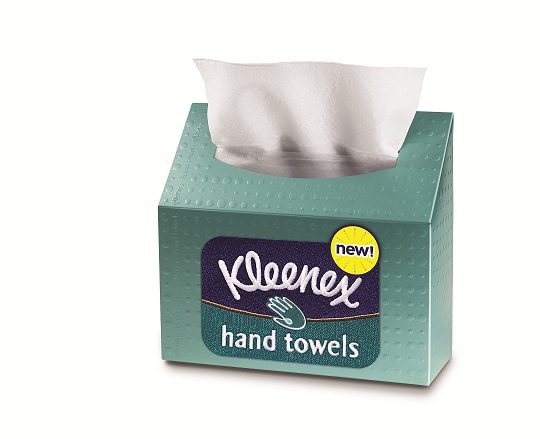 Product Description: Kleenex Hand Towels are an innovative solution that delivers one clean, fresh, dry towel every time consumers wash and dry their hands in the home bathroom. The single-use, disposable bathroom hand towel provides consumers with a unique new product that addresses a growing awareness of hand hygiene as a means to help maintain their families' health and wellness.
Product Price: Retail value is $2.99
My thoughts: I was very excited to give these a try in the bathroom my daughter's use.  We were all sick a lot this spring so I wanted to find every way possible to cut down on the germs being passed back and forth.  I knew the hand towel wasn't helping and was trying to change it every day but even that doesn't guarantee anything.  That's why when I was contacted by a Kleenex PR Representative offering to send me a couple of boxes to try out, I was very excited.
The minute the boxes arrived my 5 year old jumped up and down.  She had seen them on TV and was so excited to put the box in the bathroom.  She showed me how to fit it on the towel rack, just as she had seen.  We talked about using them each time they washed their hands and at the same time, if it was possible, I wanted them to wipe down the sink too before tossing them in the trash.  We also discussed how fast the trash basket was going to fill up so she was more than happy to take over the responsibility to empty it too.  It's so cute when they get excited over little things like that.  (I still don't understand why we buy so many toys for them when they'd rather do everyday things to have fun.)
They were a HUGE success and I'm happy to say they worked great.  All they needed was one hand towel each time they washed their hands.  They are nice and absorbent and don't fall apart very easily.   I don't plan on buying them all the time but when I do find a good deal on them AND when we are fighting colds and the such, I will be getting them.
Would you like to win some Kleenex Hand Towels to try for yourself?

Giveaway: (1) Koupon Karen reader will win (2) two boxes of Kleenex Hand Towels.
How to Enter: Just leave me a comment and tell me why you want to try these.
Extra Entries: Once you do the above mandatory entry you can do any of the following an earn up to 3 more entries:
Tweet about this giveaway "I entered to win Kleenex Hand Towels at @KouponKaren! Stop by & you can enter too at https://wp.me/pMKCI-3cf"(you can tweet this once a day!)
Blog about this giveaway
Sign up to receive my emails or add me to your favorite reader
Details: This giveaway is open to US residents only and will end July 15th at 11:59pm.  The winner will be randomly picked and announced shortly after and will have 48 hours to claim their prize or I will randomly pick another winner.
Disclosure: Kleenex sent my family 2 boxes of Kleenex Hand Towels for our review.  They will also send the winner 2 boxes of Kleenex Hand Towels.  My review was not influenced by this and my words are my own.