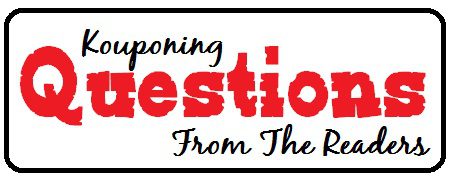 I asked my readers on Facebook to submit their coupon questions and I will answer them one by one.  This will help those of you struggling and hopefully help those of you just starting out.  I'm always here to answer questions and I'll help in any way that I can!
How can I organize myself at the register to make the checkout process easier when using coupons?

There is nothing more uncomfortable than people behind you at the register that don't use coupons, like coupons or like the people using them.  I like to get in and out of there as fast as I can when checking out to avoid the 'looks' that people give me when I hand over a bunch of coupons.
The key to doing that is to be organized at the register to cut down on the time you spend there.  When you approach the cashier you should hand over your coupons to her and not have to sort through them anymore at this point.  That's not always as easy as it sounds.  Most times when I shop there are a few things I brought coupons for, that I don't purchase.  Then I have to sift through my pile to find them before handing them over to the cashier.
I have a great system I use while shopping so that I'm prepared when I reach the register.  I use a two envelope system.  I have one envelope with the coupons I brought to the store to use and then when I put the item in my shopping cart, I take the coupon for that item out of one envelope and put it in the other envelope.  Then when I get to the cashier, all the coupons I am using are in one place.  This also helps me to see if I've found everything I intended to find!
You don't need to purchase envelopes for this purpose, you can use envelopes that you get from junk mail and you can even write your grocery list on the outside of one of them.  And to make it even easier for you, mark one envelope "cashier" so you know which one to give them when you are checking out.
I'm sure there are many other ways to do this, but this is what works for me.  Let me know if you give it a try and how it works for you!
Have a question about using coupons or saving money? Email Me and your question may be answered right here on the blog. Check here for all questions answered in this series.