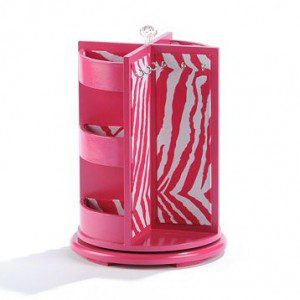 Product Name: Krikland's Swivel Jewelry Caddy
Product Information: Each swivel jewelry caddy measures 9"D x 13"H is lined with fabric to protect jewelry, rotates a full 360 degrees and storage features include necklace hooks, ring pads, earring holders and cubbies. These trendy caddies are available in black and white damask, hot pink zebra and white with floral print.
Product Price: $24.99
Purchase Information: You can purchase it online at Kirklands.com.
My Thoughts: I will admit, I didn't have anything to put the little jewelry I have in.  Well that's changed now because I received the cute Zebra Pink Swivel Jewelry Caddy from Kirkland's for review.  The reason I picked the Zebra Pink one is that my girls love pink and my little one loves Zebra's so I thought they would really like this.  Even though it was going to be for mommy's jewelry, not theirs.
When it first arrived they asked me what it was, I told them a jewelry organizer and showed them what each spot was for.  The little one didn't understand how the rings would stay in the slots so I showed her.  She was impressed and so was I as it held onto my rings very well.  She then went and got her plastic bin full of jewelry (and I mean FULL of jewelry – plastic jewelry) and began filling the caddy with her jewelry.  Then it started tipping over because she had too much on there, that is how much she has!  But she LOVED it and was very sad when I told her it was really for mommy and not her.  I may have to get her something for her jewelry now.
But I really like the caddy, there is a ton of room for jewelry and everything fits nicely.  Its not made with the best wood, but for what I'm using it for and the price that they sell it for, I think it's just fine!
I would purchase this for a friend for sure and may consider doing that at the holidays.  I know someone else (besides my daughter) that would love this too!
WIN IT
(1) Koupon Karen reader will win a Hot Pink Zebra Kirkland's Swivel Jewelry Caddy.
Entry is simple! You just need to answer the question below by leaving a comment on this site! You can even gain up to 5 bonus entries for doing each additional item listed (just make sure that you leave one entry for each one — up to a total of 6 comments). As a reminder, comments left on Facebook, Twitter or other posts will not be included.
REQUIRED ENTRY
Take a look around the Kirkland's Website and tell me what else you like.
BONUS ENTRIES:
1. Follow @KouponKaren on twitter and tweet the following "I entered to #win a Kirklands Jewelry Caddy @KouponKaren and you can too! https://wp.me/pMKCI-6DE#giveaway"
2. "Like" Koupon Karen on Facebook –> I have a new page so if you were previously my "friend on facebook" please like this page as well.
3. "Like" Kirklands on Facebook

4. Comment on any other post on my blog (giveaway posts don't count) then come back here and let me know what post you commented on.
5. Sign up to receive Koupon Karen daily emails or add me to your favorite reader.
Details: This giveaway is open to US Residents and will remain open until May 27th at 11:59 p.m. EST . Any comments left after this time will not be counted. The winner will be selected randomly and will be notified via email and will have 48 hours to claim their prize.
Disclosure: I received the same prize pack as the winner. My opinions are 100% mine.