Last month I, along with 13 other bloggers, was invited to Winston-Salem, North Carolina to visit the Krispy Kreme World Headquarters, and this doughnut and coffee-loving blogger couldn't have been happier!!!   My trip was full of excitement from when I woke up at 4 am to head to the airport and it was snowing out!  Since we get snow here often enough, I didn't expect a delay at the airport.
Boy, I was wrong, very wrong!
I was supposed to arrive in Greensboro North Carolina at 10:30 in plenty of time to be able to settle in, blog a bit and have some lunch with friends before the festivities began.  But that's not how my morning went.  Traveling is always fun but this by far my most "fun" traveling experience from beginning to end.  To make a long story short, when de-icing my plane in Providence, they accidentally shot some of the de-icer into some sort of power box and blew the power in the plane.  After about an hour and a half of sitting on the plane, they decided that plane wasn't going anywhere and made us go back into the airport to make alternate arrangements.  So I did.
Because I of the bad weather and missing my original flights, I didn't arrive in Greensboro until 5 pm.  So I missed some of the festivities but it was only a small part of what we were going to be doing.  I laughed off what happened and enjoyed my stay.  (I had no idea getting home would be such an adventure as well!)
We stayed at the very beautiful Graylyn International Conference Center.  This was my first visit to Winston-Salem and I had no idea how beautiful it was and how big and gorgeous the houses were, including the Graylyn.   The Graylyn Estate was originally the home of Bowman Gray Sr. and Nathalie Lyons Gray and is now a beautiful hotel that I'm told is very hard to get a room in. I was honored to stay there.  The place was beautifully decorated and each room was different and unique!
My favorite part of my room was the bathroom!  Look at this beautiful tub!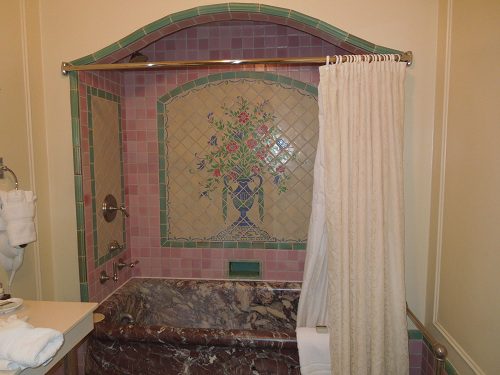 And a beautiful fireplace.  I wish I could have spent more than one night here to enjoy the room more.  I absolutely loved it.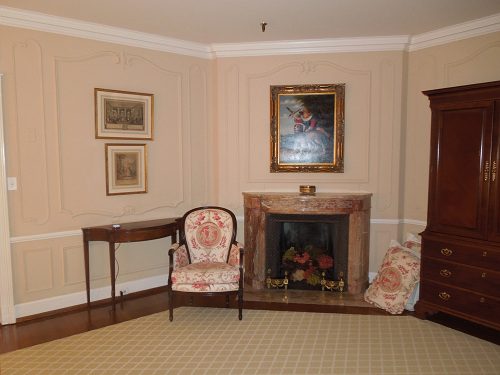 After a good night's sleep we began a day of doughnut tasting, coffee drinking, chocolate sampling, and more at the Krispy Kreme headquarters.   Oh and lots of laughs too.
What is your favorite Krispy Kreme donut?  Are you an original glazed type of person or do you enjoy their cake donuts?  We had a Krispy Kreme in Rhode Island a few years ago but it didn't make it and they closed.  People in my neck of the woods are too stuck on what we've had here for years.  And while I did taste the Krispy Kreme doughnut while they were in RI, I never had one hot off the press until this trip.
It was Ohhhh SOOOOO Good!  Like melt in your mouth good.  "WOW" was all I could say and "can I have more?"
First, we did a doughnut and coffee pairing.  This was perfect for me, as I love both.  Krispy Kreme tries really hard to have the best coffee they can to go with their awesome doughnuts.  They have a house blend, a dark roast, and a decaf and we tried all three.  But they asked us to try them without adding any cream or sugar.   I don't normally do that but I figured why not.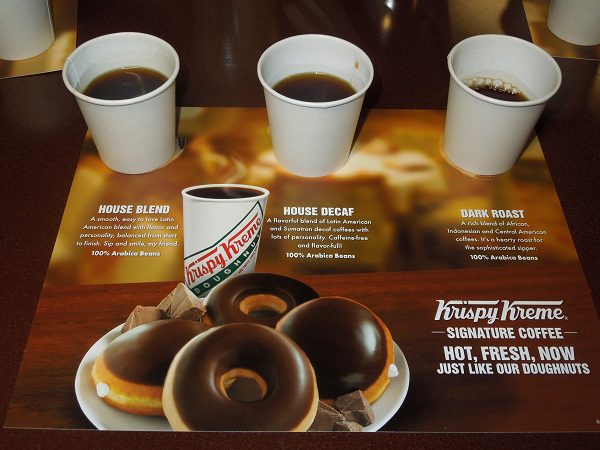 Well, I was amazed at how much of the coffee I could taste and I was able to notice a difference in each cup that way.  Next time you make yourself a coffee before you add anything to it taste it the way it is.  You may actually like it!  Don't believe me?  Well, let me tell you I am a cream and sugar gal.  I can leave out the sugar if necessary but not the cream.  Well, the next thing we did was try certain donuts with each coffee.  I left one of the black, no sugar, and had a big of the doughnut – the raspberry-filled doughnut – and then took a sip of the black coffee.  Guess what?  It was really good and I didn't even notice the missing cream and sugar.  I was amazed!
I never, ever thought I'd enjoy black coffee and since that trip, I've had a few cups that way when eating something sweet.  Try it and let me know what you think!
After all of our coffee and doughnut tasting, our table was pretty full.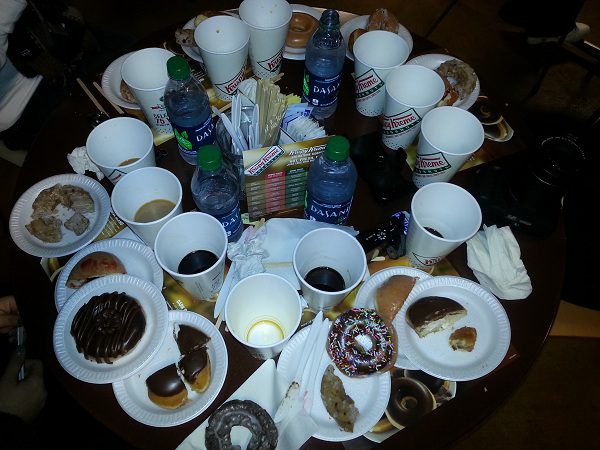 I know you are thinking look at all those half-eaten doughnuts, what a waste right?  Trust me, if I could have eaten more, I would have!  We had a lot.
Next couple of hours we spent asking questions of the chefs which was pretty cool and they seemed to love it.   It's great to hear from the people in charge of how much they love their jobs.  And I don't think it was just because they work with coffee and doughnuts all day, but I think it's also because they work for such a great company!
Then we meet some of the people from marketing, distribution and the international part of the company.  I had no idea that Krispy Kreme was so popular overseas!  We watched a grand opening video of a store in the Philippines and it was so cool to see the different stores and what they make there and all the people going crazy over them. We then saw a slide show of pictures from doughnuts all over the world.  Let me tell you there are some interesting doughnuts made in other countries!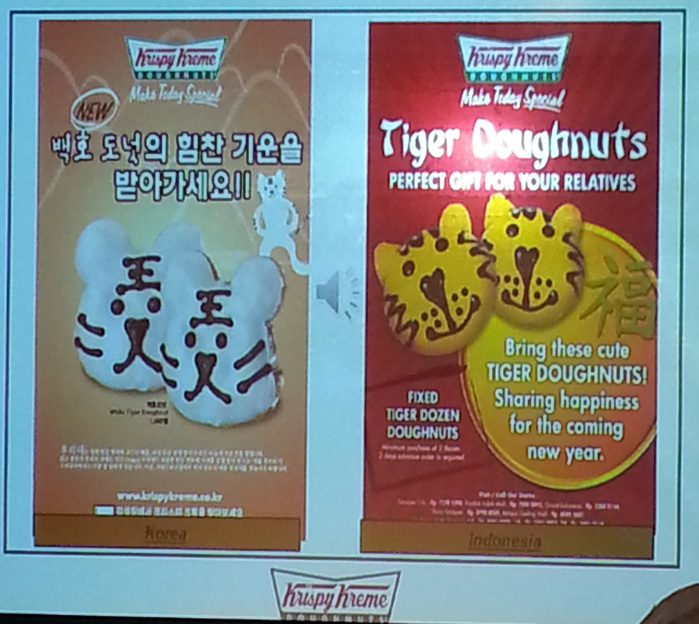 We also tried different kinds of chocolate and dark chocolates which I found interesting.  I had no idea there were so many kinds and that certain ones are used for certain things, like baking, melting, candy making, etc.  I only noticed the differences because we were trying them one right after another.  Krispy Kreme really puts a lot of thought into the chocolate they use for all their products.
I love visiting companies like this because it makes you realize that they have real people behind them and they truly do care about their customers.  Krispy Kreme's number one priority is making their customer's happy with good products, then making money.  Because if the product is good, the people will come and so will the money!
Disclosure: My trip and stay at the Graylyn were provided by Krispy Kreme.  My thoughts and opinions are 100% my own!