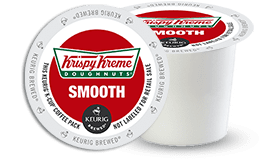 This post is Sponsored by Krispy Creme but my opinions are 100% my own!
I'm so excited to share with you that Krispy Kreme Coffee now comes in Single Serve!   Last year I visited the Krispy Kreme headquarters and while we were there, we did a really fun activity where we paired coffee with donuts.   They forced me (well not really forced!) to try the coffee black with no sugar and no cream so that I could fully experience the flavor of the coffee.  I didn't want to, but I did.  It changed the way I tasted and looked at coffee after that!  I also found that I really enjoy Krispy Creme coffee.  But we don't have any around here so I don't get it very often.
Plus I use my Keurig to make coffee.  But now I can have Krispy Kreme coffee and use my Keurig because they now have K-cups! Plus they are available nationwide at Krispy Kreme stores, in select grocery stores and online including my favorite k-cup online store –  Cross Country Cafe!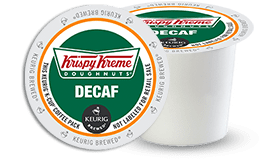 Now I can have Krispy Kreme coffee all the time!
Krispy Kreme Smooth is an easy to love Latin American blend with flavor and personality, balanced from start to finish.  Krispy Kreme Decaf is a caffeine-free and flavorful blend of Latin American and Sumatran decaf coffees with lots of character.
Each Krispy Kreme Coffee blend is available in 12-count boxes of K-Cup® packs and 24-count boxes.
If you are looking for giveaways, be sure to follow my Fun Giveaways Pinterest board!
Disclosure: I received a Free product for review. My opinions are 100% mine.