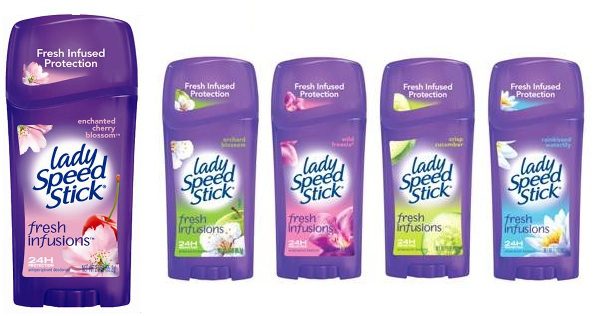 Product Name: Lady Speed Stick Fresh Infusions Line
Product Information: Dare to be clean and confident with the five captivating Fresh Infusions™ line scents. Featuring 24 hour odor and wetness protection, nothing can stop you from conquering your day.
Product Price: $2.99 each
Purchase Information: You can purchase them at mass retail and grocery stores.
My Thoughts: I love nice smelling deodorant and the entire line of Fresh Infusions didn't disappoint me at all!   I don't like flowery fragrances that are very strong, they actually turn my stomach.  It doesn't matter what it is, could be lotions, soaps, potpourri or deodorants… if it's a very strong flowery smell I don't like it.  I think the Fresh Infusions line has just the right amount of scent to it…. not too much and not too little.  They are all beautiful combinations but the new enchanted cherry blossom was one of my favorite and I'm not just saying that because that's the new one.  My second favorite in the line is the orchard blossom.
Here is what I liked about it besides the nice scent:
I felt very fresh when I put it on after a shower!
It went on very easily and I didn't have to 'push down' to hard to get it to go on.  Do you know what I mean by that? That's what I hate about solids.
It didn't cake up under my arms… I hate when that happens too!
It worked for a while.   While I'm not sure if it worked for 24 hours like the packaging says it does because I don't require a 24 hour deodorant, but it worked for as long as I needed it to work!
I love the purple packaging!  I know that may be silly but colors and appearances really do make a difference to me when it comes to products.  Yup it's all about appearances (no not really! lol).
Here is what I didn't like about it:
While I really can't find anything I don't like about it, I truly prefer a 'cream' deodorant and I wish that Lady Speed Stick made cream deodorants too.  That being said, if I were going to use a solid deodorant this would be one I would use for sure!
WIN IT
(2) Koupon Karen reader's will win the complete line of Lady Speed Stick Fresh Infusions:
new Enchanted Cherry Blossom™
Orchard Blossom
Wild Freesia®
Crisp Cucumber™
Rainkissed Waterlily
REQUIRED ENTRY
Leave a comment and tell me which scent do you think you'd like the most.
BONUS ENTRIES:
1. Follow @KouponKaren on twitter
2. "Like" Koupon Karen on Facebook –> I have a new page so if you were previously my "friend on facebook" please like this page as well
3.  Blog about this giveaway.
4. Sign up to receive Koupon Karen daily emails or add me to your favorite reader.
Details: This giveaway is open to US Residents and will remain open until March 18th at 11:59 p.m. EST . Any comments left after this time will not be counted. The winner will be selected randomly and will be notified via email and will have 48 hours to claim their prize.
Disclosure: I received the Lady Speed Stick Fresh Infusion Line for my review. This did not influence my post and as always, my words are my own.