If you are looking for a quick and easy last minute cookie to make with the kids today, try these yummy Caramel Sugar Cookies.  They are made with Bailey's Coffee Creamers.  We made them this week and they are really good.  I made the frosting instead of using sprinkles and frosted a bunch of them and then drizzled it on the rest.  The kids loved them and so far everyone who has had them, loves them!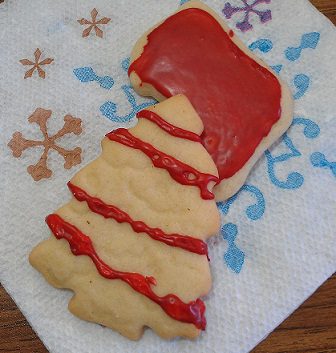 I am not the best at decorating cookies – these are as good as it gets – but they tasted great, which is all that matters.
Ingredients:
1 1/2 cups powdered sugar
1 cup margarine or butter, softened
1 egg
2 1/2 cups all-purpose flour
1 tsp baking soda
1 tsp cream of tartar
Colored candy sprinkles
Creamy Decorator's Frosting
1 cup powdered sugar
1- 2 tbsp BAILEYS® Coffee Creamer French Vanilla
Directions:
Mix powdered sugar, margarine, egg and BAILEYS® Coffee Creamer Caramel. Stir in flour, baking soda and cream of tartar. Cover and refrigerate at least 3 hours.
Heat oven to 375°F. Divide dough into halves. Roll each half 3/16 inch thick on lightly floured cloth-covered board. Cut into desired shapes with cookie cutters. Place on ungreased cookie sheet.
Sprinkle with colored candy sprinkles and press down gently to set them into the cookie.
Bake until edges are light brown, 7-8 minutes. Use creamy decorator frosting to decorate if desired.
Makes about 5 dozen 2-inch cookies.
Frosting:
In a medium size mixing bowl, beat together sugar and BAILEYS Coffee Creamer French Vanilla until smooth. Spread frosting onto cookies and decorate.
Yield: 5 dozen 2-inch cookies