CVS is a great go-to place for last minute gifts for most holidays and Easter isn't any different.  They have a ton of things to fill up the Easter Baskets along with a great selection of baskets as well!   CVS sent me a few items to check out for Easter and now I'm going to share them with you.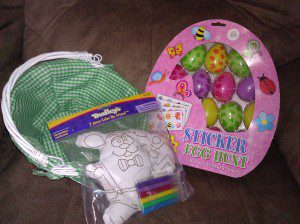 Willow Basket – This basket is a nice woven basket with a cute checker-box liner which is removable.  What I love about this basket is you can take out the liner and use it for so many other things.  So after Easter it won't just sit on the shelf collecting dust.  It's a great size that will hold lots of great goodies!  You can grab this basket for only $6.99.  Not a bad price!
Dudley's 2 Piece Color Me Friend – This is a cute little craft for the kiddos.  It includes two 'pillow' friends and 6 non toxic markers.  It's a cute little activity for kids aged 4 and up and would be a nice easter basket filler.  And I think it's priced nice at $3.99!
Sticker Egg Hunt – These are a lot of fun for the Easter Egg hunts.  What I plan on doing is letting the kids decorate them after the egg hunt to extend the fun just a little bit more.  You get 16 plastic eggs in an assortment of colors.  One side of the egg is solid and the other side has shapes on it.  Inside you'll find a sheet of stickers that they can then put on top of the shapes or not.  A nice alternative to a candy filled egg.  You can grab these for only $4.99 at CVS.  Another nice price considering the eggs are already filled.  These would also make great basket fillers.
So don't forget about CVS this week while you try to fill up those Easter Baskets.   And make sure you also check out this weeks CVS Deals before you head there.  Grab everything you need at once.