Mother's Day is only 4 days away and I'm sure there is someone who hasn't picked up anything yet for me mom.  Here are a few ideas, coming from a mom, on what you can grab at CVS this week.  And they are budget friendly!  Perfect for a child to purchase with their own money too!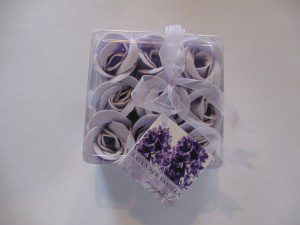 Soap Petals –  At first I looked at these thinking, what??  Then I read the instructions.  They are beautiful rose petals made of soap.  The scent they sent me is Lavender Vanilla.  Now I'm not a Lavender lover however, this scent is amazing and I loved it!   You can do a few different things with them:
Take the entire rose petal and toss it in the bath tub with you for a luxurious bath.
Use one petal to wash your hands.
Display them in a soap dish for a beautiful decoration.
I pulled off a petal and washed my hands with it.  It immediately began to melt and I was able to get a GREAT lather.  It did just a little while to dissolve but it was really cool.  My husband was even impressed, however you won't find him washing his hands with Lavender Vanilla soap anytime soon!
Retail Price: $1.99  –> Great Value for a GREAT Gift!
________________________________________________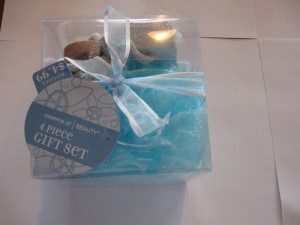 Essence of Beauty 4 Piece Gift Set – I love the Essence of Beauty products at CVS.  They've matched up to the brand name products all the time for me.  This set includes the following:
Nail Brush
Loofah
Pumice
Mesh Sponge
A nice little pampering kit for mom.
Retail Price – $4.99  –> Compared to $15.00 elsewhere, at least!
________________________________________________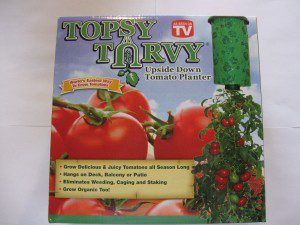 Topsy Turvy Tomato Plant – I will admit, I've been wanting to try this.  Each year I say I'm going to plant a garden, I have plenty of room but just never do it.  We have a lot of critters in our yard but then again my neighbor has a very successful garden so I'm sure it would work.  Anyways, I was thinking of trying this out and now I am!
I had no idea how this worked.  What I didn't know is there are no seeds included.  Your just getting the Upside Down planter.  We've been buying seeds for our garden this year (we are doing a small Raised Garden, the girls are excited) so we started our Tomato plants last night and the girls are eager to get it going.
According to the instructions once you have a little seedling you can begin.  You'll need some potting soil as well.  You need to put the potting soil in from the top once you have the seedling in place.  But you must do it by hand or you may break the roots.  Then you water it from the top, nice and slow.   That's pretty much it.  Sounds really simple and I can't wait to get it going.  I'll keep you posted as to how it goes once I get it going.
Perfect gift for a mom like me who wants to start a garden and is afraid to!   I think I'm going to do some Topsy Turvy strawberries too!
Retail Price – $9.99 –> See another great bargin!  Grab a seedling for a buck or too and a bag of potting soil.  Perfect!
________________________________________________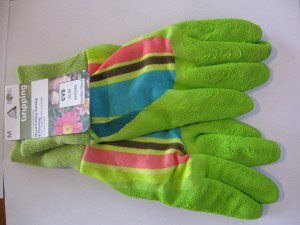 Garden Gloves – If you have a garden you'll need some gloves.  CVS has an array of gardening tools including Gripping Gloves which are great for Weed Pulling, Potting and Planting and they come in fun colors!
Retail Price: $3.99
I'm sure you can find a lot of other things at CVS for mom so if your running out of time don't forget to look there!
Disclosure:  I received these items for free to review for Mother's Day.  I was not compensated in any other way and this did not affect my opinion.  My words are my own.