Product Name: Leapster Explorer Game: Tangled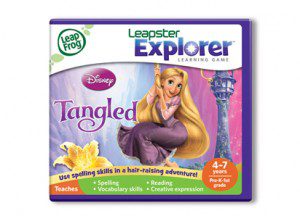 Product Information: Join Rapunzel and the lovable thief, Flynn Rider, on an adventure through the Kingdom as they untangle  the mystery of a sky full of magical lanterns.
The Rapunzel learning game teaches spelling and reading skills.  It is part of the ever-expanding library of Leapster Explorer™ games which go beyond school skills to creativity and life skills.  Parents can connect to the online LeapFrog Learning Path to see what their child is playing and learning, and explore ways to expand their child's learning journey. This game is only for the Leapster Explorer and is appropriate for children ages 4 to 7 years (grades pre-K to 1).
Teaches Reading Fluency

Fluency is a reading term that means a child can recognize common words at a glance, and can read in meaningful chunks, or phrases, rather than reading one word at a time. Fluency contributes to the reader's enjoyment and comprehension of books.

Teaches Listening and Reading Comprehension

As children develop comprehension of books read aloud or independently, they explore the uses and functions of written language. They begin to construct meaning, eventually applying critcal skills to make inferences and draw conclusions.
Product Price: It retails for $24.99.
Purchase Information: You can purchase the Tangled Explorer Game
along with the LeapFrog Leapster Explorer Learning Game
on Amazon and where other video games are sold.
Our Thoughts: Once again, another fun way for my girls to learn.  I love how leapfrog squeezes so many things for them to learn in a fun way.  Reading is big in our house right now as my oldest is in Kindergarten and learning to read.  Naturally my little one is also 'interested' in reading since she wants to do everything her big sister does.  So the fact that they are both learning to read with the Tangled game is awesome for me!
If I let them, they'd spend hours upon hours playing with their Explorer and when Tangled arrived they both ran to get the game and fought over who would play first!  Needless to say we've had to take it from them a lot since they love playing so much.  I'm just glad that while they do have a game in front of them, it's not teaching something bad or nothing at all, it's teaching them basic reading skills that will have them achieve their goals in reading.  Thanks Leapfrog!  You've done it again! 🙂
Disclosure: I received a Leapster Explorer Tangled Game for my review.  This did not influence my post and as always my words are my own!