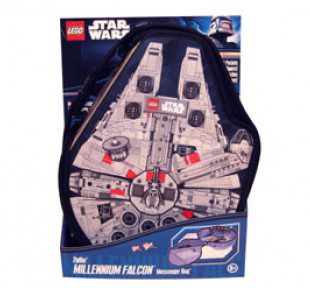 Product Name: LEGO® Star Wars™ ZipBin® Large Millennium Falcon™ Messenger Bag
Product Information:  This Large Millennium Falcon™ Messenger Bag holds your favorite LEGO® Star Wars® figurines and approximately 500 LEGO® bricks. The sturdy shoulder strap lets you easily bring them anywhere in the galaxy. The detailed artwork creates an awesome play experience and Playmat on the inside and outside of the case! Race through space and dodge the pursuing Tie Fighters, all while keeping your figurines neatly tucked away. Weighs just over half a pound and wipes clean with a damp cloth.
Colorful, Durable, wipe-clean surface
Sturdy, Heavy Duty Zippers
Meets Child Safety Standards
Patented
Dimensions
Bin: 10.75 x 3.25 x 13.7 inches
WARNING: CHOKING HAZARD – Small parts
Not for children under 3 yrs.
My Thoughts:  My daughters LOVE Star Wars, especially my 7 year old.   Last year for Christmas she received a few Star Wars Lego sets and her and dad had fun putting them together!   Unfortunately they don't stay together all the time since she plays with them.  So this Zip Bin is a great place to store them and it's a play set at the same time.
When you open it up, there is a scene inside that she uses when playing.  Then she can store the lego's inside when it's time to clean up.  There are even pockets on one side to store some of the figures.  It's really neat-oh! (haha, sorry couldn't resist!) and she loves it.  The zipper keeps everything inside so they don't fall out.  It's even great for when she wants to bring her lego's to grandma's house!
This would be a great holiday gift!
Disclosure: I received a Free product for review. My opinions are 100% mine.