Lemonade Mouth Extended Edition is Available May 24th on DVD!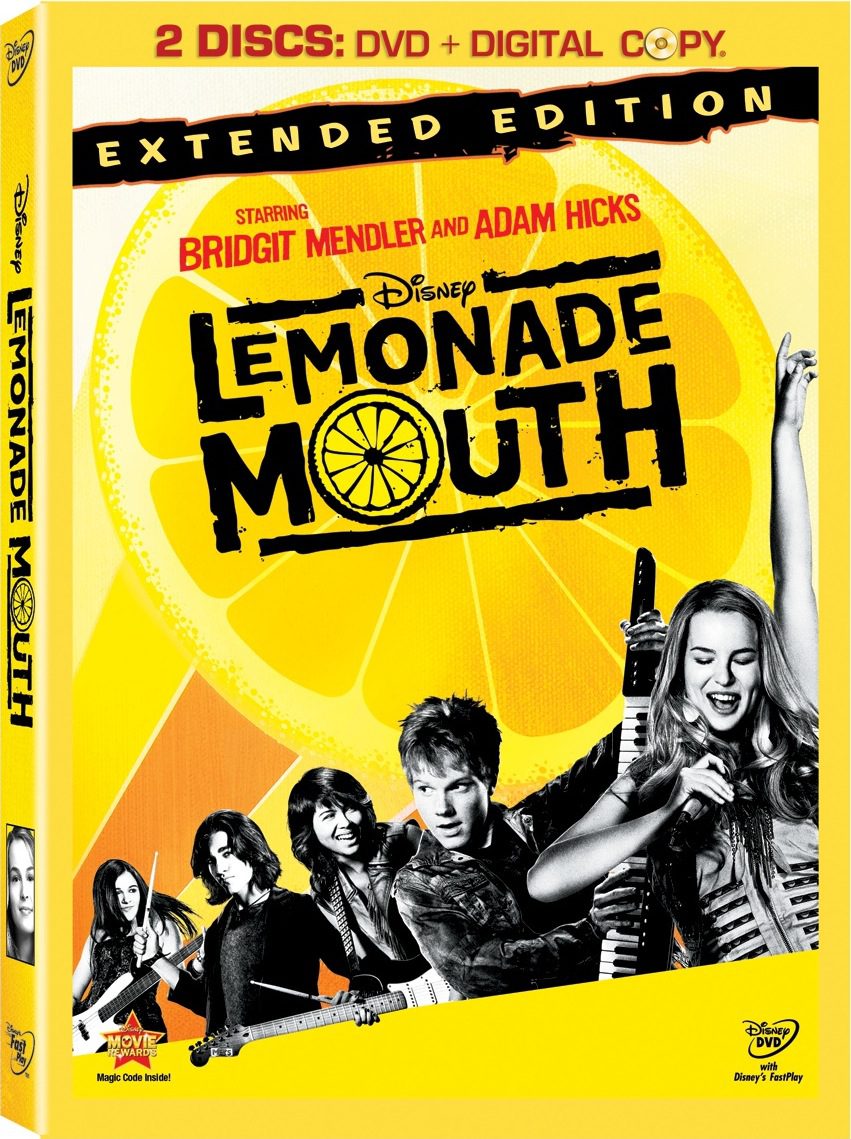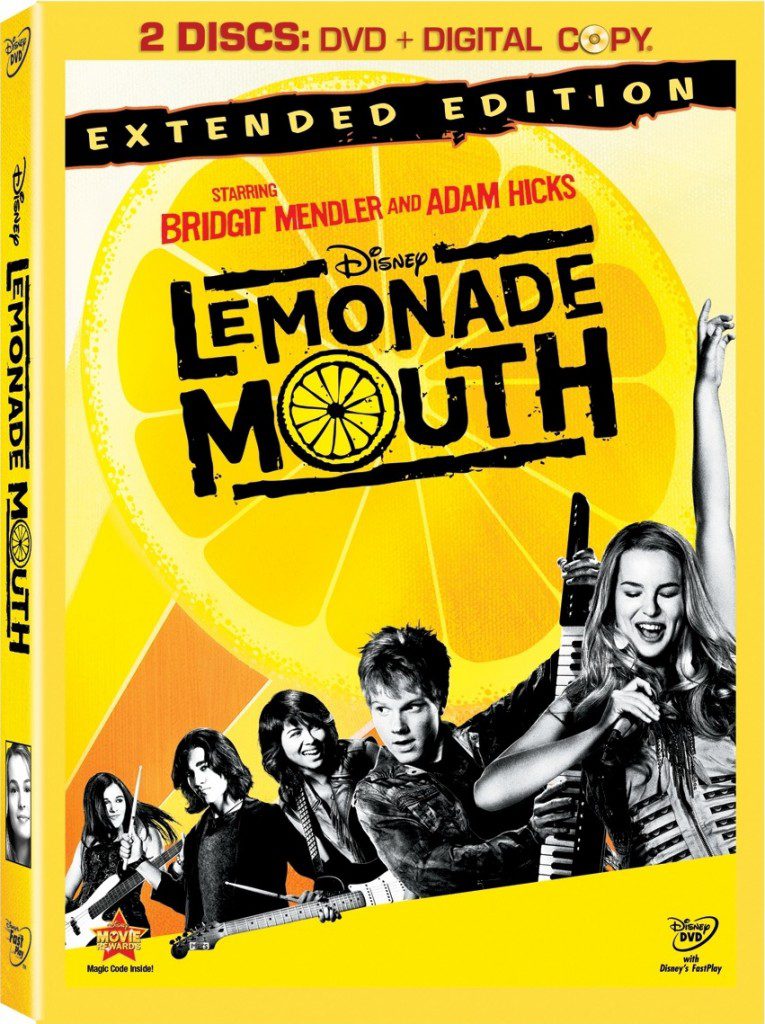 Product Name: Lemonade Mouth: Extended Edition on DVD
Product Information: On May 24th, Walt Disney Studios Home Entertainment releases LEMONADE MOUTH: Extended Edition on DVD! When five ragtag freshmen first meet in detention, it seems they have nothing in common. But, through music, they bond and find they have the makings of the greatest high school garage band in history! Bonus material includes music videos and Rock Along feature.
Be heard. Be strong. Be proud. Disney invites audiences of all ages to turn up the music and have some fun with the highly-anticipated 2-Disc DVD + Digital Copy debut of LEMONADE MOUTH, the hit Disney Channel Original Movie, starring Bridgit Mendler, Adam Hicks, Hayley Kiyoko, Naomi Scott, Blake Michael, Nick Roux, Chris Brochu, Tisha Campbell-Martin and Christopher McDonald, and featuring an exclusive extended music scene that fans can only get on this Extended Edition DVD release.In addition to featuring 10 awesome original songs from the No. 1 soundtrack, the exciting LEMONADE MOUTH: EXTENDED EDITION DVD release includes an exclusive extended performance of ―Livin' on a High Wire‖ and an exciting ―Rock-Along‖ version of the movie that allows fans to sing along, with lyrics to all the songs, appearing on-screen. Both features are available only on the DVD that debuts in the US on May 24, 2011 (Canada on May 17, 2011). LEMONADE MOUTH is a resonant, music-filled movie about five teens who break through to become the voice of their generation. The movie is 2011's No. 1 cable movie in Total Viewers and the No. 1 TV movie among Kids 6-11 and Tweens. Additionally, LEMONADE MOUTH's original soundtrack also has become a huge success, ranking in the Top 5 of the Billboard 200 for two weeks, No. 1 on the iTunes Soundtrack chart and No. 4 on the iTunes Album chart.

About the Movie….
This spirited, music-driven movie introduces an unlikely ensemble of five students — Olivia, Wen, Stella, Mohini and Charlie – who, after meeting in detention, gradually realize their shared musical connection and belief that it's time for the students of Mesa High to stand up and be heard on things big and small (ranging from the school Principal's exclusive support of the athletic programs to the removal of the popular organic lemonade from the cafeteria). Ultimately, as they open up to each other and form friendships, they start a band — Lemonade Mouth — that soon resonates with students sidelined by the high school elite. However, not everyone in the school is ready to cheer them on, especially since the popular rock group Mudslide Crush is determined to maintain their headline status and win the coveted Rising Star music competition.
Product Price: 2-Disc Extended Edition DVD (DVD + Digital Copy)  – $26.99 US/$29.99 Canada
Purchase Information: You can purchase it where movies are sold and online at Amazon
.
Such a cute movie.  We are big fans of Bridgit Mendler from Good Luck Charlie and I think she did a great job in this role.  The music is fun and very catchy.  The girls have been asking me to put the music from the movie on my ipod which I probably will soon because I like the music too.   See I get to enjoy shows like this because I have girls.  Then it looks like I had to watch it with them, not that I wanted to!
A great DVD to add to your collection………………. so why not try and win one!!!!
WIN IT
(1) Koupon Karen reader will win a copy of Lemonade Mouth Extended Edition DVD.
Entry is simple! You just need to answer the question below by leaving a comment on this site! You can even gain up to 4 bonus entries for doing each additional item listed (just make sure that you leave one entry for each one — up to a total of 5 comments). As a reminder, comments left on Facebook, Twitter or other posts will not be included.
REQUIRED ENTRY
Leave me a comment telling me who you'd like to win this for!
BONUS ENTRIES:
1. Follow @KouponKaren on twitter and tweet the following "I entered to #win Lemonade Mouth DVD @KouponKaren and you can too! https://wp.me/pMKCI-6QC #giveaway"
2. "Like" Koupon Karen on Facebook –> I have a new page so if you were previously my "friend on facebook" please like this page as well.
3. Comment on any other post on my blog (giveaway posts don't count) then come back here and let me know what post you commented on.
4. Sign up to receive Koupon Karen daily emails or add me to your favorite reader.
Details: This giveaway is open to US Residents and will remain open until June 9th at 11:59 p.m. EST . Any comments left after this time will not be counted. The winner will be selected randomly and will be notified via email and will have 48 hours to claim their prize.
Disclosure: I received the same prize pack as the winner. My opinions are 100% mine.