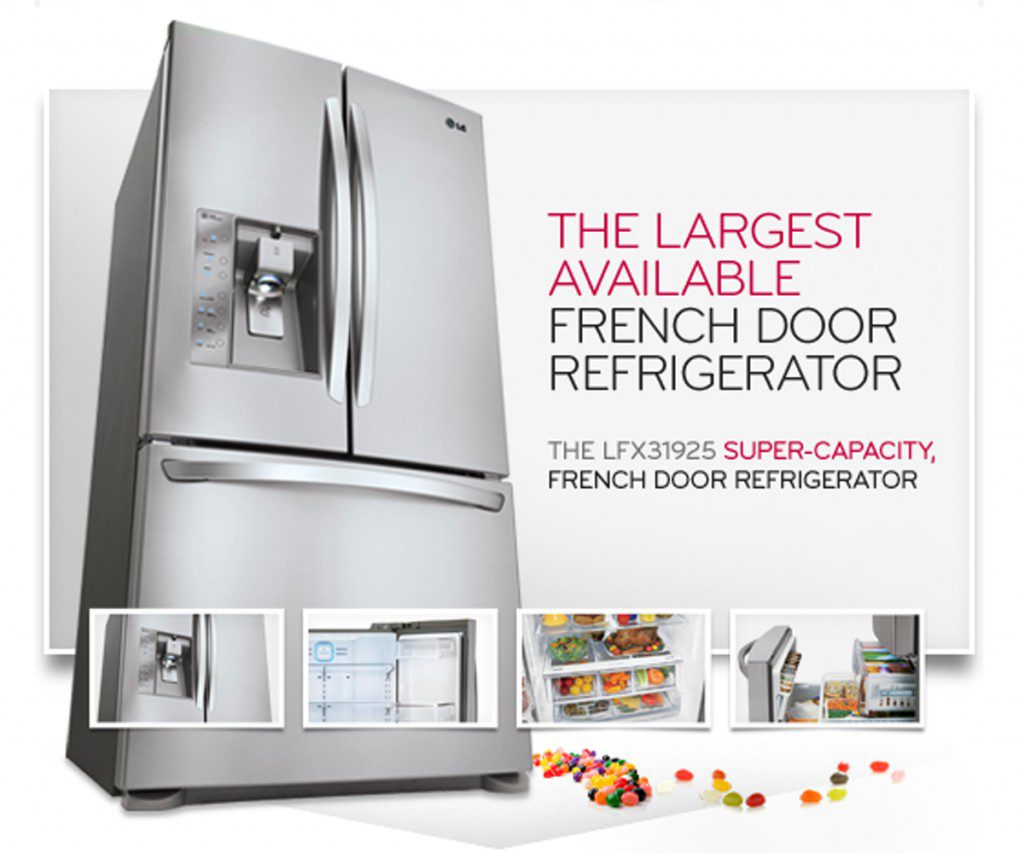 Product Name: LG Super-Capacity French Door Refrigerator
Product Information: LG recently showcased their new refrigerator – The Super-Capacity French Door Refrigerator – which offers a spacious 31 cubic feet of capacity – the largest in its class – with six more cubic feet of space than standard models of the same footprint.
It has the most shelf space and offers an uncluttered interior with Slim Space-Plus™, which relocates the ice system inside the door, providing the most shelf space and makes way for additional usable door bins.
LG's patented Linear Compressor drives the system efficiently from its core. With fewer moving parts and thereby less friction, the Linear Compressor regulates temperature with less noise and far less energy use, surpassing ENERGY STAR standards by 20 percent. LG
confidently backs the motor with a 10- year warranty.
LG's Smart Cooling Plus System is designed to maintain superior humidity and temperature levels to help keep food fresher, longer. Digital sensors constantly monitor conditions within the refrigerator, while LG's Linear Compressor and Dual Evaporator react quickly to help keep humidity and temperature at a level that's best to keep your food fresh.
Provides easy access and more ways to organize and store fruits, vegetables and beverages in one of two humidity-controlled crisper drawers designed to help keep produce at optimal temperature levels, helping to extend shelf life.
Color/finishes: Stainless Steel/Smooth Black/Smooth White
Product Price: MSRP: $2,999
To show how big the refrigerator is, LG is having a contest on their facebook page where you can guess how many jelly beans are in the new LG refrigerator. Head on over to the LG facebook page to put in your guess before the content ends. (ends 9/21/11)
WIN IT
We are having a contest here as well!  Take a look at the picture below and tell me how many jelly beans do you think are in the jar!! Now before you guess, let me tell you that I ate some jelly beans from the jar to make it even harder for you to guess.  Jelly Belly jelly beans are my FAVORITE jelly beans in the whole entire world so it was very hard to not eat them all.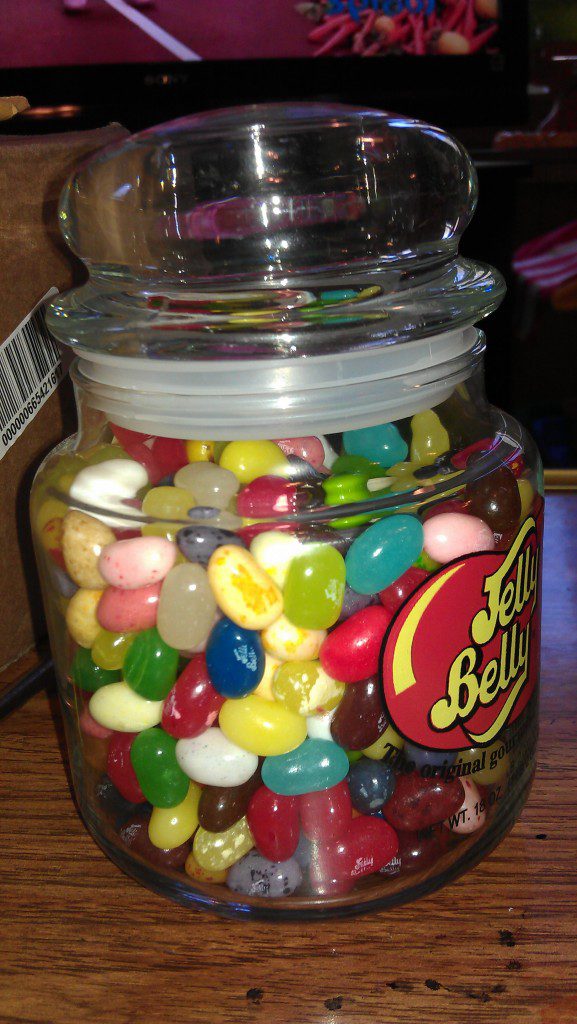 So what will you win????
(1) LUCKY Koupon Karen reader will win $250 Visa Gift Card for guessing correctly!
Entry is simple! Just fill out the form below with your email address and your guess.  You can guess up to 3 times.  You only have 3 chances to win, and that is with your 3 guesses.
Details: This giveaway is open to US Residents and will remain open until September 30th at 11:59 p.m. EST.  In the event of a tie, the winner will be drawn at random out of all the correct guesses.  If no one guesses the correct number of jelly beans, then winner will be the one who was closet to guessing the correct number, without going over  The winner will be notified via email and will have 48 hours to claim their prize.
Disclosure: I received the same prize as the winner for review. My opinions are 100% mine.