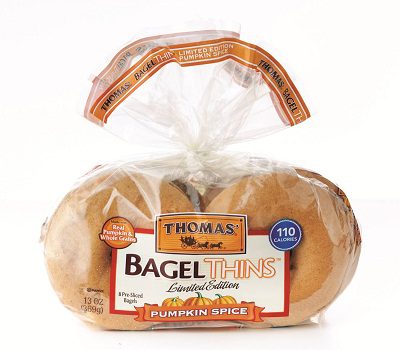 Product Name:  Limited Edition Pumpkin Spice Thomas' Bagels and English Muffins
Product Information:Thomas' Bagels and English Muffins are pleased to introduce their Limited Edition Pumpkin Spice seasonal offerings – now with three options to choose from:
Thomas' Pumpkin Spice Bagels (270 calories per bagel)
Thomas' Pumpkin Spice English Muffins (150 calories per English Muffin, low in fat, 0 trans fat)
Thomas' Pumpkin Spice Bagel Thins bagels, made with whole grain (110 calories per bagel, excellent source of fiber, low in fat, 5g of whole grain per serving)
In stores ONLY during mid-September to early December, Thomas' Pumpkin Spice seasonal products will bring delicious warmth to your autumn mornings. 110-calorie Bagel Thins bagels and 150-calorie English Muffins are also perfect for those watching their calories this season.
Product Price: $3.69 – $4.49
My Thoughts:  I love pumpkin flavored anything (almost anything!) so I was very excited to receive the box of Thomas's Pumpkin Spiced Bagels, Bagel Thins and English Muffins.  From the moment I opened up the box, I could smell the pumpkin yumminess and I was in heaven!
The girls were very excited to try them, they've been on a pumpkin kick lately and they love bagels and english muffins.  I don't have a problem  getting them to try any different flavors of either and they seem to love them all.
The Pumpkin Spice English muffins with butter were absolutely delish!  I seriously didn't want to share them with the girls because I enjoyed them so much.   The pumpkin gave it a nice sweetness and when I had one with a cup of pumpkin spice coffee – oh my, it was a good combination!
The girls wanted to try the Bagels the most (their favorite to have for breakfast!) and we used some of the Laughing Cow Cinnamon Cream Cheese we had left in the fridge.  What a GREAT combination!  We've been eating more of the bagel thins lately than regular bagels so it was a nice treat to have the 'big' bagels, as they call them, because they are so good and so fresh too!
I've always been a fan of Thomas' bagels because of the size and freshness in the bagel.  The outside isn't hard or crunchy and after you toast it, it remains soft and oh so yummy.
I thought I'd try some pumpkin spice spread on the english muffin since the cinnamon cream cheese was so good on the bagel so I picked up some of the Country Crock Pumpkin Spice spread – I did NOT like it at all.  IT was sort of weird tasting to me.  The regular butter was perfect on the english muffin and I'll never mess with it again!
These are only in stores now through Early December so I'll be stocking my freezer towards the end of November for sure!
Have you tried any of the Thomas' Pumpkin Spiced products?
Disclosure: I received some FREE Samples for my review. My opinions are 100% mine.