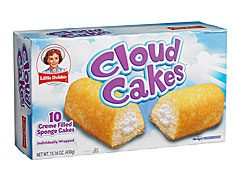 Product Name: Little Debbie Cloud Cakes
Product Information: Little Debbie has come out with a new snack cake called Cloud Cakes.  This great-tasting snack combines delicious golden sponge cake with fluffy vanilla creme filling.  There are 10 individually wrapped Little Debbie Cloud Cakes in one carton.
Product Price: $3.09 each
Purchase Information: You can purchase them at mass merchandisers, supermarkets, dollar stores, variety stores and some convenience stores and other retailers nationwide.
My Thoughts: I love dessert.  Why we can't start with dessert at dinner time is way beyond me.  (And the fact that I think this way is probably why I'm joining weight watchers tomorrow! lol) But anyways, I love sweets so I was extremely happy when I was offered some of the new Little Debbie Cloud Cakes for review.  I had not tried them yet so when they arrived we dove in almost immediately.  The 'We' that I speak of is me and my daughters, my husband has more of a salty tooth rather than a sweet tooth.  Now we all know that these look like another kind of cake that will not be named so I was curious if they were just as good or even better than.  The results were just as good or even better!!!!
Here is what I liked about them….
They are individually wrapped which I liked so

I could

the girls could really only have one at a time.
Because they are individually wrapped they were SO FRESH!!!! As if they were just made, really fresh.
The cream inside wasn't overly sweet.  As much as I love sweets, I don't like things that are overly sweet.
There are 10 in each box…. that's a nice number at a price of $3.09 a box.  That's only $.30 a cake, you can't even buy a donut for that little.  Not that I buy them.
They tasted AWESOME!!!  A great mid afternoon snack with a cup of coffee.
They are only 150 calories — I don't feel so guilty since I try to have 100 calorie snacks most of the time, as long as I don't have more than 1 a day.
Here is what I didn't like about them….
They were too good therefore I wanted to eat more of them.  Seriously I couldn't find anything wrong with them!
Have you tried them??  Would you like to try them??
WIN IT
(1) Koupon Karen reader will win a case of Little Debbie Cloud Cakes!  Yes you read that right, an entire case.  There are 12 cartons in the case (120 cloud cakes total) so you can either enjoy them all yourself or share them with friends and family!
REQUIRED ENTRY
Leave a comment and tell me what you would do with a case of Little Debbie Cloud Cakes.. will you share them? Or keep them for yourself (and your family of course)?
BONUS ENTRIES:
1. Follow @KouponKaren on twitter
2. "Like" Koupon Karen on Facebook –> I have a new page so if you were previously my "friend on facebook" please like this page as well
3.  Blog about this giveaway.
4. Sign up to receive Koupon Karen daily emails or add me to your favorite reader.
Details: This giveaway is open to US Residents and will remain open until March 18th at 11:59 p.m. EST . Any comments left after this time will not be counted. The winner will be selected randomly and will be notified via email and will have 48 hours to claim their prize.
Disclosure: I received a few boxes of Little Debbie Snacks including the Cloud Cakes for my review. This did not influence my post and as always, my words are my own.