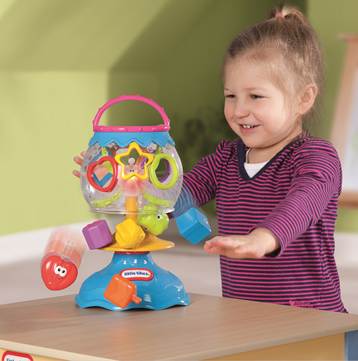 Product Name: Little Tikes DiscoverSounds Shape Sort and Scatter
Product Information: This is a great learning toy for infants, toddlers & preschoolers! Three modes to interact with children as they grow!
Free-Play Shape Sorting: allows the child to sort shapes! The toy gives feedback by telling the shape and color of the fish that was inserted. Once all the shapes have been collected, they will be dropped and scattered.
Directed Shape Sorting: learning mode for toddlers! The toy will prompt the child to find certain shapes, colors or numbers. If the child sorts the right piece they will be rewarded with a glowing green light. If the child inserts the wrong shape the bottom will automatically drop and shapes will drop/ scatter.
Game Play: game mode for older children! This stage is for children that have learned their shapes, and colors. It is a race against the clock, as kids have to race to find the correct shape and color called out by the toy.
Features 3-languages; children can learn counting, shapes and colors in English, Spanish and French
Ages: ages 9mos and over
Product Price: $29.99
My Thoughts:   Shape Sorter's are a must have for every child.  There is so much to learn from them and they are so fun.  I remember when my girls were babies and they played with their shape sorter they would get so excited when the put the proper shape in the proper spot.  Of course they got frustrated when they couldn't find the right spot too, but that is all part of the learning process.  Not everything is always going to work the first time – just keep trying and that is what they did.
And Little Tikes just keeps making these better and better including the basic shape sorter. The new Little Tikes DiscoverSounds Shape, Sort and Scatter is adorable. The shapes all have cute little faces on them – so they are more like 'friends' then toys. I think visually this is so much more exciting for the babies. And the color of the shape corresponds with the color of the opening it goes in. So it's a great coloring matching game as well. But the most fun part I think is the sounds it makes. Seriously my 5-year-old played with this over and over again when her little friend came over and loved it. She would be bored pretty quickly with it, but not the baby.
But as the babies get older, this shape sorter will teach them their colors and shapes because there are games you can play where they will have to put the right color or shape in and they will know when they are right and when they are wrong.  So seriously you'll save some money on preschool with this toy!
This is definitely a nice improvement to the traditional shape sorter and so much more fun. If it's at the top of your Christmas list keep reading and see how you can win one!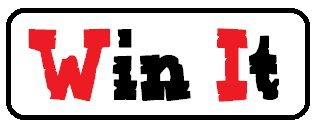 (1) Koupon Karen reader will win a Little Tikes DiscoverSounds Shape Sort and Scatter.

To enter the giveaway, use the rafflecopter widget below. You can now sign in with Facebook and it will remember you each time you enter another rafflecopter giveaway. Of course Facebook is in no way associated with this giveaway, the people of rafflecopter just want to make it easier for you to enter giveaways now.
As a reminder, comments left on Facebook or Twitter will not be included.
Disclosure: I received a Free product for review. My opinions are 100% mine.