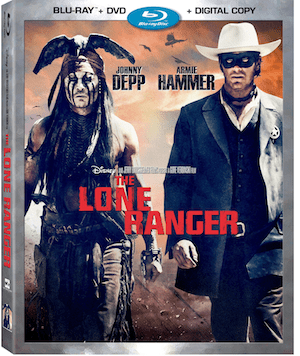 I'm so excited to share with you that The Lone Ranger arrives on Blu-ray Combo Pack, Digital HD and On-Demand December 17th! Johnny Depp and Armie Hammer star in the film with bonus features including "Riding The Rails Of The Lone Ranger," "Becoming A Cowboy" and much more.   I'm excited to see this since we never did see it while it was in the movies.  Time just got in the way!
About The Lone Ranger
Johnny Depp and Armie Hammer star in The Lone Ranger, from Jerry Bruckheimer Films and Director Gore Verbinski. It's a wild ride of high velocity action, explosions and gunfights that brings the famed masked legend to life through brand-new eyes. The Lone Ranger (Hammer), the last of his kind, teams with Tonto (Depp), a dark and mysterious vigilante, to seek vengeance after justice has failed them. It's a runaway train of epic surprises, as these two unlikely heroes must learn to work together before the ultimate showdown between good and evil explodes.
Did you see the movie?  If you did I'd love to hear what you thought about it.