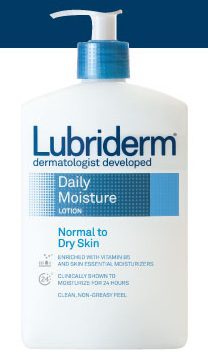 Product Name: Lubriderm Lotion
Product Information:  We believe everyone deserves to have healthy, comfortable skin which is why LUBRIDERM®, the brand developed by dermatologists, now combines the standard trusted effectiveness with a soothing fragrance and nourishing Shea Butter.
LUBRIDERM® Daily Moisture Shea+ Calming Lavender Jasmine Lotion is clinically shown to moisturize skin for 24 hours. With a clean and non-greasy feel, the light formula contains a calming lavender and jasmine fragrance that leaves skin smelling great. After using this lotion in a consumer trial, testers felt relaxed, comfortable, and at ease.
LUBRIDERM® Daily Moisture Lotion: Specially formulated, this lotion contains vitamin B5 and other skin essential moisturizers naturally found in healthy skin to improve the moisture barrier for visibly healthier skin. The lightweight formula helps relieve dry skin and prevents dryness from reoccurring throughout the day, leaving skin feeling soft and smooth.
LUBRIDERM® Daily Moisture Lotion Fragrance Free: An unscented version of the Daily Moisture Lotion, this formula provides optimal hydration while reducing the risk of skin irritation.
LUBRIDERM® Daily Moisture with SPF 15 Lotion: A powerful two-in-one moisturizer and sunscreen that hydrates skin with essential moisturizing ingredients, while providing broad spectrum UVA and UVB protection with an SPF 15. This clean non-greasy lotion is perfect for everyday use to achieve smoother, healthier-looking skin.
LUBRIDERM® Daily Moisture Lotion for Sensitive Skin: Specially formulated for sensitive skin. This gentle moisturizer is 100% fragrance-free, dye-free and lanolin-free, which helps to protect dry, sensitive skin. The non-irritating formula creates a protective moisture barrier on the skin's surface, leaving skin smooth, comfortable and protected.
My Thoughts: I received some Lubriderm products and just in time.  We are starting to get more colder weather around here and that means less humidity in the air and more dry skin for me.  My hands and elbows get it the worst, especially from washing my hands, which I do a lot this time of year to avoid germs.
I have always loved Lubriderm and I like the Shea + Calming Lavender lotion just as good as the original.  I've been applying it to my elbows the past few days because they were getting very dry and I'm happy to report they are doing much better.  Hardly any roughness left.   I'm gaoing to keep applying it so they stay smooth all winter long.
I like to keep some lotion by my bed and right before I get in bed I apply it to my hands and elbows so the one I had there has been replaced by the Lubriderm.  Hoping I won't need it as much soon!
Have you tried Lubriderm for your dry skin?
Disclosure: I received the same prize as the winner for review. My opinions are 100% mine.