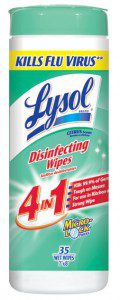 Spring is here, the flowers and trees are blooming and the allergies are flaring!  I suffered bad allergies when I was a teenager and the minute Spring rolled around and they started opening the windows at school, it all began!  There weren't as many allergy meds then (not that it was that long ago) and the ones that worked made me drowsy so I just had to suffer.  Fortunately I grew out of that and very rarely am I effected by the allergens in the air now and that makes me very happy.  My three year old isn't so lucky.  Her eyes water like crazy and it makes me so sad to see her like that.  We have a lot of trees and flowers in our yard so there's no way of avoiding it.
What I had not realized was that Lysol can actually help control indoor allergens!
Allergy flare-ups are often attributed to the allergens outside your front door. However, did you know that the same allergens are found on surfaces inside 75 million homes across America? According to the Center for Disease Control (CDC), some of the most common indoor allergens, include dust mites, mold and household pets.
Lysol sent me a can of Lysol Disinfectant wipes and Lysol Disinfectant Spray along with some tips on keeping allergens out of your home:
Reduce Pet Dander – Decrease your exposure to pet dander by keeping your pet out of your bedroom, since this is typically the room in which people spend a majority of their time.
Wrap Things Up – Put fabric covers over common dust mite hideouts such as pillows, mattresses and sofa cushions and wash bedding often.
Clear the Air – Prevent pollen from entering your home by keeping windows and doors closed during peak allergy season. Air filters are also considered useful for helping clear the air of lingering allergens triggers.
Wipe Down Surfaces – Be sure to frequently clean hard surfaces to get rid of allergens in your home. Use LYSOL Disinfecting Wipes to remove 90% of pollen particles and dust mite debris, in addition to killing 99.9% of illness-causing bacteria. Also use LYSOL Disinfectant Spray to kill the source of mold allergens on hard, non-porous surfaces.
Avoid Mold Spores – To help reduce mold: use an air conditioner in humid climates and avoid the use of humidifiers in dry climates. Also, run the bathroom fan or open the window when showering.
Talk to Your Doctor – It is important to talk to your doctor about whether or not allergy testing, medications, and/or other measures are recommended.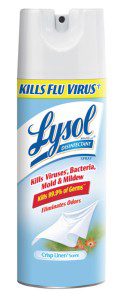 I've been wiping more things down lately, including light switches and door knobs with the Lysol Disinfecting Wipes especially with me and my girls being sick so much lately.  Would you believe they are both sick again!  Crazy.  I've been using the Lysol Disinfectant Spray in our garage where we had some water come in with the flooding last month to help cut down the possible mold that may grow in there.   I also use the sanitize cycle on my washer when I was the sheets and towels.  Hoping that will kill more.
I also read somewhere that Martha Stewart vacuums her mattress as well to get out allergens so I'm going to do try that every now and then.  Can't hurt.  I hate to see my girls suffer so I'm trying my best to do what I can!
Giveaway: (1) Koupon Karen reader will win (1) LYSOL Disinfecting Wipes and (1) can of LYSOL Disinfectant Spray to help battle your allergy suffering this season!
How to Enter: Just leave me a comment and tell me what you do to keep germs and allergens away.  That's all!
Extra Entries: Once you do the above mandatory entry you can do any of the following an earn up to 4  more entries:
Tweet about this giveaway and be sure to include @kouponkaren
Blog about this giveaway
Sign up to receive my emails or add me to your favorite reader
Add my new button to your blog or swap it out for the old button
Details: This giveaway is open to US & Canada residents only and will end May 19th at 11:59pm.  The winner will be randomly picked and announced shortly after and will have 48 hours to claim their prize or I will randomly pick another winner.
Disclosure: Lysol provided me with these FREE products and they will also provide the winner with FREE products.  I was not compensated in any other way to write this post.  My words are my own.