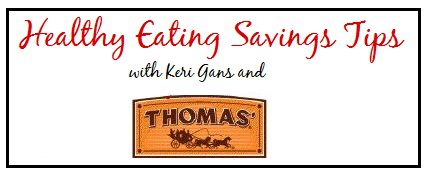 Eating healthy can be very expensive, as most of you know.  And sometimes we have to make choices based on what we have to spend in the food store.  But there are some changes you can make to your diet that won't cost too much more if any!   As you've probably heard before small changes can make a big difference in the long run as I also talk about this with using coupons – use just a few each week and let it add up and you'll see the savings at the end of the year.  Well the same holds true with eating healthier –  make a few small changes to your diet and you'll feel better in the long run.
But how can you make those changes and not spend more money – money that you may not even have?  The answer is shopping sales – using coupons – stocking up – and planning ahead.
Here are some tips from Keri Gans a NY-based registered dietitian and author of "The Small Change Diet" along with some notes from me on how you can fit it into your budget.
Enjoy Quick-cooking oatmeal with cinnamon or fresh fruit for breakfast
**Koupon Karen's note – You can easily find some oatmeal on sale a few times a month so stock up as much as you can to get you through the next sale AND look for coupons! Grab the fresh fruit that is on sale that week or even some frozen fruit that you may be able to find coupons for too!
Make a breakfast sandwich with egg whites with toppings such as tomatoes and spinach between Thomas' Bagel Thins bagels
**Koupon Karen's Savings Tip – Keep the egg yolk for making scrambled eggs another day so you won't be wasting your money.   Stock up on eggs when they are on sale and buy bagged spinach if that's the cheapest one that week!  Thomas's Bagel Thins also go on sale so grab a couple of packages and toss them in the freezer until you can get them at a good price again!
For your snack cravings try low-fat yogurt with fresh berries, low-fat chocolate milk, or a piece of fruit with 1.5 ounces of nuts.
**Koupon Karen's Savings Tip – All yogurt goes on sale and there are coupons all the time for them BUT if you buy the plain yogurt in the big containers you'll save more and just add fresh fruit (or frozen) to add flavor!  Buy nuts in the shell – they always cost less than the shelled ones!
Eat the right kind and right amount of fats – healthy fats like an ounce of nuts, a fifth of an avocado, or other healthy fats and oils are the smart choice.
**Koupon Karen's Savings Tip – Store brand oils usually cost less than brand name oils even with coupons – compare prices to ounces on each brand before purchasing.  Avocado can be expensive, but purchase them while on sale and add them to your salad for a healthy and yummy addition.  If they aren't on sale when your shopping, don't buy them that week!
Get Moving – Whether you exercise at the gym, with a personal trainer, or by yourself at home it's important to incorporate 30 minutes of exercise a day for five days.  Even fidgeting can help you burn calories… yep, people who fidget can burn up to 350 calories a day.
**Koupon Karen's Savings Tip – Grab a friend and go for a walk, carry the laundry basket up and down the stairs a few times, keep the phone on the charger base so you have to get up to answer it rather than keeping it next to you – all these things cost NOTHING compared to a gym membership and will make a difference over time!
Take a moment to sit and enjoy your breakfast. Eating slower makes you more conscious of what and how much you're eating. You are likely to feel more satisfied with your meal.
**Koupon Karen's Savings Tip – The less you eat, the less you have to buy so really eating better can improve your grocery budget.  Overeating costs more!
For breakfast,  toast a Thomas'® 100% Whole Wheat Bagel Thins™ bagel, spread with light cream cheese, then top with smoked salmon, a slice of tomato, and a slice of onion.
**Koupon Karen's Savings Tip – Use the leftover tomatoes and/or onions from last night's salad.  Buy the cream cheese that is on sale and when you find a good deal on it, freeze the extra – cream cheese freezes well!
If you're hungry, eat! Top half a Thomas'® Light Multi-Grain English Muffin with a tablespoon of almond butter to get through 'til your next meal.
**Koupon Karen's Savings Tip – Half of an English muffin will cost less than stopping for a donut at the donut shop and healthier for you.  And peanut butter costs less than almond butter so it's a good substitute to the above, for less!  Thomas' English Muffins go on sale Buy One Get One FREE often at my store – grab an extra one and toss it in the freezer and cut your cost down even more!
Follow along on the Thomas' Facebook page for more tips!
Do you have any more ideas for small changes for a healthier lifestyle that won't break the bank?
Disclosure: I received some FREE Samples of Thomas' products in exchange for posting these tips.  My opinions are 100% my own.