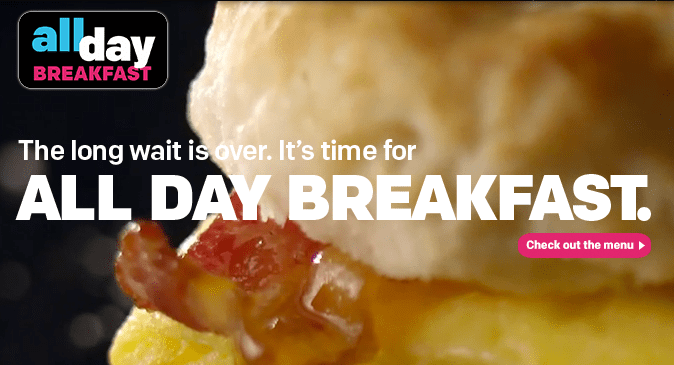 I'm not a big "breakfast out" kind of person.  I like to have my coffee when I first wake up with something sweet rather than get ready to leave the house to eat breakfast.  It takes too long and I just don't function well without my coffee.  So I miss out on the  yummy breakfast foods that we can get first thing in the morning at a restaurant.   Besides the fact that I'm too busy to sit down and eat out somewhere.  It just doesn't happen.
And McDonald's has one of my favorite guilty pleasure breakfast sandwiches – Sausage McMuffin with Egg.   It's the best breakfast sandwich out there, in my opinion!  Love them.  But by the time I make it out the door to even grab one, breakfast is over.
Until  now!
Have you heard the good news?  As of October 6, 2015 McDonald's restaurants across Eastern New England invite customers to experience McDonald's an all day breakfast.   That means you can go at 11 am and still get breakfast.  Or if you really are not a morning person and sleep those morning hours away, you can get breakfast at 2pm.  Heck you can even have breakfast for dinner at 6pm!  It's up to you and they will make it for you.
I'm SO EXCITED.  (I know silly to get excited over food but it's my guilty pleasure!)
All Day Breakfast is the No. 1 request from customers. In fact, more than 120,000 people tweeted McDonald's asking for breakfast throughout the day in the past year alone. The All Day Breakfast Menu is part of McDonald's effort to offer customers the option to enjoy breakfast anytime they want while providing a great variety of quality ingredients and menu items.
After 10:30 a.m., the following menu items can be enjoyed along with McDonald's World Famous Fries and other iconic favorites, such as the Big Mac and Filet-O-Fish:
McMuffin Sandwiches:
Egg McMuffin
Sausage McMuffin with Egg
Sausage McMuffin (Does not include Egg White Delight)
Platters:
Hotcakes with Sausage
Hotcakes
Sausage Burrito
Sides:
Fruit 'N Yogurt Parfait
Fruit & Maple Oatmeal
Hash Browns * (*available breakfast items vary by location)
Besides being able to get breakfast as late as I want, I like having this option because 1 of my daughter's LOVES Pancakes and if we are at a restaurant that serves them all day long, she's all over that.  Now I can grab them to go at McDonald's on a day that "nothing else will do".  (If you have children, you get that!).
I like having the option to get what I want whenever I want, call me spoiled but I love it.  And since this is my favorite place for breakfast on the go, that it's perfect!
For more information about McDonald's  "All Day Breakfast":
Visit McDonalds.com
Follow on Twitter with the official hashtag of the All Day Breakfast program: #AllDayBreakfast
Eastern New England regional social media handles include:
Twitter: @McDEasternNE
Instagram: @McDEasternNE
Facebook: You can find your local McDonald's' designated Facebook page by searching for a location here.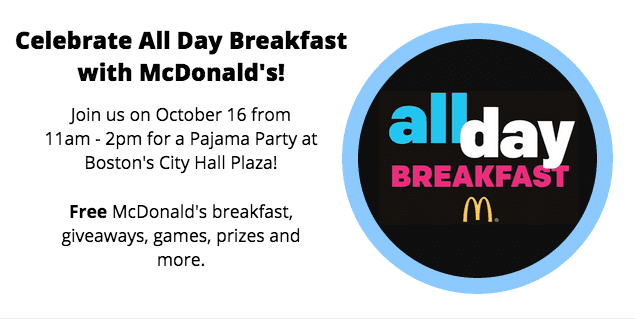 $20 Arch Card Giveaway THIS GIVEAWAY HAS ENDED!!
The winner is Julie L!  I have emailed her and She has 48 hours to claim her prize.
What is your favorite McDonald's All Day Breakfast item?  Tell me below and enter to win a $20 Arch gift card to get an All Day Breakfast!  For an extra entry, tweet your favorite item to #AllDayBreakfast and leave the link of your tweet below!
A winner will be chosen on Monday, October 19, 2015.
Disclosure: This post was sponsored by McDonald's.  All opinions are 100% my own and have not be swayed by any outside sources!