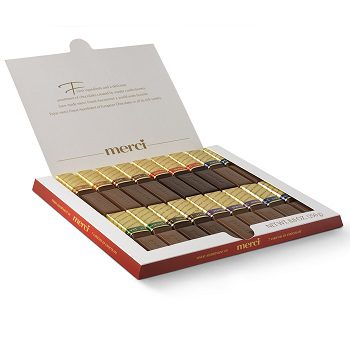 This post is Sponsored by Merci Chocolate but my opinions are 100% my own!
Merci would like to help you celebrate some of the most important people in your life – your friends! National Friendship Week was the week of August 11th, which is the perfect time to show your appreciation with merci's fine European chocolates.   I believe that good friends should always show those that they appreciate, a little extra love!
My best friend is an awesome person.  She is always there for me when I need someone to listen to, laugh with, cry on and no matter what I say or do, she just listens and never, ever judges me.  I'm so grateful to have her in my life and I'm lucky enough to get to spend time with her often since we don't live in the same state.   I show her that I appreciate her all the time and she knows it.
We are all busy and don't always have a chance to say it so pick up the phone, a pen or write an email and let your friends know that you appreciate them.  I'm sure it'll make their day!
And then enter the giveaway below so you can win something to send them too!!!

(1) Koupon Karen reader will win a Merci Friendship prize that includes the following:

$25 Target gift card
7 ounce box of merci chocolates
A picture frame to display a photo of you and your friends
A chocolate scented candle
To enter the giveaway, use the Giveaway Tools widget below. This is a new widget I'm trying and I hope you like it. Please let me know if you have any questions about it or problems with it! Of course Facebook is in no way associated with this giveaway!
As a reminder, comments left on Facebook or Twitter will not be included. You must follow the instructions on the widget about the proper way to enter.
Disclosure: I received a Free product for review. My opinions are 100% mine.