This post is Sponsored by Michael Angelo's but my opinions are 100% my own!
Once school starts things get very busy around here.  Between getting the kids to school in the morning and then the chaos when the come home, some days my head is spinning by dinner time.  And then there are the days where they have after school sports and activities.  That makes getting dinner on the table even harder.
I love having items in the freezer that I can quickly heat up.  I'm not one for making meals ahead of time but I do like to pick up some frozen meals my family likes, for nights I don't have time.  Michael Angelo's Gourmet Foods is one you'll find in my freezer, often!
Michael Angelo's Gourmet Foods announced the launch of five new large sizes of 100 percent natural meals at Walmart. With new sizes of brand favorites including Meat Lasagna available in 46 ounces and 80 ounces, Baked Ziti with Meatballs in 44 ounces and Eggplant Parmesan in 44 and 80 ounces, now you can let Michael Angelo's take care of the cooking for a party of any size.
I first tried Michael Angelo's at a blogging conference about 4 years ago and I've been hooked ever since.  Even my Italian born mom really enjoys their food.  And she usually cooks from scratch.  But they really are good for frozen meals.   They taste amazing – like home cooked – and they thaw and cook perfectly each time.
We picked up a few at Walmart in July and I popped them in the oven on days I either didn't feel like cooking, or needed something fast.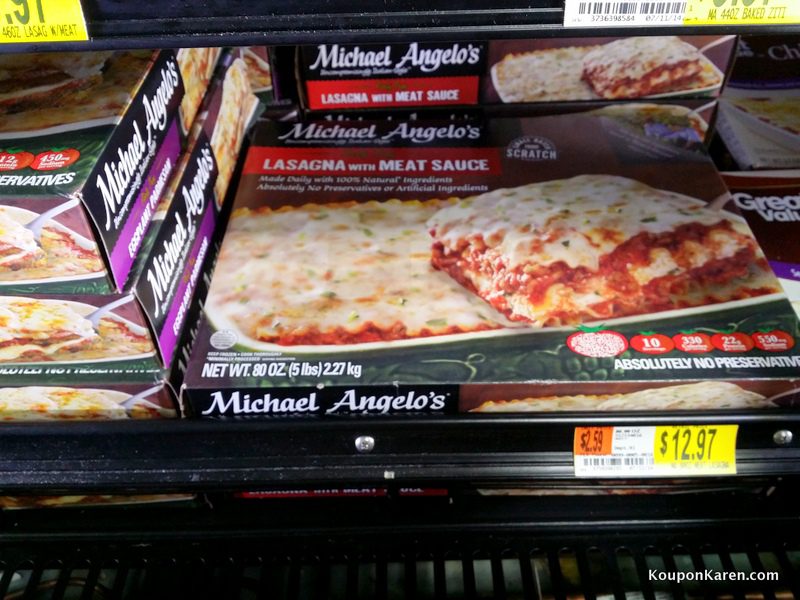 And I love how affordable these meals are.  On nights we are busy, I'm more apt to ask my husband if we can go out to eat rather than cook and that mean's we'll spend at least $50.  He can't just go to a drive thru and get a burger, he likes sit down restaurants, which is fine by me but it costs so much to do that.  The Michael Angelo's family size Lasagna is under $13!!!  Add a salad and pick up a loaf of Italian bread and you can eat a meal for under $20.  That's a huge savings from eating out.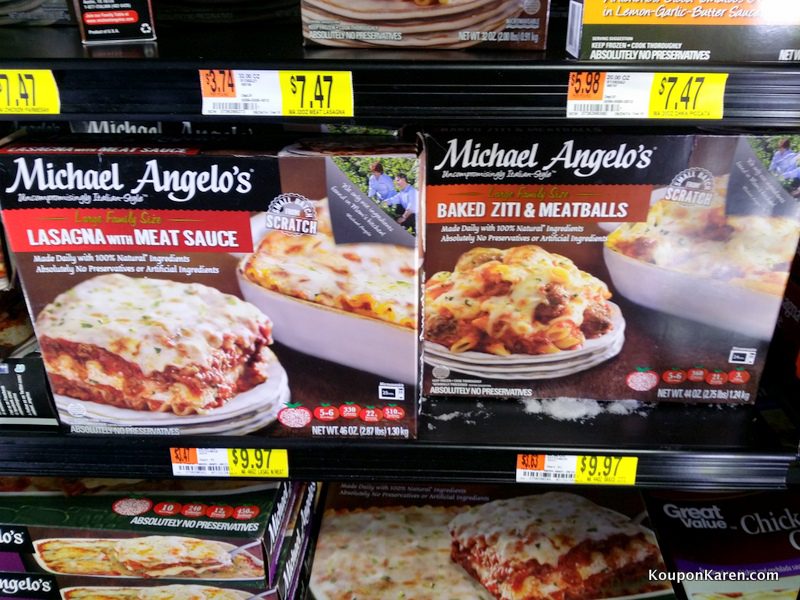 If you have a smaller family you can get a smaller size Lasagna for under $10.  The Baked Ziti & Meatballs is also a favorite of ours.  But my kids won't eat pasta with sauce on it, but they'll eat meatballs with sauce – I seriously don't get it.  So I like to get the 44 ounce Baked Ziti & Meatballs and then make some plain ziti for them.  Again, I always have salad and bread with all our pasta meals so the cost is still pretty low.
And they cook fast and are delicious!  There are some Italian Restaurants that don't have food as good as Michael Angelo's.  Seriously!  I'd rather have a frozen meal over eating at those places.  They aren't Italian – but Michael Angelo's is.
Michael Angelo's meals are kid-friendly, ready in a matter of minutes, and made with 100 percent natural ingredients, without any additives or fillers — ever. And with the new large sizes of favorites at Walmart, it is easy to serve a nutritious and crowd-pleasing meal to a large group.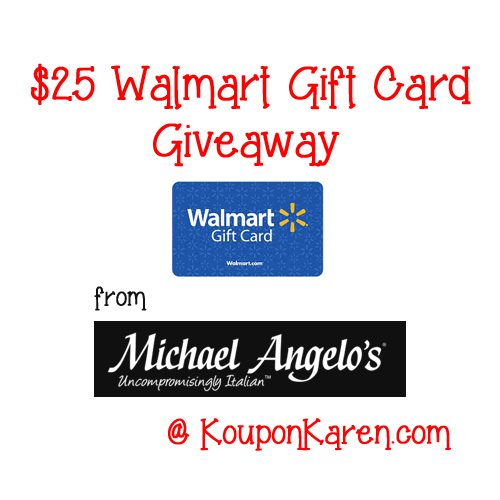 (1) Koupon Karen reader will win $25 Walmart Gift Card!

To enter the giveaway, use the Giveaway Tools widget below. Email and feed subscribers will need to click-through to the site to enter the giveaway.
As a reminder, comments left on Facebook or Twitter will not be included. You must follow the instructions on the widget about the proper way to enter. Of course Facebook is in no way associated with this giveaway!
If you are looking for more giveaways, be sure to follow my Fun Giveaways Pinterest board!
Disclosure: I received a Free product for review. My opinions are 100% mine.