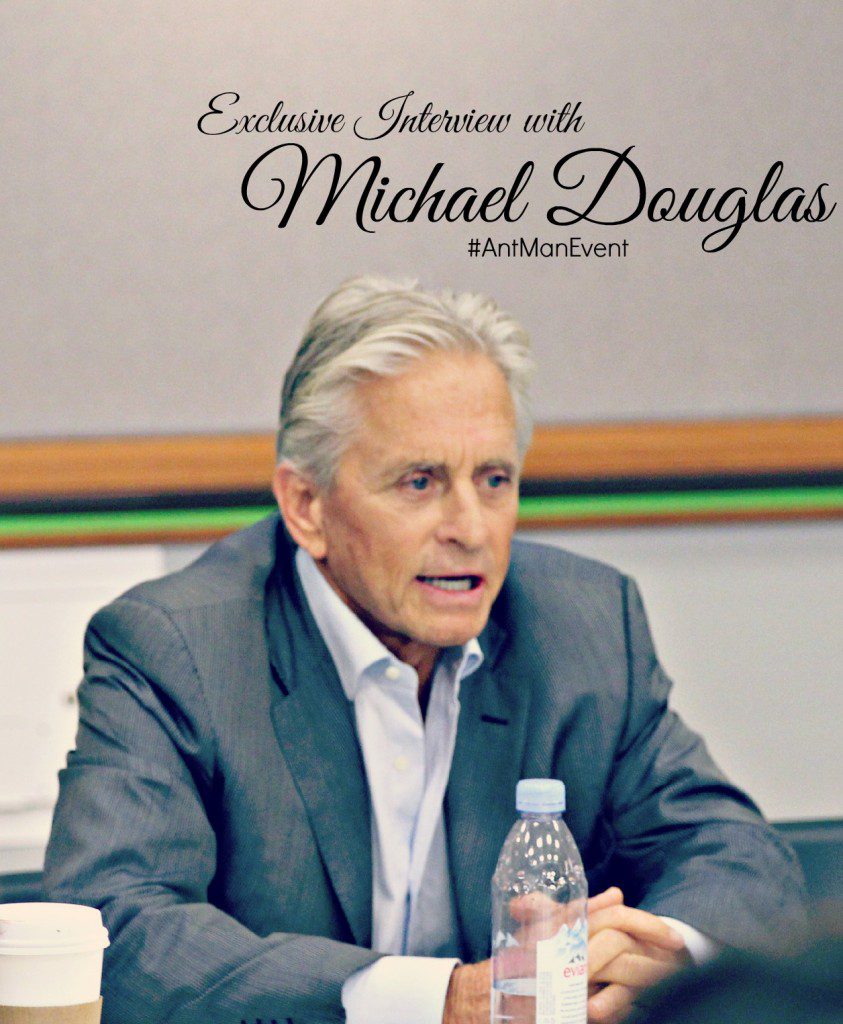 Disclosure: I received an all expense paid trip to Los Angeles California for the #AntManEvent press Junket.  All opinions are my own and were not swayed by any outside sources!
Michael Douglas plays Hank Pym in Marvel's newest movie Ant-Man.   Who is Hank Pym?  Marvel comics first introduced Hank Pym in 1962 in "Tales to Astonish #27". Pym became Ant-Man after discovering a chemical substance —The Pym Particle — which allowed him to alter his size and possess superhuman strength. With the development of another of Pym's technologies, Ant-Man also had the ability to control armies of ants.
Hank Pym is much older now and needs to pass the Ant-Man suit onto some one else.  He carefully choose Scott Lang played by Paul Rudd.   While in LA last month for the press junket for Marvel's Ant-Man, myself along with 24 other bloggers sat down with the legend Michael Douglas to talk about his role as Hank Pym in Ant-Man.  What was it like to be in a room with Michael Douglas, only feet away from him?  It was Awesome!  And let me tell you he looks GREAT, in the movie and in person.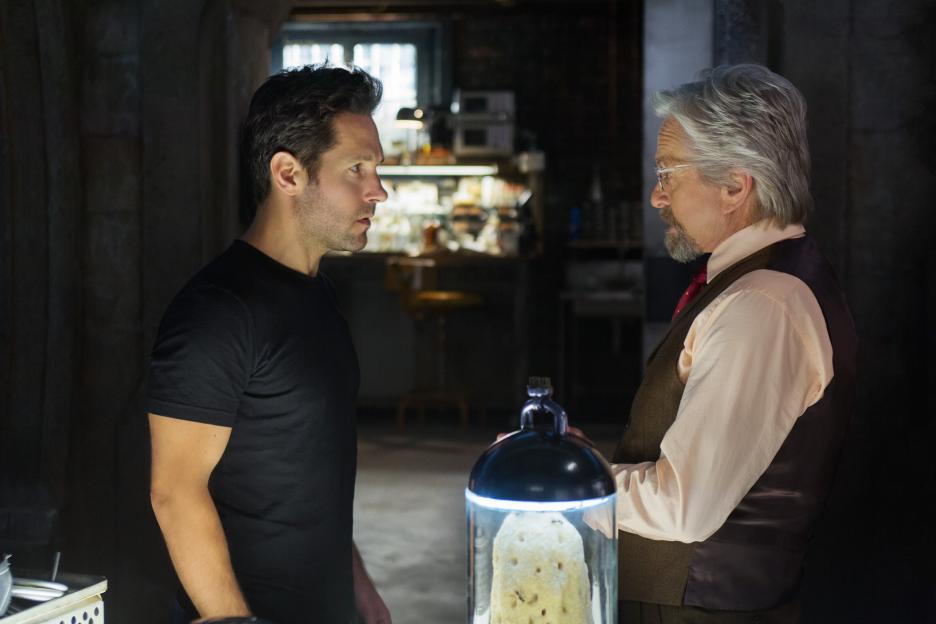 We only had 20 minutes with him but we did find out quite a bit about his experience on Ant-Man.  We also had a lot of laughs!  The first thing we all wanted to know was if he was a Marvel fan before he became a part of the movie.  Surprisingly, he said he wasn't a comic book guy – not now and not even when he was a kid!  Michael said he received something from Marvel along with the script to help him along the way "When they sent me this script, they sent me also a lovely leather-bound book with two of the Ant Man comics.  So before I read the script, I sort of familiarized myself with the different characters and a little of the back story."
Speaking of back story.  Michael pointed out to us that Ant-Man actually gives us a lot of the back story in the movie.  So if this is your first Marvel film, you won't be lost.  You'll be able to jump right in and follow along with the story.
Michel Douglas talks about the Technology used in Ant-Man and why it fascinated him!
Unlike Michael, who hasn't seen the complete movie yet, we screened the movie before our interviews so we were very familiar with the technology used in the film.   Michael said this was the first time he's done a movie with special effects.  He went on to tell us "My entire career has been all contemporary story lines except for one movie out of I think 50(a World War 2 film).  Everything else was contemporary and there weren't any kind of effects in them, just a green screen.  So I was fascinated by that".  He explained how they had four different units to shoot in.  The first unit was what he worked on with what he calls "this and that",  the second unit was the stunt unit,  the third unit was the special effects and green screen and the fourth unit was the macro unit which was shooting ants and perspective ant shots.  He enjoyed going from unit to unit to see how everything worked.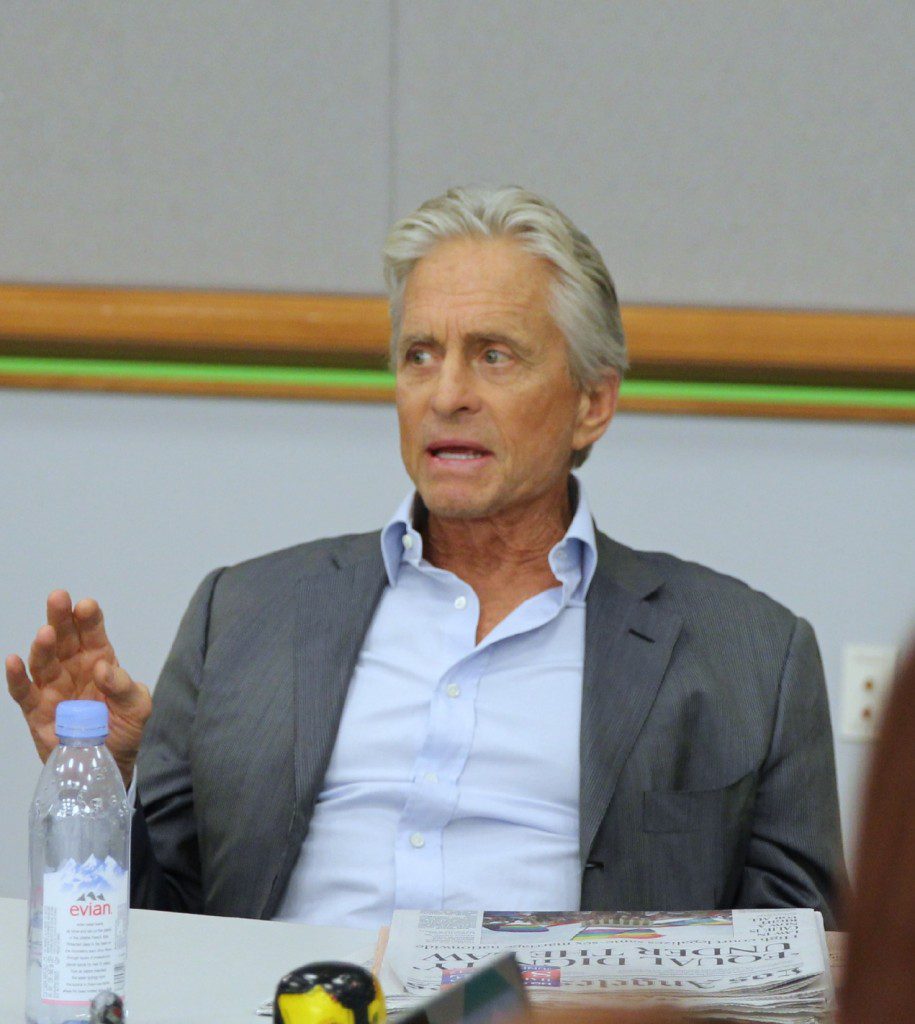 "How often do you get to do a movie where you get to see yourself 30 years younger." – Michael Douglas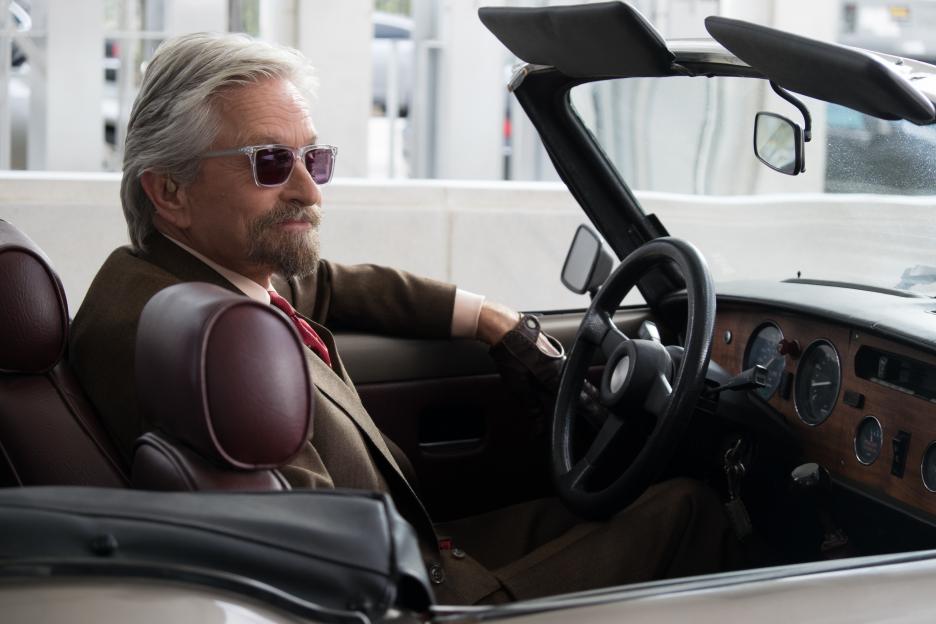 Michael Douglas's favorite and least favorite scenes to shoot in Ant-Man
We wanted to know what was his favorite scene to shoot.  Michael said jokingly "I know the ones I liked least."   So we went with that instead.  Like I mentioned above, there is a lot of back story given in the movie, and back-story needs a lot of explanation.  Michael's least favorite scenes to shoot were what he calls  "the heavy exposition"  he went on to explain "I had to carry a lot of the exposition of plot in terms of explaining how things worked and everything.  There's no rhyme or reason for those, you just got to kind of get a momentum going and try to articulate them the fact that Peyton, besides being such a good director was an actor earlier in his life and knew my lines better than I did was a little intimidating because if I stumbled or flubbed he actually knew these technical names where they got the ants names."
But he did enjoy some scenes.  As a matter of fact he told us he enjoyed the Pym Technology scenes.  "I enjoyed seeing this huge picture of me up there on the wall" Michael said laughing.  But then he got a little more serious "I was the founder of the company and [I enjoyed] the beautiful work they did on creating the designs of that company."
Michael's thoughts on the cast and crew of Ant-Man
"I felt really optimistic about this whole project right from the get-go – I did not see a weak link anywhere." We asked him to elaborate on that a bit….
Michael loved the great production team and was really happy with Peyton Reed as a director.  He felt confident going into this movie knowing that it had a "strong producing background, script and director."  He also thought the cast was "solid".   He went on to tell us "I think the biggest surprise was Corey (Stoll, who played Yellowjacket).  Corey was a great heavy.  He was a great villain and he brought much more strength and dynamo than I ever had anticipated, in the scenes I had with him". Michael and Corey had a pretty big story line between them.  He was Corey's father figure and was looking for his acceptance, as a son would to a father.  It's a pretty interesting storyline.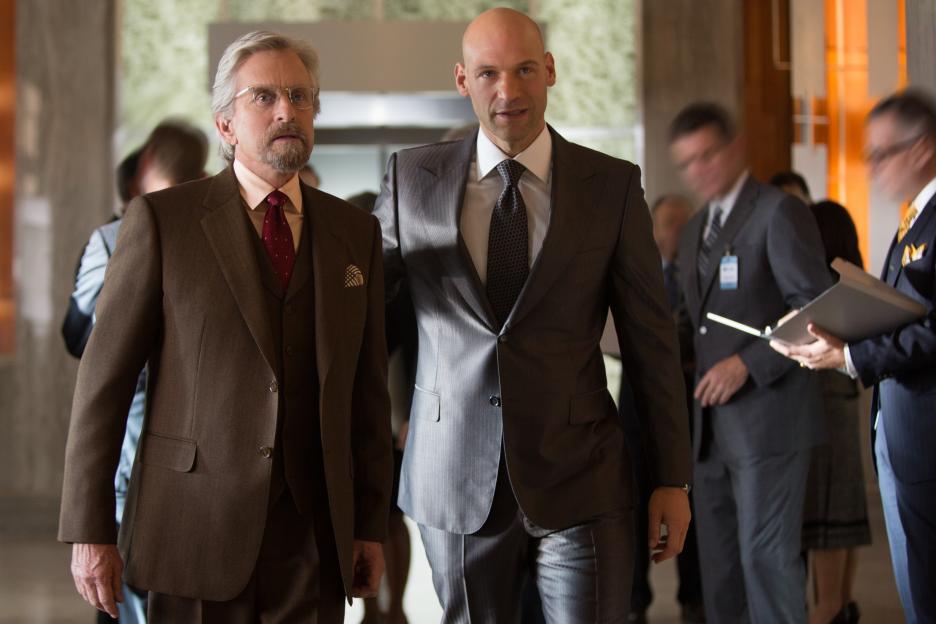 As for his other two co-stars Paul and Evangeline?  Michael told us "Paul, I knew from the beginning and he's just as easy and wonderful as could be.  He's lovely.  And then Evangeline I did not know her range, and so you go WOW.  There's no weak spots here.  Everybody's solid."  It really is a great cast and they all worked so well together.  I know you will agree when you see the movie!
Michael Douglas on the Ant-Man Suit
As we learned in the interview with Paul Rudd and Evangeline Lilly, Michael Douglas is a funny guy!  He went on to joke with us about why Hank Pym isn't Ant-Man anymore.  He's getting older – in his 60's or 70's in this film, and Michael laughed as he said "you get small that many times, it's exhausting".   Michael even joked about the possibility that he wore the Ant-Man suit in this movie!  Laughing he told us "I mean who's to say I wasn't in a few of those.  Hard to tell with the helmets down."  Look closely and maybe you'll see his face through one of the masks!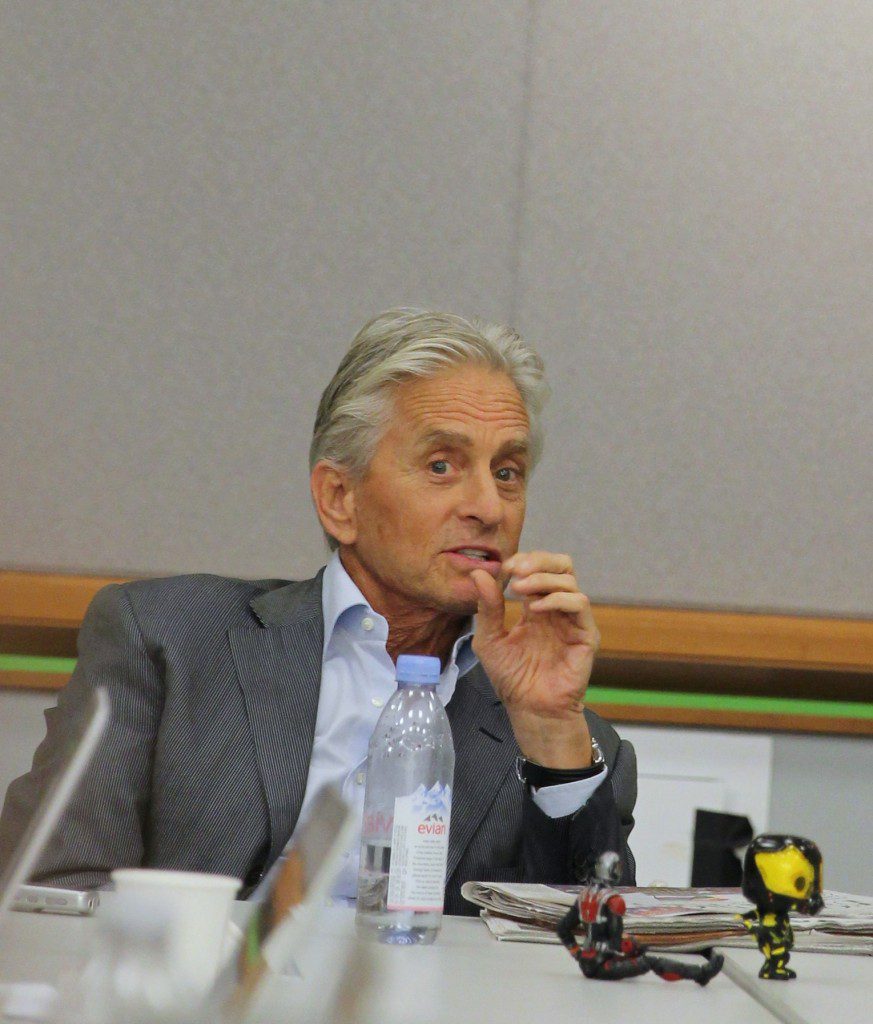 Michael Douglas talks about working with funny guy Paul Rudd
Paul Rudd is a funny guy so working with him I'm sure is a barrel of laughs. Michael enjoyed working with Paul and called him "a sweet lovely guy.  He's very unassuming."  In the interview with Paul Rudd and Evangeline Lilly, we talked about how Paul wrote some of the script –  "Sometimes I would get frustrated where I'd have one of these five-minute long monologues explaining everything, and of course, he would have a one-line punch line.  Damn, you get a good laugh and I'm working my ass off." Michael laughed jokingly about his lines compared to Paul's lines.
Michael describes Paul as having "an elfish grin and quality about him". But he didn't envy him.  Paul worked out to stay in shape and then put in the whole day's work.  Michael sympathized with that quality of dedication that Paul had "My heart went out to him and he was fabulous"  he went on to say "'I'm sure this is going to be great for Paul".  So are we!
Michael Douglas's thoughts on being in a Marvel Movie
What was Michael's 14-year-old son's input on his dad being in a Marvel movie?  Michael laughed as he told us "He said Dad, you know what?  This is a whole new audience for you.  And I say thanks son,  You're right, you know, you're right." He was acting like Michael's manager!  Michael liked the idea of doing something different and was really curious about the effects in the movie.
Since this is the 12th movie in the Marvel cinematic universe, we asked him how much time did he spend, if any, going back through what they've already done to see what he was becoming a part of?
"Not much" Michael said laughing "I got some sense with Avengers 2: Age of Ultron before this.  We touched on this a little earlier that this is probably going to be more humorous than all of the Marvel pictures.  Guardians of the Galaxy [was funny] in the beginning and I think everybody sort of enjoyed that part of the picture, that tone."  Michael goes on to tell us "I'm surprised by just how many laughs there are and sort of that element and the idea of going small rather than trying to compete and go any bigger and bigger, it made a big difference.  But no, I had not done a lot of research on the whole Marvel history".
Since Michael wasn't a big Marvel fan and hadn't really followed along with the movies, we asked him if he realized he was joining the Marvel universe?  Michael had us all in stitches as he laughed and said matter of factly  "No, I was drinking the Kool Aid."!
And that was the end of another funny interview which was shocking to me as I didn't think Michael Douglas was a funny guy.  But he is and he's so nice and was very interested in what we did.  As we walked over to get a group photo he asked a few of us if we all worked together often.  I told him that we all had our own blogs but do meet up on trips like this and explained how a lot of us have become good friends after traveling together so often.  He thought that was really cool.  Imagine that, Michael Douglas thought we were cool!  That made my day!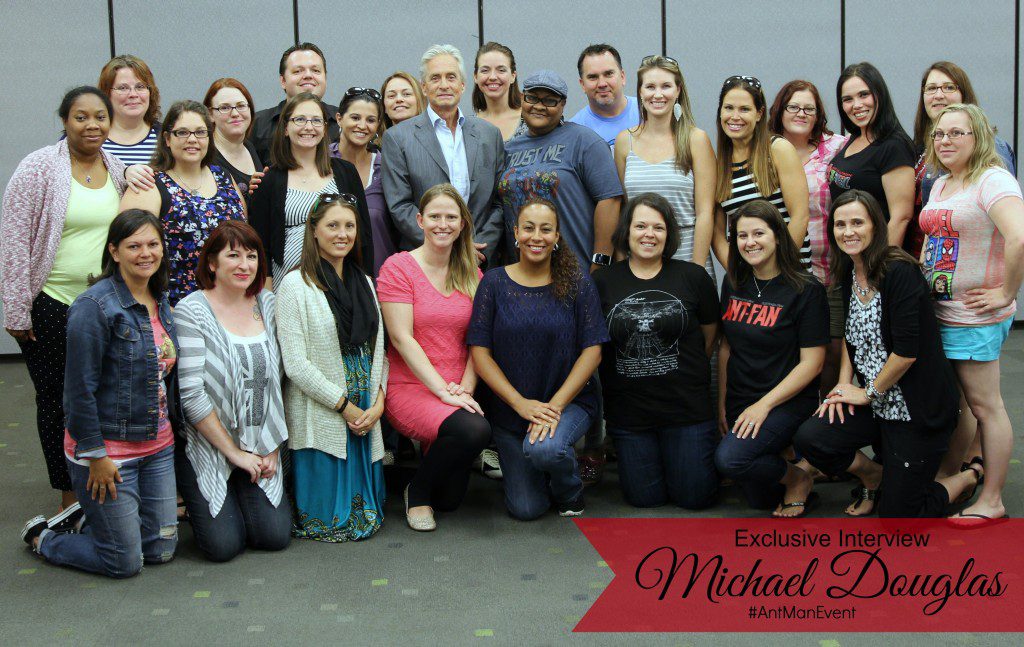 Ant-Man is in theaters July, 17, 2015.  Make plans to go see it that night.  It's great and Marvel fans are going to love it!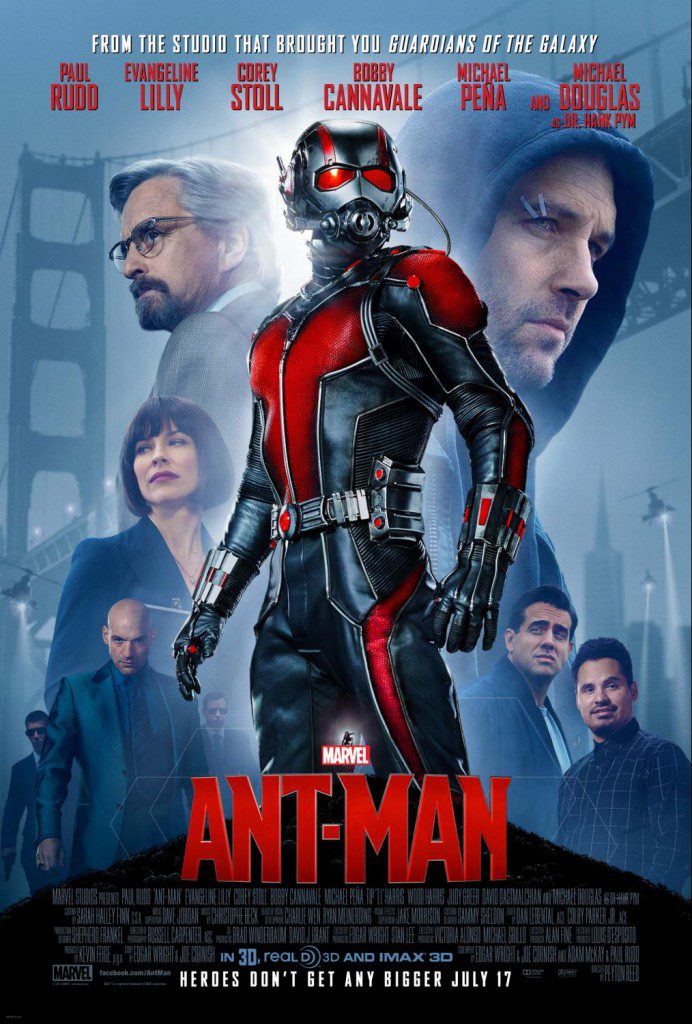 I have so much more to share from my trip to LA for the Ant-Man press junket.  Follow me along on Twitter, Facebook and Instagram with #AntManEvent and on the following social media channels:
Like ANT-MAN on Facebook: https://www.facebook.com/antman
Follow ANT-MAN on Twitter: https://twitter.com/antman
Visit the official ANT-MAN site: http://marvel.com/antman