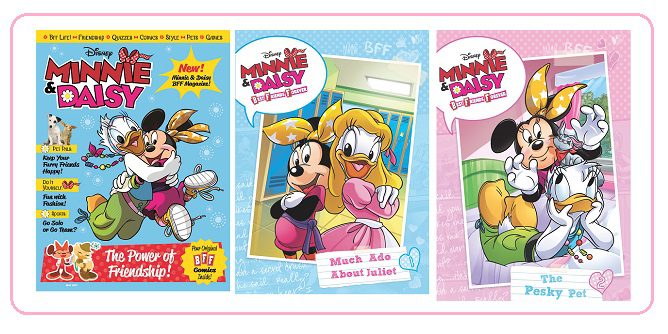 This post is Sponsored by Disney Consumer Products but my opinions are 100% my own!
I've been a fan of Minnie Mouse and Daisy for a very long time!  I loved them as a kid and when I went to Disney World when I was a teenager, I bought a Minnie Mouse key chain.  I still have that key chain today and use it too!  Everything I look at it, I think of being a teenager in Disney.   It was a long time ago considering I just celebrated my 40th birthday this week, but I love it and I still love Minnie Mouse!
We received a fun Minnie Mouse and Daisy package that my girls absolutely loved!  There were books, a magazine, some lotion and nail polish!  It was like Christmas all over again.  Both my girls are 'girly girls' so this was perfect for them.
Have you ever wondered what Minnie and Daisy's lives were like before Mickey and Donald?  Minnie and Daisy were friends long before they met their dashing duck and magical mouse, and they went through all the trials and tribulations of growing up just like all girls do.
If you have tween girls and they also like these fun ladies, you'll be happy to know that Minnie and Daisy have their very own magazine and four chapter books that are the perfect read for tween girls who embrace school, sports, fashion, and growing up!
In Minnie & Daisy B.F.F. Magazine, girls will read about the power of friendship, take quizzes, do fun crafts, learn about caring for pets, read about fashion and their favorite music, and play games with their best gal pals. Surprise posters and comics are included, too! The magazine hits newsstands today at all major retail outlets nationwide and sells for $4.99.  Both my daughters, who aren't quite tweens yet loved this magazine.  My 8-year-old read it to her little sister and they really enjoyed it.  They love magazines that are geared towards them because they see mom and dad reading magazines all the time.  We can't wait to get another issue of it.
My 8-year-old has to read for 15 minutes every night for school.  She reads silently to herself all the time but they want her to read out loud.  So when we received some of the Minnie & Daisy chapter books, she couldn't wait to dig into them. The Minnie & Daisy B.F.F. chapter book series has two new books which include The Pesky Pet and Much Ado About Juliet with two additional books coming out in July.  Tween girls can read along as Minnie and Daisy get themselves in, and out, of some typical teenage situations. These titles are available for $6.99 wherever books and eBooks are sold.   Needless to say she finished both books in just a few days.  They were an easy read for her and she loved them!
The Minnie XOXO Collection from SMACKERS is classic, spirited and stylish just like Minnie Mouse.  Girls can emulate with Minnie's very own line of XOXO cosmetics including lip gloss, eye shadow, shimmer spray, blush and a cosmetic bag to keep it all in.  Perfect for the tween who is starting to wear a little makeup.
And finally the OPI Vintage Minnie Mouse Collection is a new limited edition which includes four nail lacquers and is perfect for summer.  The colors are playful and pretty just like Minnie Mouse is!  You'll find shades of pink and red which are my favorite colors for nails.

(1) Koupon Karen reader will win a Minnie Mouse & Daisy Magazine and Books!

To enter the giveaway, use the Giveaway Tools widget below. This is a new widget I'm trying and I hope you like it. Please let me know if you have any questions about it or problems with it! Of course Facebook is in no way associated with this giveaway!
As a reminder, comments left on Facebook or Twitter will not be included. You must follow the instructions on the widget about the proper way to enter.
Disclosure: I received a Free product for review. My opinions are 100% mine.